Inactive Ad
---
The ad you requested is no longer active, however you may be interested in some of the following Aerostar ads:
---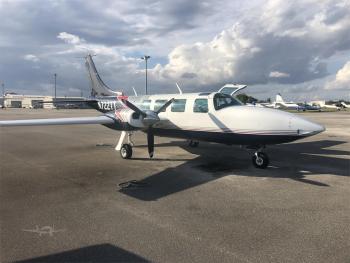 3,715 TT with nice paint and interior. Airframe: Aircraft Total Time: 3657 TT (Master hobbs time) Engine(s): Lycoming IO-540-K1F5 Approx.1825 Hours SMOH Engines Props: Hartzell HC-C3YR-2UF Approx. 56 hours SMOH...
...more
.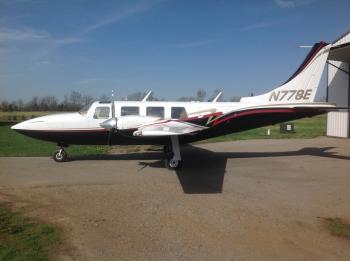 4020 Hours Total Time Since New 465 SMOH Overhauled by Poplar Grove 2007 ( LH ) 916 SMOH Overhauled by Victor Aviation ( RH ) 465 Since Prop Strike Inspection Poplar Grove, 2007 465 SPOH Precision Propeller, 700 Conversion ( Both sides) 2007 ...
...more
.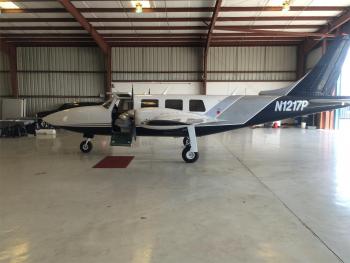 MAJOR PRICE REDUCTION Nice Low Time Aerostar 2861TT and 1071/1071SMOH, Garmin 430 with EX-500 MFD, Garmin Transponder, Flight Director, Hangared, Sold with Fresh Annual Airframe:" Only 2861 Total Time Engine(s): 1071 SMOH Left Engine 1071 SMOH Right Engine Props: 373 SPOH 373 SPOH...
...more
.
Scott Macdonald Aircraft Sales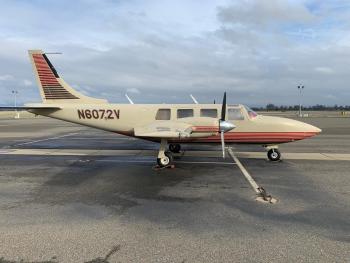 Airframe: 3250 TTAF Engines: Recently overhauled wastegates Props: 3-Bladed Hartzells Left: 1,571 SOH with late style hubs (1995) Right: 1,571 SOH with late style hubs (1995)...
...more
.
PIPER 601P Ser# 642 N479CB. TT 5250, 1500 on L&R engines and props. SL 15 Audio Panel. MX20 MFD, with GDL 69 XM Downlink WX, GX 60 GPS, SL 30 Nav Com, Sl 70 Transponder, Century IV Autopilot/Flight Director with GPS Roll Steering, RDR 150 Radar. De-Ice, Air Conditioning. Int & Ext 6-7. Call (830) 584-3120 or RockF16@Reagan.com for full spec sheet. **Best Offer** Engines: SMOH: 1550...
...more
.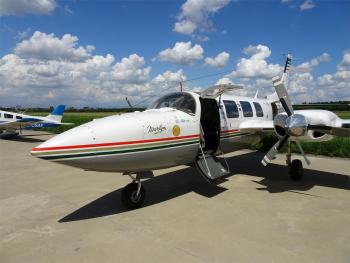 Machen Inc. upgraded engines, All log books avaiable, Ready to fly Annual inspection in July 2019 WEIGHTS: Baggage Capacity: 240 lbs Gross Weight: 6000 lbs Fuel Capacity (165.5 gals usable): 993 lbs Total Fuel Capacity 297.5 usg ( 861,18 lt) Oil Capacity (24 qts): 45 lbs Basic Empty Weight: 4769,9340 LBS Specification subject to verification by purchaser Aircraft subject to pri...
...more
.

Superstar! 53/1457SOH GPS, Color Radar, HSI, DME, Fuel Flow, Stormscope, ADF, Leather Seating, Writing Tables, Hangared, Professional Pilot flown, Owner is moving up AIrcrfft is Hangared in North Central FL. Call Scott MacDonald Listing Broker 888-280-4900 Direct 772-215-0805 Airframe: 6217 Total Time Since NEW Engine(s): 53 SMOH Left Engine by T&T Engines 7-13 1457 SMOH Right Engine by Powe...
...more
.
Scott Macdonald Aircraft Sales NDH, Only 2 owners since new, Garmin 500 Equipped w/ Traffic & Weather. Always stored in a climate controlled hanger. Both Engines Redone Like New Airplane ...
...more
.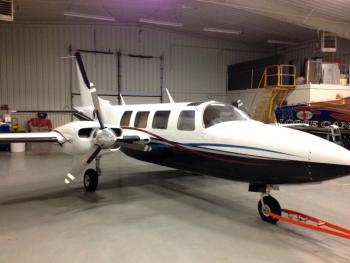 ENGINE & PROPELLER TIMES: ENG #1: 775 SMOH 775 SPOH ENG #2: 80 SMOH (by G & N) 80 SPOH...
...more
.