Inactive Ad
---
The ad you requested is no longer active, however you may be interested in some of the following Beech Baron 55 ads:
---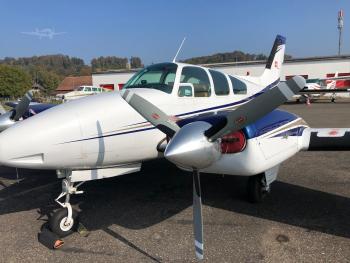 Very nice oldtimer! First production year of the Baron 55 Imported from USA to Switzerland in July 1969 with 3402:00 hours Cruising speeds: 225 mph at 75 percent power (2450 rpm) at 7,000 feet 220 mph at 65 percent power (2450 rpm) at 10,500 feet 1,225 miles range (45% power, 10,000 ft., 140 gal.) (Includes full allowance for fuel used during warm-up, taxi, take-off and climb to altit...
...more
.

Total Time: 2534 TT Engines: Continental IO-470L (260HP) 830 & 989 Since Major Overhaul Props: Three Blade Hartzell with 299 Hours Since Overhaul ...
...more
.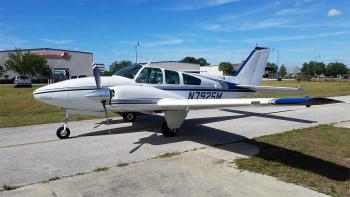 Nicely equipped C55 Baron w Garmin 530W, Aspen, STEC 60-2, GPSS, ADSB, good times and cosmetics for under $100,000. Airframe: Total Time Since New - 6295 Hours January 2020 Annual Inspection Complete Logbooks No Damage History Engines: Engine 1: 1350 Hours SFRM - 3/2011 Continental Factory Remanufactured. Installed on N7925M 9/1/2011. VAR crank & heavy case Engine 2: 890 Hours SMOH - 4/2...
...more
.

Total Time: 1,198 TT Engine: 1,198 Hours Since Factory New L&R with 150 STOH Propeller: 49&804 Hours Since Overhaul...
...more
. N17BP Serial # TC-1650 COLEMILL "PRESIDENT 600 CONVERSION" 300 HORSEPOWER IO-520-E14B ENGINES "FAST AND POWERFUL" 2000+ FPM CLIMB ON TAKE-OFF AND 200 KTS CRUISE AT 75% POWER 6127 Total Time Engines IO-520-E14B 300 Horsepower Engines 155 SFRM, 1900 Hour TBO Engines Installed Nov 2015, 3-Blade Props 155 SOH, Alcohol Props and Windshield Anti-Ice, De-Ice Boots, S-Tec 55X Autopilot with KCS...
...more
.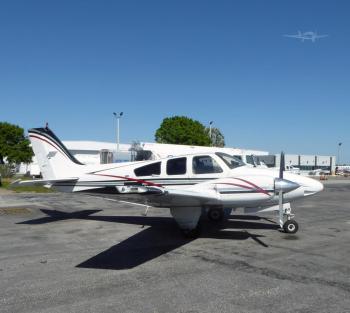 Complete logs, always hangared, all Ads, meticulously maintained, annual Sept 2017, Fresh annual with purchase, TAS 189KTS @ 27GPH or LOP TAS 183KTS @ 24.6GPH, VG's reduce VMC and stall by 7KTS. Delivery and/or flight training included. Airframe: Total Time: 4245 Glass in 2006 (5/8")- DBM, leather interior, soundex insulation, corrosion-X treated at annuals, wing bolts, Whelan strobes, Al...
...more
.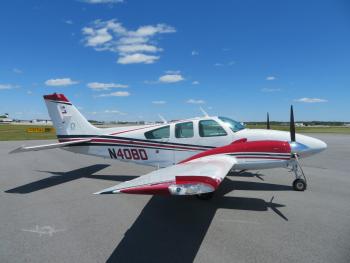 N40BD 1975 Baron E55, Serial No. TE-1014, 4125 Total Time, IO-550 300 Horsepower D'Shannon Engine Conversion 955 Since Factory Reman,, 3 Blade Hot Props 710 Since Overhaul, Century IV Autopilot w HSI and Yaw Damp, Air Conditioning, Garmin GMA-340 Audio Panel w Intercom System, Garmin GNS-530W GPS/Nav/Com, GNS-430 GPS/Nav/Com, GDL-69A XM Weather and Music, Garmin 696 Yoke Mounted GPS, WX-1000 Storm...
...more
.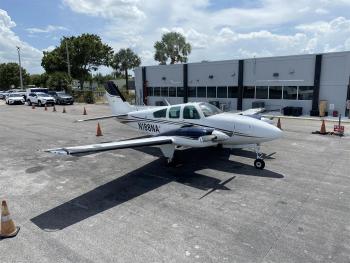 Great E55 Baron with Low time engines. 459/536 SMOH Garmin 530, king Digital IFR, ADSB, Factory Boots, Clean paint and interior Airframe: Total Time: 6595 Engines: 459/536 SMOH Props: 214 SPOH 242 SPOH...
...more
.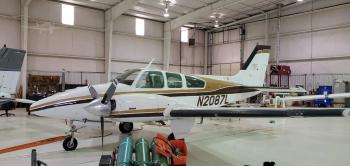 Deiced 1977 B55 Baron - $109,000. 2505TT, 480 & 30 SMOH, 480 & 190 SPOH, GAMI injectors, original P&I, ADSB out, Collins IFR w Century IV autopilot w HSI, M3 GPS, Complete logs and records. Airframe: Total Time : 2505 Hours Complete Logs and Records Damage History - Accident/Incident Occurred on: 1978-10-14 at 147 hours total time - Narrative - Gear switch raised, then lowered during landing. ...
...more
.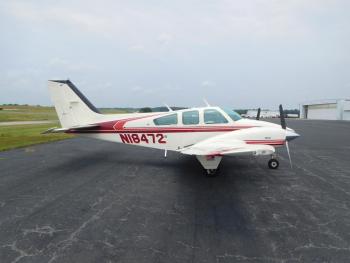 N18472 1978 B55 Baron Serial No. TC-2155, "Prime Condition" 4250 Total Time Since New, Engines 522 Since Major Overhaul by Triad Aviation, De-Ice Boots, Garmin 530W GPS/Nav/Com w WAAS, Garmin GNS-430W GPS/Nav/Com w WAAS, Bendix Weather Radar, ADS-B Traffic and Weather, Garmin GTX-345 Transponder w ADS-B In & Out 20/20 Compliant, Century IV Autopilot Coupled to Glideslope, HSI, Nav and GPS, Radar A...
...more
.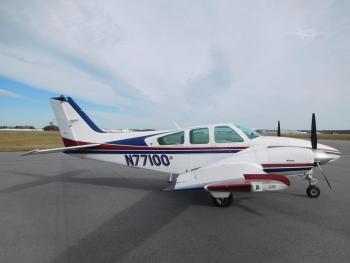 1795 Hours Total Time Since New, Engines 250 Since Major Overhaul by GANN, 3 Blade Props, S-Tec 55X Digital Autopilot with Altitude Hold and Glideslope Coupling, Sandel 3800 EFIS HSI, Garmin GNS-430W GPS/Nav/Com w WAAS, Garmin 496 GPS/Map w XM Weather #2 GPS, SL-30 Digital Nav/Com #2, Garmin GMX-200 MFR w Terrain and Chartview, Sperry Color Weather Radar, Insight Graphic Engine Monitor, Shadin Dig...
...more
.