Inactive Ad
---
The ad you requested is no longer active, however you may be interested in some of the following Beech Baron 55 ads:
displayAdsHomeRecent
---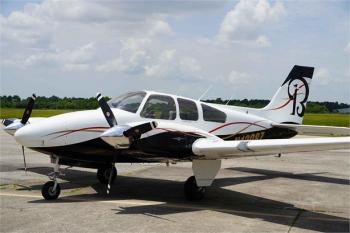 Airframe: Total Time: 7,600 Engines: CONTINENTAL IO470L Time: 580/580 SMOH Props: HARTZELL Time: 583 ...
...more
.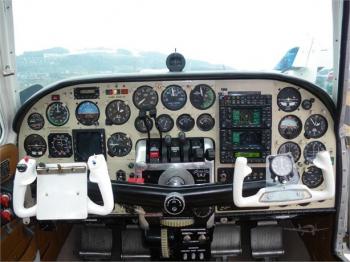 Very nice oldtimer! First production year of the Baron 55 Imported from USA to Switzerland in July 1969 with 3402:00 hours Cruising speeds: 225 mph at 75 percent power (2450 rpm) at 7,000 feet 220 mph at 65 percent power (2450 rpm) at 10,500 feet 1,225 miles range (45% power, 10,000 ft., 140 gal.) (Includes full allowance for fuel used during warm-up, taxi, take-off and climb to altit...
...more
.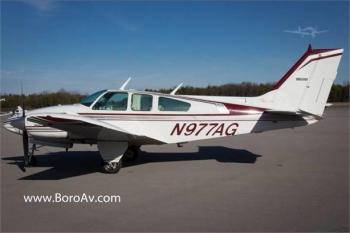 Airframe: Total Time: 7,151.7 Engines: Time: 1283/1283 D'Shannon Engine Cooling Baffles and GAMI Injectors Custom Airmotive (May 2004) 85 STOP OH by Zephyr Engines (new piston pins, rocker arms, rocker shafts, etc) Props: McCauley 2-Blade Millennium Model 2AF34C55-KMO/S-78FF-0 / 2000 Hr TBO LH: 981.2 / Resealed LH Prop - Aug 2015 / sn K691116 RH: 1,478.4 SPOH / sn 722479...
...more
.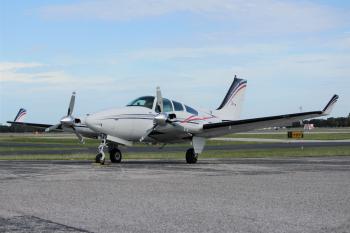 An absolutely beautiful 1968 Beechcraft B55 Baron, located in West Virginia. This aircraft has great bones, it is flown often and has been kept hangered the majority of its life. Onboard oxygen will make for a comfortable ride above the weather with the IO 470 engines producing 260HP each. If you are looking for your next light twin, this is the aircraft for you. Contact us for more information ...
...more
.
CA, US
1/4 Fractional Ownership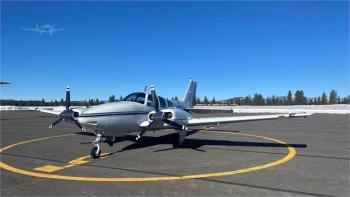 Aviotti's innovative ownership program allows its members to buy into an entire fleet of aircraft. For only $60,000 members enjoy ownership benefits of jets, turbo props, and piston twin aircraft. Airframe: Total Time: 8,250 Engines: Time L/R: 735/735 TBO L/R: 1,700/1,700 ...
...more
.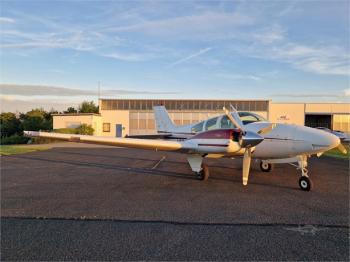 Airframe: Total Time: 4,027 Engines: Continental Time: 1266 TBO: 2000 Props: Hartzell Don't miss the chance to own this aircraft. Click
here for more details.
.
Private Beechcraft 95B55 Baron for sale from second owner. Same onwer since 2013 has flown 700 hours. In very good condition, professionally maintained 197 kts True Airspeed at 75% / 180 kts at 65%, 23/23 MP, under 100 liters fuel burn (13-13 USG per engine) Specifications subject to verification by purchaser Airframe: Total Time: 2919 Noise Certificate, 76 dB(A) Landing accident with no...
...more
.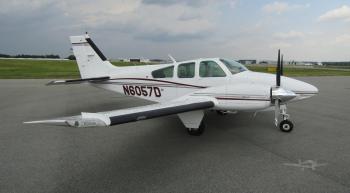 N6057D 1979 Baron B55, Serial No. TC-2233, Total Time 4845 Since New, Engines IO-470L 260 Horsepower Engines, 45 SMOH & 1269 Since Factory Reman, 3 Blade Alcohol Props 117 Since Overhaul, Full De-Ice Boots, Alcohol Props and Windshield, Garmin 430W GPS/Nav/Com w WAAS, Six Seats, 4 Place Intercom System, RCA Color Radar, Garmin GTX-345 Transponder with ADS-B In and Out, Subscription Free ADS-B Traf...
...more
.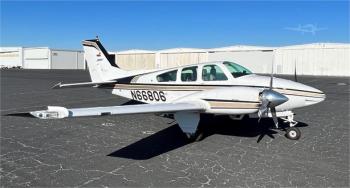 N66806 1980 Baron B55, Serial No. TC-2278, Total Time 1845 Since New, Engines 282 Since Factory Reman IO-460L 260 Horsepower Engines, 3 Blade Alcohol Props 49 Since Overhaul, S-Tec 55X Digital Autopilot with HSI, Dual Garmin 430W GPS/Nav/Coms w WAAS, Garmin GMA-340 Audio Panel with 3 Light Marker Beacon and Intercom System, Garmin GMX-200 Multifunction Display, Garmin GTX-330ES Transponder with AD...
...more
.