Inactive Ad
---
The ad you requested is no longer active, however you may be interested in some of the following Beech Baron 58 ads:
displayAdsHomeRecent
---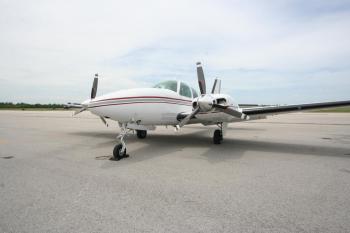 Clean Baron 58 with 5714TT 1393/1393 Since Factory Remans, Radar, GPS, RDR ALT, HSI, Cent IV, Club Seating De-Iced Very Clean Aircraft Professional Managed and Flown! Airframe: 5714 TT Engine(s): 1393 Since Factory REMAN Left Engine 2004 1393Since Factory REMAN Right Engine 2004 Props: Prop Specs660 SPOH 2011 660 SPOH 2011 Three Blade props ...
...more
.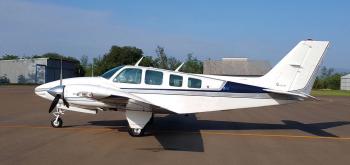 Engines: TSOH: 455/220 TBO: 1700 Hours, Time Remaining: 1245 / 1480 Hours Props: TSOH: 516/516 TSML: 192/192...
...more
.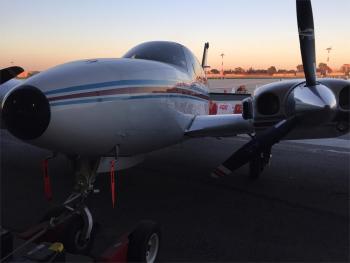 Fantastic low time and perfectly maintained Baron 58P, upgraded avionics Airframe: Empty Weight: 4489.3 Lbs Moment: .39354.45 Weighed July 2013 Engines: Continental TSIO-520-WB, sn 518645 and 518649 TSOH: 39 hrs Last overhaul: 22/03/2011 TBO: 1600 hrs/12 years (24 years in Italy) Props: Propellers McCauley 3AF32521, sn 071550 and 071551 TSOH: 9 hrs Last overhaul: 25/09/2014 TBO: 2000 ...
...more
.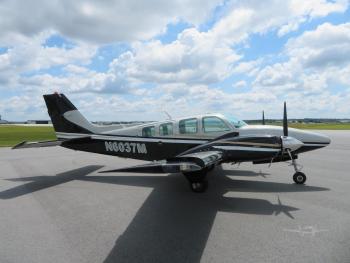 N6037M 1979 Baron 58, Serial No. TH-1022, 4030 Total Time, Engines IO-520 285 Horsepower Engines 1190 and 1495 Since Factory Reman, 3 Blade Props 1196 SOH, King KFC-200 Autopilot / Flight Director / Slaved HSI w Yaw Damp, Garmin GNS-430 GPS/Nav/Com, Bendix Color Radar w Vertical Profile, King KN-63 DME,, ADF, 6 Place Intercom System, U-Avionics Tail Beacon ADS-B Out, Cabin Door Steward, Reversible...
...more
.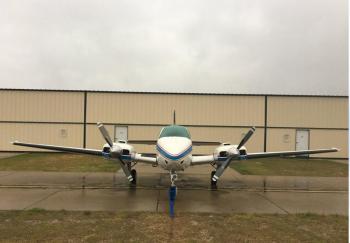 1979 Beechcraft Baron 58 TH 1073 ACTT 2228 Hobbs 1223 Annual completed 06-01-2020 L/R engine Continental IO-520-CB L/R TT 2228 L/R SMOH 801 L/R Prop Hartzell BHC-J2YF-2CUF L/R TT unknown L/R SMOH 406 Sale price $135,000 as is OR $185,000 with overhauled engines & props...
...more
.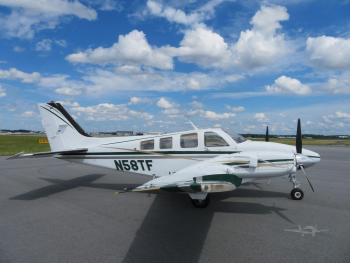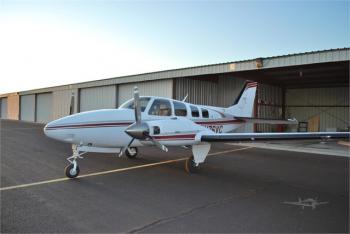 Fresh Aircraft Sales proudly presents this amazing Baron with avionics galore! This aircraft will do everything but pour you a cup of coffee. No mission too large for this capable aircraft. Airframe: 560 TT Engines: Left Engine SMOH – 390 Right Engine SMOH - 730 Props: Left Engine - TTSO – 390 Right Engine – TTSO - 730...
...more
.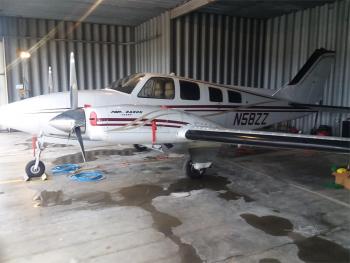 Airframe: No physical damage Engines: Engine Make: Continental Engine Model: TSIO-520WB Engine Serial #'s: 519339 (Left) 274045 (Right) Engine Horsepower: 325hp/each Engine Year: Overhaul by Ram 06-19-2012 760 hours since overhaul 1620 total engine hours Props: Propeller Make: Hartzell Propeller Model: PHC-J3YF-2UF Propeller Serial #: ED3171 (Left) ED3177 (Right) Propeller Year: ...
...more
.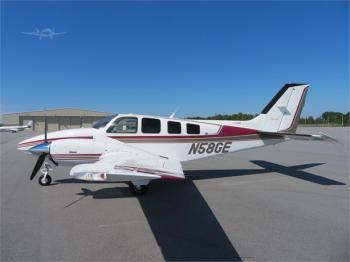 N58GE 1985 Baron 58, Serial No. TH-1480, 5135 Total Time Since New, IO-550C 300 Horsepower Continental Engines, Right Engine 1569 Since Major Overhaul and 478 Since Top Overhaul; Left Engine 478 Since RAM Major Overhaul with New Nichol Cylinders, 3 Blade Hot Props 125 Since Overhaul, King KFC-200 Autopilot Coupled to Aspen EFD-1000 EFIS Primary Flight Display w Flight Director, HSI, and GPSS Steer...
...more
.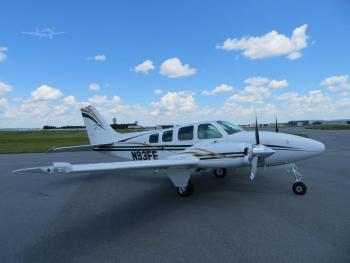 2575 Total Time Since New; IO-550 300 Horsepower "Special Edition" Engines 1447 and 1155 Since Factory New; 3 Blade Scimitar Hot Props 52 Since Factory New, Factory Air Conditioning, Long Range Fuel (194 Gallons Usable), V/G's, Graphic Engine Monitors, Digital Fuel Flow, King KFC-200 Autopilot Integrated to Garmin EFIS G500 Primary Flight Display and Multi-Function Display with HSI, Altitude Pre-S...
...more
.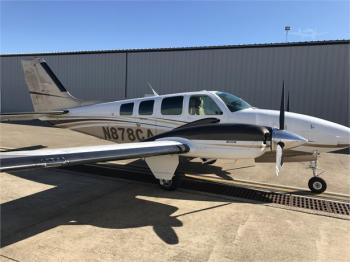 FIKI Baron with Garmin Glass Avionics, SVT, WAAS, ADS-B-IN/OUT. Air Conditioned, Tinted Windows, 2016 Paint and Interior, Impeccable Maintenance, and priced right. Airframe: Total Time: 9,710 Engines: Time: 1210 Engine was Factory New in 2012, Aircraft flies regularly, with an exceptional reliability record Props: Time: 910 Propellers were overhauled/Installed in 2012...
...more
.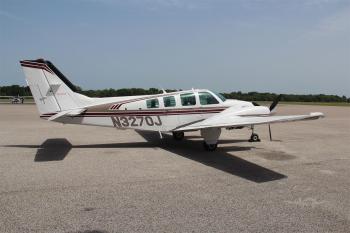 Total Time = 4450 Since New, Continental 300 Horsepower IO-550 Engines 1115 Since Factory Reman and "0" Since Top Overhaul Both Engines, 3 Blade Hot Props, Known Ice Certified, After Market Air Conditioning, King KFC-200 Autopilot / Flight Director / Slaved HSI with Yaw Damp and Altitude Pre-Select, GNS-430W GPS/Nav/Com w WAAS, RDR-2000 Vertical Profile Color Radar, Garmin GTX-345 Transponder ...
...more
.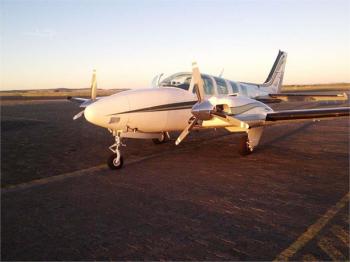 To Be Delivered to USA w/ Export CoA and N198B Reg. • Garmin GTN 750XI GPS/NAV/COM • ADSB • Jaguar Interior, Six Cream Leather Executive Club Seats, New Leather - August 2010 • Excellent Condition • 2 Owners Since New w/ Complete Logs • Always Hangered & Pampered • Pneumatic De-icing System • Electric De-icing System (Propeller Heating Boots) • Six-Place Intercom Syst...
...more
.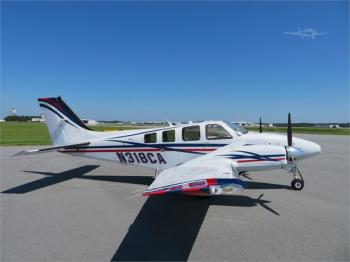 N318CA 2001 Baron 58, Serial No. TH-2001, 1175 Total Time Since New, IO-550 300 Horsepower Engines 360 Since Major Overhaul, 3 Blade Hot Props 75 Since New Feb 2020, King KFC-225 Autopilot / Flight Director / Slaved HSI w Altitude and Vertical Speed Pre-Select and Yaw Damp, Known Ice Package, Long Range Fuel 194 Gallons Usable, Garmin GTN-750 GPS/Nav/Com w WAAS, Garmin GNS-530W GPS/Nav/Com w WAAS,...
...more
.