Inactive Ad
---
The ad you requested is no longer active, however you may be interested in some of the following Beech Baron 58 ads:
---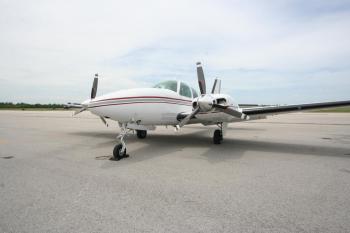 Clean Baron 58 with 5714TT 1393/1393 Since Factory Remans, Radar, GPS, RDR ALT, HSI, Cent IV, Club Seating De-Iced Very Clean Aircraft Professional Managed and Flown! Airframe: 5714 TT Engine(s): 1393 Since Factory REMAN Left Engine 2004 1393Since Factory REMAN Right Engine 2004 Props: Prop Specs660 SPOH 2011 660 SPOH 2011 Three Blade props ...
...more
.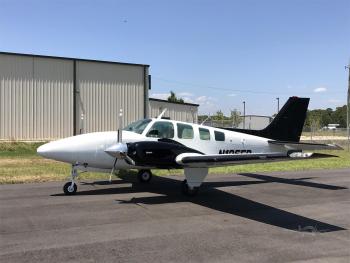 N135FB, 1977 BEECHCRAFT BARON 58, Serial No. TH-816.Total Time Airframe: 11,120 Hours; Total Time Engines 990/275 SMOH, Original Logbooks * Always Hangared * No Damage History, Annual cert Feb 2020 (Part 135 maintained) Useful Load: 1615 LBS. Can deliver anywhere in Continental U.S.A. for expenses and plane ticket home. Baron transition training available. "SPECIFICATIONS SUBJECT TO VERIFICATION U...
...more
.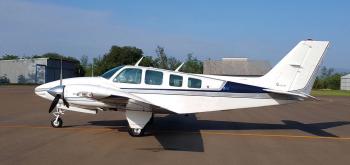 Engines: TSOH: 455/220 TBO: 1700 Hours, Time Remaining: 1245 / 1480 Hours Props: TSOH: 516/516 TSML: 192/192...
...more
.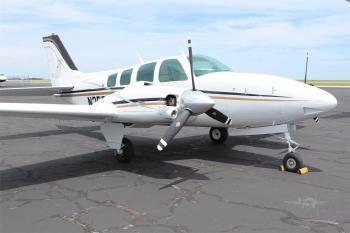 Engine(s): #1 ~500 hrs SMOH #2 ~700 hrs SMOH Props: Hartzell PHC-J3YF-2UF #1 TSMO 1069 #2 TSMO 694...
...more
.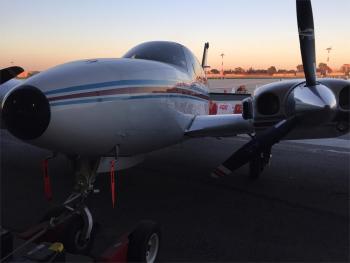 Fantastic low time and perfectly maintained Baron 58P, upgraded avionics Airframe: Empty Weight: 4489.3 Lbs Moment: .39354.45 Weighed July 2013 Engines: Continental TSIO-520-WB, sn 518645 and 518649 TSOH: 39 hrs Last overhaul: 22/03/2011 TBO: 1600 hrs/12 years (24 years in Italy) Props: Propellers McCauley 3AF32521, sn 071550 and 071551 TSOH: 9 hrs Last overhaul: 25/09/2014 TBO: 2000 ...
...more
.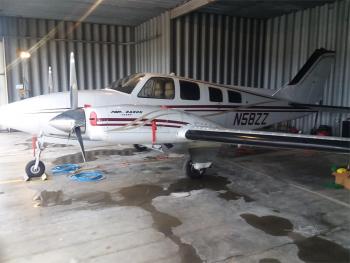 Airframe: No physical damage Engines: Engine Make: Continental Engine Model: TSIO-520WB Engine Serial #'s: 519339 (Left) 274045 (Right) Engine Horsepower: 325hp/each Engine Year: Overhaul by Ram 06-19-2012 760 hours since overhaul 1620 total engine hours Props: Propeller Make: Hartzell Propeller Model: PHC-J3YF-2UF Propeller Serial #: ED3171 (Left) ED3177 (Right) Propeller Year: ...
...more
.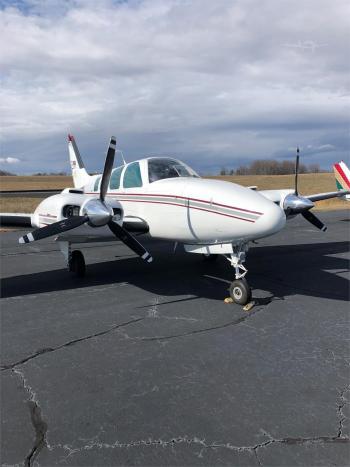 Airframe: Total Time: 7266 4457 Landings Engines: Continental IO-550 LEFT TBO - 1700 Time Since Overhaul - 594 RIGHT TBO - 1700 Time Since Overhaul - 348 Props: Due Calendar: Left 10-31-2020 Right 12-31-2020...
...more
.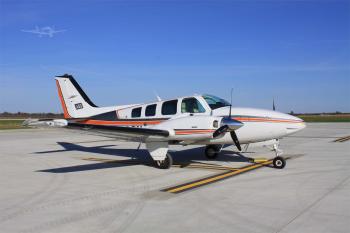 N8002Y 1992 Baron 58, Serial No. TH-1652, 3100 Total Time, Engines IO-550 300 Horsepower Engines 1359 & 2152 Since Major Overhaul, Known Ice Certified, KFC-200 Autopilot w Flight Director, Slaved HSI, Yaw Damp and Altitude Preselect, Garmin GTN-750 GPS/Nav/Com w WAAS, Garmin GTN-650 GPS/Nav/Com w WAAS, Garmin GTX-345 Transponder with ADS-B In & Out, ADS-B Traffic & Weather Displayed on GTN 750 & G...
...more
.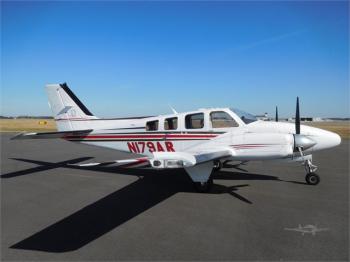 N179AR 2005 Baron 58, Serial No. TH-2120, 1720 Total Time, Engines IO-550 300 Horsepower Special Edition Engines 1720 Since New, Factory Air Conditioning, Certified Known Ice, 194 Gallons Useable Fuel, King KFC-225 Autopilot / Flight Director / Slaved HSI w Yaw Damp and Altitude & Vertical Speed Pre-Select, Garmin GNS-480 GPS/FMS/Nav/Com Map with WAAS, Garmin GNS-530 GPS/Nav/Com #2, Garmin GMX-200...
...more
.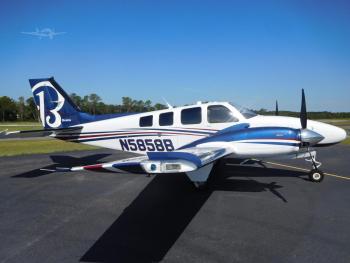 N5858B Serial # TH-2328 CONTINENTAL IO-550 300 HORSEPOWER "SPECIAL EDITION" ENGINES G1000 NXi IMPROVEMENTS - ADS-B In and Out Subscription Free Traffic and Weather, Wireless Connectivity (with Flight Stream 510), Surface Watch Runway Monitoring Technology, Visual Approach Guidance, IFR Charts, VFR Sectional Charts, VRP - Visual Reporting Points, VSD-Vertical Situation Display, Animated NexRad W...
...more
.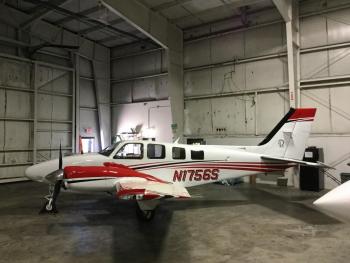 Airframe: 2,557 HRS TT Useful Load 1,473.1 November 2019 Annual. IFR Cert March 2019 Engines: Engine 2: 850 SNEW Engines Props: Left and 236 SPOH Left and Right (December 2018)...
...more
.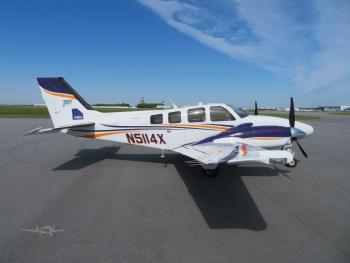 N5114X 2014 Baron G58, Serial No. TH-2414, 700 Hours Total Time Since New, Airframe Engines and Props, IO-550-C 300 Horsepower Engines with new 1900 Hour TBO, 3-Blade Scimitar Hot Props, Comfort Plus Digital Climate Control / Air Conditioning, Known Ice Certified, Long Range Fuel (194 Gallons Usable) Garmin G1000 EFIS Primary Flight Display and Multifunction Displays, Garmin GFC-700 Three Axis Int...
...more
.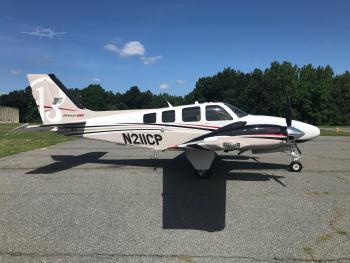 2014 G58, Only 150 TTSNEW! G1000 w/ WAAS & Synthetic Vision, ADSB Out, Garmin GDL 69 XM Weather / Music, Garmin GWX 68 Color Radar, Garmin GTS 820 Active Traffic, WX 500 Stormscope, Rosen Visors, Known Ice Package, Long Range Fuel, NDH and Very Well Maintained. N211CP, New inside and out! including G58 Baron School. Airframe: Total Time: 150 Engines: Time: 150 Continental IO-550 300 Horse...
...more
.