1968 Beech V35A Bonanza
Reg # N7149N
Inquire
Loan Calculator here...
Close
Well maintained aircraft. Hangared in Topping, VA. Equipped with many upgrades: Fifty Five X Autopilot, Garmin GMA 340 Audio Panel, and Garmin 335 transponder. This aircraft meets the 2020 ADSB mandatory requirement. Recently overhauled engine with 265.3 hours. Useful load: 1254.

Total Time: 5100.8

Engine: Continental IO-520BA
Power: 285
Engine hours: 265.3
Last Annual compression check: 74, 70,72, 70, 73, 72.
Propeller: McCauley 2A36C23-P-EG / S-84B-0
Propeller hours: 265.3
Airspeed indicator
Vertical speed indicator
Altimeter instrument
Attitude indicator
Directional gyro
Parking brake
Hobbs meter
Clock
OAT gage
Volts amps indicator
Vac press indicator
Turn and bank indicator
Push to talk for pilot and co-pilot
ELT
Landing and taxi light
Tail position light/tail beacon light
Fifty Five X Auto Pilot
Garmin GMA 340 Audio Panel
Nav/Com, Bendix/King KX 165 radio
Nav, Bendix/King KN 53 radio
Garmin 335 transponder
Garmin GNC 300XL GPS
Exterior: 8 out of 10
Exterior Color: White base with copper and black stripes down the length of the fuselage.
Interior: 7.5 out of 10
Interior Color: Brown leather and fabric covered seats. Black vinyl and multi blend fabric side wall, and off-white headliner. No tears in fabric (just dated).
Hangared: Yes
Complete and continuous logs: Yes (digital copy of logs available upon request)

Damage History: No known damage history.

Annual completed: January 2020
IFR Completed: January 2020

Weight and Balance:
Max Gross: 3400
Empty Weight: 2146
Useful Load: 1254
Standby buss to run only essential radio equipment
Standby Turn, Attitude, airspeed, and directional indicators
Oil temp, cylinder temp/Manifold press E. I. Inc gage
RPM/Fuel E. I. Inc. gages
Garmin center yoke mounted GPS Map 296
D' Shannon Aviation windshield STC SA2870WE
Auto pilot is coupled to GPS for GPSS function and is also coupled to HSI (See 337 upon request for installation details)
Aircraft is equipped with electric trim
Garmin 420W (not installed)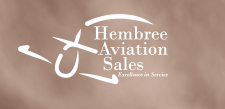 Hembree Aviation Sales
P.O. Box 763
Quinton, VA 23141
Tell the dealer you saw this ad on
AircraftDealer.com