1974 BEECHCRAFT V35B BONANZA
Reg # N400V
$129,000
A low time, 2-owner, V35B with Factory Reman, Fresh Top Overhaul, GNS-430, KX-165, King HSI, STEC-30 Autopilot with GPSS. Always hangared. Fresh September Annual, ready to go.

Airframe:
2127 hours Total Time Since New

Engines:
570 hours on Factory Reman Engine (3/1995)
11 hours since Top Overhaul of All Six Cylinders by Premier Aircraft Engines (Aug 2019)
Make: Continental / Model: IO-520-BB / Serial # 285944-R

Props:
570 hours since Prop Overhaul by Flightcraft of Portland, OR FAA CRS # FCPR831D (3/1995)
Make: McCauley / Model: 3A32C76-S-M-R / Serial # 792872
King KMA-24 Audio Panel w/ Remote King 3-Light Marker Beacons
Garmin GNS-430 IFR-Approach-Certified GPS-Com w/ VOR, LOC, Glideslope, & Color Moving Map Display
King KCS-55A Slaved HSI
King KX-165 Digital Nav-Com w/ VOR & LOC
King KN-64 Digital DME
King KT-76 Transponder w/ Encoding Altimeter
STEC System 30 Autopilot w/ Hdg & Nav Tracking, GPSS, Steering, & Altitude Hold
This aircraft sports the original Beech factory paint that has been lightly touched up.

Matterhorn White (base) (118684-318)
Bahama Blue (major trim) (118684)
Aristo Blue (minor trim) (118864-607)

Always hangared. Still very presentable and clean.

Rated - 7+.
Original Beech factory interior with Blue fabric & vinyl seat upholstery.
Light Beige sidepanels with Blue accents.
Brown carpeting.
Off White interior window trim 7 headliner.
Shows some wear & tear but still presentable. Two worn spots on front passenger seatback upholstery due to wear from passengers entering & exiting the plane.

Rated - 7.
Polished Prop Spinner
Avionics Master Switch
Instrument Post Lighting
Aileron Trim
Pitch Trim
Pilot's Rams Horn Yoke with Push-to-Talk Switch
Pilot's Foul Weather Side Window
Vernier Throttle, Mixture & Prop Controls
Brackett BA-7112 Air Filter (STC # SA71GL)
Pilot's Clock
New Brakes Discs & Pads, Engine Fuel Hoses, Main Battery, RH Fuel Cell, & ELT in Aug 2019.
ELT Battery next due: July 31, 2024.
Useful Load = 1,228.5 lbs.
Always hangared, & based in the Pacific Northwest its entire life.
All Logs Complete Since New.
Minor damage history: Gear up landing in 1995. Fully & professionally repaired by an FAA Certified Repair Station.
Annual Inspection next due: October 1, 2021.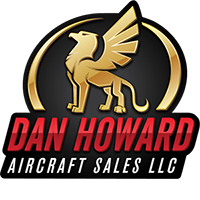 Dan Howard Aircraft Sales LLC
Tulsa,OK
Tell the dealer you saw this ad on
AircraftDealer.com