1974 BEECHCRAFT B60 DUKE
Reg # N123JF
$99,000
402/402 since Bottom Overhauls w/ Centri-Lube Cams by Firewall Forward, 54/54 hrs since Top Overhaul of All Cylinders by Firewall Forward. A/C, VG's, GNS-430, Avidyne Flight Max MFD, Century IV AP w/ YD, Shadin Dig FF, Stormscope. Fresh Annual Inspection underway now.

Airframe:
3,106 Hours Total Time
* Log copies are uploaded at the bottom of this ad in the 'Service Logs' section.

Engines:
402 hours since ottom Overhaul including Recertified Crankcase, New Camshaft, New Bearings & Lifters by Firewall Forward of Greeley, CO
Features the 'Centri-Lube' Camshaft upgrade! (STC # SE01436LA)
54 hours since Top Overhaul on All Cylinders with New Pistons, Piston Pins & Rings by Firewall Forward of Greeley, CO

Make: Lycoming / Model: TIO-541-E1C4 / Serial #: L-1713-59
380 Horsepower Turbocharged Engine

Props:
Left Prop:
402 hours since Prop Overhaul on 3-Blade Hot Prop by Ottosen Propeller & Accessories, Inc. (Phoenix, AZ)
Make: Hartzell / Model: HC-F3YR-2UF / Serial # DA1561

Right Prop:
402 hours since Prop Overhaul on 3-Blade Hot Prop by Ottosen Propeller & Accessories, Inc. (Phoenix, AZ)
Make: Hartzell / Model: HC-F3YR-2UF / Serial # DA1511
Collins Audio Panel
GNS-430 IFR-Approach Certified GPS-Com w/ Color Moving Map
Collins Slaved HSI
Avidyne Flight Max Multi-Function Display with Color Moving Map
Collins Nav-Com #2 w/ VOR, LOC & Glideslope
Collins ADF & DME
Collins RMI
Stormscope
Collins Transponder
Century IV Autopilot w/ Hdg & Nav Tracking, Pitch Mode, Altitude Hold, Glideslope Coupling & Yaw Damper
Professionally stripped, prep'd, primed and painted with Alumigrip paint products by Freeman Aircraft Painting of Cuttington, TN in June 1980.

Base: Matterhorn White (6313)
Major Trim: Sky Blue (4143)
Minor Trim: Mesa Gold (5316)

Rated 7.
Grey Leather interior upholstery.
All materials installed in 2000 with FAA approved flame retardant certifications.
Rated 7.
Air-Conditioning
Full De-Ice Boots
Gold Heated Windshield
Hot Props
Full Co-Pilot Instrumentation
Shadin Digital Fuel Flow (TSC # SA
Boundary Layer Research Vortex Generators (STC # SA5761NM)
Executive Club Seating
Cleveland Wheels & Brakes (STC # SA179GL)
Engine Oil Filters (CH48109-1) (STC # SE00584DE)
Woodward Prop Synchronizer
All Logs Since New.
Minor damage history: Nose gear collapse in March 1995, parts replaced included nose cone & bulkhead, lower nose skins, and nose gear doors.
Annual Inspection now underway with fresh wing bolt magnaflux inspections.
Modifications / Conversions
Firewall Forward overhauled "C-model" Engines with Centri-Lube Camshafts
Boundary Layer Research Vortex Generators (STC # SA5761NM)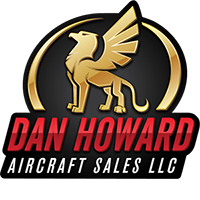 Dan Howard Aircraft Sales LLC
Tulsa,OK
Tell the dealer you saw this ad on
AircraftDealer.com