Inactive Ad
---
The ad you requested is no longer active, however you may be interested in some of the following Beech King Air 300/350 ads:
---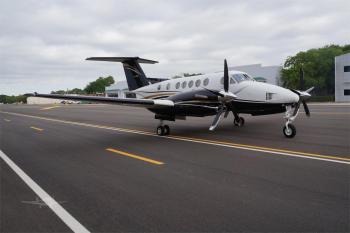 Well kept KA 300, low time MT 5-blade props, low time since HOTS, Garmin 750/650 and more, beautiful paint, very nice interior Airframe: Total Time: 9950 Total Landings: 9738 No damage history Engines: PRATT & WHITNEY PT6A-60A Since Hot Section Time L/R: 438/438 Props: MT Overhaul L/R: 211/211...
...more
.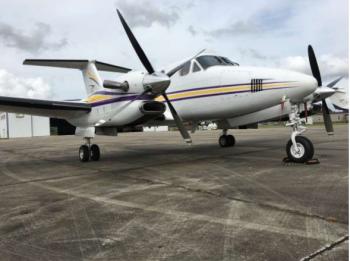 Low Time, G-1000 King Air 300 With WInglets and Fresh Hot Sections Airframe: 5860 TT Engine Specs: PT6A-60A PCE-95533 PCE-95533 Prop(s): HARTZELL HC-B4MP-3B S/N FWA-3932, FWA2120 OVERHAULED 5/01/2013...
...more
.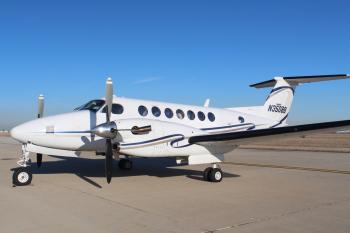 Fresh Phase 3 & 4 and 72 month landing gear inspections March 2019! Airframe: TTAF: 6050 Landings: 5,477 Engines: TSOH L/R: 2486/2486 TSHS L/R: 687/687 Left & Right: Standard Aero O/H and HSI Props: TSOH L/R: 562/562 Left & Right: Overhauled 6/15...
...more
.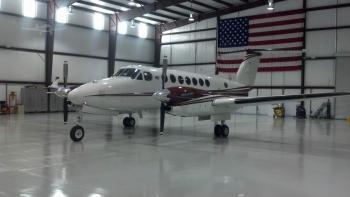 Trades Considered Airframe: Total Time: 5429.6 Total Landings: 4323 Engines: TBO 3600 Left Engine: Model: PT6A-60A PCE95682 TTSN: 5429.6 SMOH: 3193 Cycles: 4323 Right Engine: Model: PT6A-60A PCE95683 TTSN: 5420.6 SMOH: 3193 Cycles: 4323 Props: HARTZELL FOUR BLADES TT: 5429.6...
...more
.
Hellmann Trading Company LLC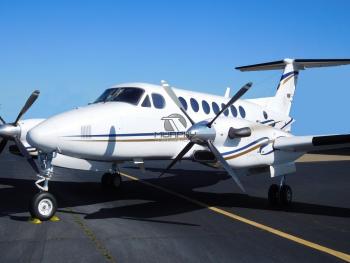 1994 KA 350, FL-123: 5657 TT, TSOH 1905/1905, 0/0 SHSI, Proline, ADS-B IN/OUT, GDL-69A XM, GMX-200 MFD, APS-65 AP, Garmin 530W GPS, Skywatch, Raisbeck Dual Aft Strakes, Exterior/Interior 12/14. Ask Price $1,645,000.00...
...more
.
Murphy Acquisitions, Inc.

Call for Pricing! • 5695 TTAF • TCAS II • EU Ops 1 • UNS-1E FMS • 11 Passenger Interior • Raisbeck Nacelle Wing Lockers • 2015 Elliott Paint & Interior • RVSM • Fairchild F1000 SSFDR • Frakes Exhaust Stacks • Basic Empty Weight: 9908 lbs • Rosen Passenger Audio and Video Entertainment System—Including Moving Map and Briefing System • Gill Lead Acid Bat...
...more
.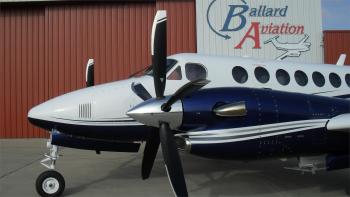 S/N: FL-409, 4054.3 TTSN, 3600 TBO, 0 / 0 HR TT SNEW PT6A-67A's Blackhawk, New MT 5 Blade Props, Raisbeck Wing Lockers & Dual Aft Strakes, NDH, Logs Complete Since New, New Paint Completed, Interior In Progress, Garmin G1000 Being Installed. Airframe: Total Time: 4054.3 Hours SNEW Landings: 2974 No Damage History Logs Complete Since New Engines: PT6A-67A Blackhawk Left Engine Serial ...
...more
.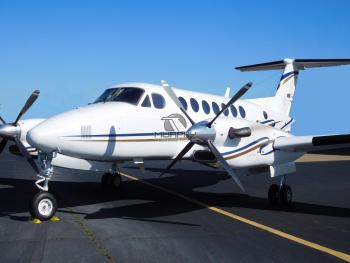 3093 Total Time Airframe and Engines, 1335/1335 Hours Since Hot Section, 0/0 Hours Since Prop Overhaul, Proline 21 w/Collins Modernization, Dual FMS-3000, Honeywell FDR, HF-1050 w/Selcal, Raisbeck Aft Strakes and Wing Lockers, Synthetic Vision, IFIS-5000, WAAS/LPV, ADS-B....
...more
.
Murphy Acquisitions, Inc.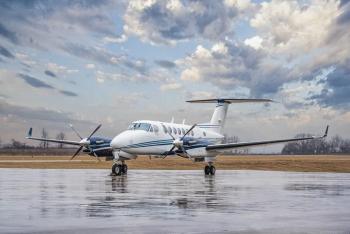 American Aircraft Sales is proud to present this 2008 Beechcraft King Air 350. One U.S. Owner Since New, Phase 1-4 and Landing Gear Overhaul at Stevens Aviation, Raisbeck Lockers and Aft Strakes, 5-yr Props and Hoses 3-18, ADS-B and WAAS/LPV Airframe: Total Time: 1831.1 Total Landings: 1766 Engines: Pratt & Whitney PT6A-60A Engine #1 TTSN: 1,831.1 Hours TSHS: 308.4 Hours Engine #2 TTSN: 1...
...more
.
American Aircraft Sales Inc.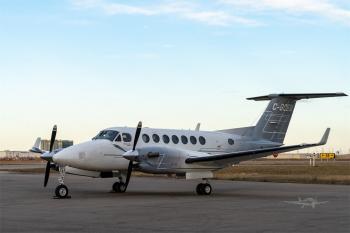 Asking $2,950,000 2,689.8 Hours since New ADS-B (V2) Out Synthetic Vision System Engines Enrolled on ESP, Avionics Enrolled on CASP Airframe: Total Time: 2689 Total Landings: 1937 Engines: Time: 2689/2689 Cycles: 1927/1927 ESP Gold Lite Props: Hartzell Propeller Inc. HC-84MP-3C Prop #1: S/N: FWA-4525 / 2,702.6 Hours since New Prop #2: S/N: FWA-4526 / 2,702.6 Hours since New...
...more
.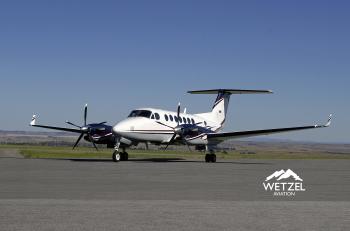 AB, CA
$3,025,000.00 SALE OR LEASE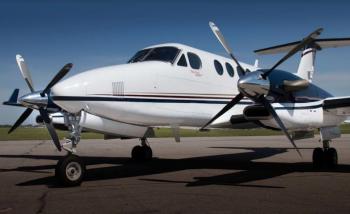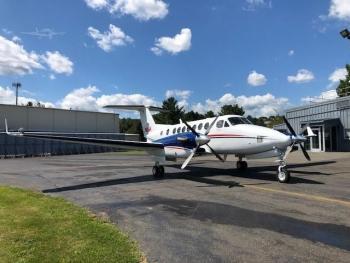 Immaculate 2011 King Air 350i for sale! 1,200 hours since new! Equipped with Proline 21 Integrated System, Aircell Axxess II Broadband, TCAS, and Collins FGC-3000 Automatic Flight Guidance System. Aircraft is ADS-B Out Compliant, Single Pilot IFR approved, and has an interior fire block. Call for more information! Airframe: King Air 350i Airframe hours since new: 1,200 hours Engines: Engine 1...
...more
.