2004 BEECHCRAFT KING AIR 350
Reg # N409LV
Inquire
S/N: FL-409, 4054.3 TTSN, 3600 TBO, 0 / 0 HR TT SNEW PT6A-67A's Blackhawk, New MT 5 Blade Props, Raisbeck Wing Lockers & Dual Aft Strakes, NDH, Logs Complete Since New, New Paint Completed, Interior In Progress, Garmin G1000 Being Installed.
Airframe:
Total Time: 4054.3 Hours SNEW
Landings: 2974

No Damage History
Logs Complete Since New
Engines:
PT6A-67A Blackhawk

Left Engine Serial Number: PCE-RT0119
0.0 HR TT SNEW on 07/2019
3600 TBO
5 Year 2500 Hour Warranty
Warranty starts Day of Installation
400 Hours of Pratt ESP Gold

Right Engine Serial Number: PCE-RT0120
0.0 HR TT SNEW on 07/2019
3600 TBO
5 Year 2500 Hour Warranty
Warranty starts Day of Installation
400 Hours of Pratt ESP Gold
Props:
MT 5 Blade Props PN-MTV-27-1-N-C-F-R(P)/CFR260-65b

Left Prop Serial Number: 170892
0.0 HR TT SNEW on 07/2019

Right Prop Serial Number: 170895
0.0 HR TT SNEW on 07/2019
Collins Proline 21
• Autopilot: Collins Pro-Line 21 ADF-3000
• Flight Director: Collins Pro-Line 21
• HSI: Collins Pro-Line 21 ADF-3010
• Radar: Collins Pro-Line 21 TWR-850
• XM Weather: Collins Pro-Line 21
• FMS: Collins Pro-Line 21 FMS-4000
• Long Range Navigation: Collins Pro-Line 21 GPS-4000A
• Audio: Collins Pro-Line 21 VHF-4000
• Comms: Collins Pro-Line 21 VHF-4000
• Navs: Collins Pro-Line 21 NAV-4000/NAV-4500
• Transponders: Collins Pro-Line 21 TDR-94 Mode S
• MFD Collins Pro-Line 21
• RMI: Collins Pro-Line 21
• DME: Collins Pro-Line 21 DME-4000
• Compass System: Collins Pro-Line 21 AHC-3000
• Radar Altimeter: Collins Pro-Line 21 ALT-4000
• Encoding Altimeters: Collins Pro-Line 21
• CVR: Collins Pro-Line 21
• Altitude Alerter: Collins Pro-Line 21
• TAS: Collins Pro-Line 21
• EGPWS: Collins Pro-Line 21 Honeywell MK VII
• RVSM: Collins Pro-Line 21
• ADF: Collins Pro-Line 21
• ADSB: Collins Pro-Line 21
• TCAS I: L-3 Skywatch

OR

Garmin G-1000 NXI
• Autopilot: Garmin GFC-700
• Flight Director: Garmin G-1000
• HSI: Garmin G-1000
• Radar: Garmin GWX-68
• XM Weather: Garmin GDL-69A
• Long Range Navigation: Garmin G-1000
• Audio: Garmin GMA-1347D
• Comms: Garmin G-1000
• Navs: Garmin G-1000
• Transponder: Garmin GTX-335
• Transponder: Garmin GTX-345
• MFD Garmin G-1000
• RMI: Garmin G-1000
• DME: Dual Collins DME-42 Coupled to G-1000
• Compass System: Garmin G-1000
• Radar Altimeter: Collins ALT-50A Coupled to G-1000
• ELT: Artex 110-4
• Encoding Altimeters: Garmin G-1000
• CVR: Loral/Fairchild S100-80
• Altitude Alerter: Garmin G-1000
• ADSB OUT: Garmin GTX-825
• ADSB IN: Garmin GTX-825
• TAWS: Garmin G-1000
• RVSM: Garmin G-1000 Capable
• ADF: Collins ADF-60A w/Single CTL-62 Control
• Standby: SAM MD302
• NXI: Yes
Strip and Paint on 10/2019.
New Interior on 10/2019

Cabin: Executive non-smoking configured. Pilot/Copilot under-seat map cases and two compartment chart cases. Eight lateral tracking chairs in aft club. Mid cabin Pyramid Cabinet with three storage drawers. Four executive tables with leather table top inserts and over-table reading lights. Aft RS magazine rack. Aft aisle facing belted flushing potty seat.

Interior Materials: Grey leather upholstery. IZIT leather Grey headliner and window panels. Cream Leather inset panels, rails, armrests and cockpit sidewalls. Brown cabinetry and working surfaces. Tan Carpet. Tan seatbelts and harnesses.
• Raisbeck Wing Lockers
• Raisbeck Dual Aft Strakes
• LED Landing Lights and Recog Lights
• Brake De-Ice
• USB Chargers in Cockpit
• Engine Fire Detection
• 77 Cubic Foot Oxygen System
• Auto Feather With Prop Sync
• Lights: Dual Landing, Taxi, Dual Rotating Beacons, Wing Position/Strobe/Recognition,
Tail Position/Strobe, Dual Ice, Logo
• Five Year Wing Bolt Replacement c/w 02/2016
• Six Year Landing Gear Overhaul c/w on 08/2016
• Phase 1 Thru 4 Inspections c/w on 07/2019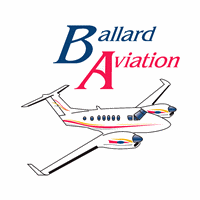 Ballard Aviation, Inc.
Newton,KS
Tell the dealer you saw this ad on
AircraftDealer.com