1985 BEECHCRAFT KING AIR C90A
Reg # N319MB
$570,000
Loan Calculator here...
Close
Three Corporate Owners since new. Full and complete aircraft and engines logs, No Known Damage History.
Airframe:
Total Time: 9265.4
Engines:
Pratt & Whitney PT6A-21 Reverse Flow, Free Turbines, rated at 550 s.h.p., 3,600 TBO
ENG. #1: 2,276.4 SMOH by Dallas Airmotive, 334.3 since hot by P & W, Serial: PCE 25246
Eng: #2: 2,276.4 SMOH by Dallas Airmotive, -0- since hot by Dallas Airmotive, Serial: PCE 25248
Airtight Warrantee by Dallas Airmotive
Props:
Hartzell, three blade, Electric Heated, Reversible propeller HC-B3TN-3M 3,000 hours/ years TBO
Prop. #1: 188.6 since Major Overhaul – due May 2022, Serial: BUA 25767
Prop. #2: 188.6 since Major Overhaul – due May 2022, Serial: BUA 25768
King KFC-250 Automatic Flight Control System with Electric compass system, HSI, Flight Director, Remote mode enunciator, all radio couplers, Electric Trim and Yaw Damper, King KDC-298 Air Data Computer altitude alerter/pre-select controller King KCP-299 Flight Computer, King KA-141 Pitch/Roll Monitor King KCI-310 Flight Command Indicator King KC-291 Yaw Mode Controller

Dual King KTR-908 Comm Transceivers
Dual King KNR-634 Nav Receivers
Bendix/King KLN-900 GPS w/Shadin Digidata Fuel/Air System
King KDF-806 ADF
King KCS-305 Slaved Compass System (#1)
Collins MCS-65 Compass System (#2)
King KDM-706 DME
Dual King KXP-756 Transponders
King KNI-582 RMI
Sandel ST 3400 TAWS/RMI
King KAS-297A Altitude Alerter/Preselect
King KEA-346 Encoding Altimeter
King KWX-58 Color Radar w/KGR-358 Radar Graphics
King KRA-10A Radio Altimeter
NEW (2017) Painted in factory Scheme - Matterhorn White with striping of Burgundy, Gray and Aristo Blue.
NEW (2014) Seating: Executive 8-place club seating arrangement appointed with seats of Gray Leather with Gray Leather inserts and piping. Side panels: Gray Leather and gray wool Berber Carpeting. Headliner: Gray Fabric. Cabinetry: Cherry Laminate with Left- and Right-hand Map Cases. Forward divider with curtain. Forward RH pyramid with 3 Drawer Storage. Forward Left-Hand refreshment bar storage w/Ice Chest. Aft under seat bar with magazine rack, ice storage.
* Cabin reading lights
* Cabin Signs with chimes
* Fresh air vents
* Aft lavatory w/curtain
* Dual Executive Tables
* 22 cubic foot Oxygen System
Fresh Phase 1-2 inspections
Certified de-ice
Copilot's flight instruments
Air Conditioning
Hand Fire Extinguisher
Prop synchronized phaser
Dual Control Wheel Clocks
Flight Hour Recorder (1453.0)
Strobe Lights
Post lights
Dual Rotating Beacons
External Power Receptacle
Cleveland Wheels & Brakes
Wing Tip Recognition Lights
Tail Illumination Lights
Cabin Temperature Indicator
406 ELT
Concord Battery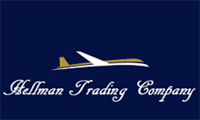 Hellmann Trading Company LLC
Tell the dealer you saw this ad on
AircraftDealer.com