2013 BEECHCRAFT KING AIR C90GTX
Reg # N448CR
Inquire
SN-LJ-2082, 1955 TTSN, 3600 TBO, 1955 / 1955 TTSN PT6A-135A's, 455 / 455 SHOT, Collins Pro-Line 21, ADS-B, Raisbeck Swept Tip Props, Dual Aft Strakes, Wing Lockers, No Damage History, Logs Complete Since New, New Paint on 07/2020, New Interior on 10/2013.

Airframe:
Total Time: 1,955
Total Landings: 2,091

No Damage History
Logs Complete Since New
On CAMP Reporting
All Logs In English
Always U.S. Based
Part 135 Current

Engines:
PRATT & WHITNEY PT6A-135A
1955.0 HR TT SNEW on 10/2013
455.0 HR TT SHOT by Pratt

Props:
Hartzell HC-D4N-3C/D9510SK Raisbeck Swept Tip Four Blade Props

Left Prop Serial Number: FY-4837
285 SNEW on 07/2019

Right Prop Serial Number: FY-4811
285 SNEW on 07/2019
Autopilot: Collins Pro-Line 21 FGC-3000
Flight Director: Collins Pro-Line 21
HSI: Collins Pro-Line 21 ADF-3010
Radar: Collins Pro-Line 21 TWR-850
XM Weather: Collins Pro-Line 21 GWX-3001 Satellite Weather
FMS: Collins Pro-Line 21 FMS-3000 LPV/WAAS
Long Range Navigation: Collins Pro-Line 21 GPS-4000S
Audio: Collins Pro-Line 21 VHF-4000
Comms: Collins Pro-Line 21 VHF-4000 8.33 Spacing
Navs: Collins Pro-Line 21 NAV-4000/NAV-4500
Transponders: Collins Pro-Line 21 TDR-94D Flight ID and Enhanced Surveillance
MFD Collins Pro-Line 21
RMI: Collins Pro-Line 21
DME: Collins Pro-Line 21 DME-4000
Compass System: Collins Pro-Line 21 AHC-3000
Radar Altimeter: Collins Pro-Line 21 ALT-4000
Encoding Altimeters: Collins Pro-Line 21
CVR: L3 Communications FA-2100-1020-00
Altitude Alerter: Collins Pro-Line 21
TAWS: Collins Pro-Line 21 ACSS TAWS+
EGPWS: Collins Pro-Line 21 Honeywell MK VII
RVSM: Collins Pro-Line 21
ADF: Collins Pro-Line 21
ADSB: Collins Pro-Line 21 ADSB Out
TCAS I: L-3 Skywatch HP
ELT: Artex C-406
Ground Communication: Ground Comm Electric Power Bus
Matterhorn White, with Black, Red, and Gold Stripes.
New Strip and Paint on 07/2020.
Cabin: Executive non-smoking configured. Pilot/Copilot under-seat map cases and two compartment chart cases. Forward and aft partitions with privacy doors. Forward LS Pyramid cabinet with heated liquid dispenser, ice chest drawer, three storage drawers, overboard drain and pull-out work surface. Five lateral tracking chairs in aft club. Mid cabin Pyramid Cabinet with three storage drawers. Dual executive tables with leather table top inserts and over-table reading lights. Aft LS narrow pyramid cabinet with storage and large ice chest drawers. Aft RS magazine rack. Aft forward facing belted flushing potty seat. Aft baggage half partition.

Interior Materials: New Interior on 10/2013.
Winglets
Raisbeck Wing Lockers
Raisbeck Dual Aft Body Strakes
Raisbeck Swept Tip Props
Cleveland Wheels and Brakes
LED Landing and Taxi Lights
Engine Fire Detection
64 Cubic Foot Oxygen System
Auto Feather With Prop Sync
Flight Hour Meter
Lights: Dual Landing, Taxi, Dual Rotating Beacons, Wing Position/Strobe/Recognition, Tail Position/Strobe, Dual Ice, Logo
Six Year Landing Gear Overhaul c/w 07/2019
Six Year Prop Overhauls/New c/w 07/2019
Twenty Year Wing Bolt Replacement c/w on 09/2013
Five Year Wing Bolt NDT/Replacement c/w on 09/2018
O2 Bottle Hydro c/w on 11/2020
FAR 91.411 and 91.413 c/w on 11/2020
Phase 1 thru 4 Inspections c/w on 1872 TTAF on 11/2020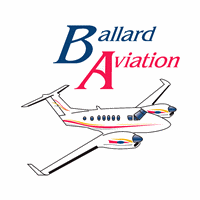 Ballard Aviation, Inc.
Newton,KS
Tell the dealer you saw this ad on
AircraftDealer.com