Inactive Ad
---
The ad you requested is no longer active, however you may be interested in some of the following Beech Baron 55 ads:
displayAdsHomeRecent
---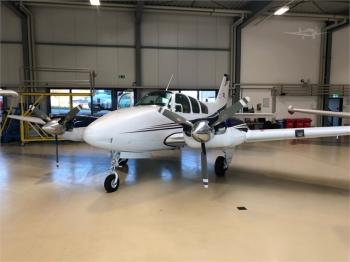 Very nice oldtimer! First production year of the Baron 55 Imported from USA to Switzerland in July 1969 with 3402:00 hours Cruising speeds: 225 mph at 75 percent power (2450 rpm) at 7,000 feet 220 mph at 65 percent power (2450 rpm) at 10,500 feet 1,225 miles range (45% power, 10,000 ft., 140 gal.) (Includes full allowance for fuel used during warm-up, taxi, take-off and climb to altit...
...more
.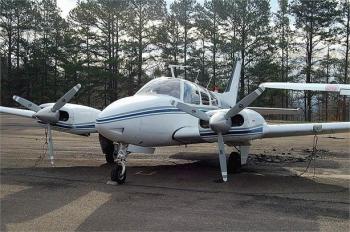 Good little Baby Baron. Fresh Annual with sale Airframe: Total Time: 3,649 Engines: Time: 1037/1037 Props: 70/70 Since OHMcCauley 3 Blades...
...more
.
Extremely nice 1962 Baron with GNS-750/650 package, G5 Display and three-blade propellers. No Known Damage History and Complete Logs. AIRFRAME: 4272 Hours ENGINES: Continental IO-470-L23 451 Hours SINCE New 451 Hours SINCE New PROPS: 512 Since Overhaul on 3 Blade Propellers in 2001...
...more
.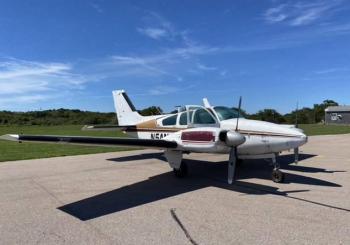 Airframe: TTAF: 10,300 Engines: Continental IO-470-L, 260 HP, 1500 TBO LE: 685 SMOH, John Jewell OH 2005, Millenium Cylinders RE: 1200 SNEW, Continental Factory Rebuilt 1995, Continental Cylinders, Top OH (replaced 5 cylinders) 2003 GAMI Fuel Injectors on both engines Airwolf remote oil filters Props: 1160/1160 Hours since Propeller Overhaul McCauley 2-blade...
...more
.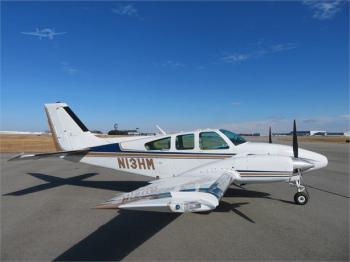 N13HM 1970 E55 Baron, Serial No. TE-813, 6412 Total Time, IO-520CB 285 Horsepower Engines Right 27 Since Zephyr Major Overhaul, Left Engine 188 Since RAM Major Overhaul, 3 Blade Props RH 27 Since Overhaul LH 612 Since Overhaul, Full De-Ice Boots Excellent Condition, Alcohol Props and Windshield Anti-Ice, LH & RH Nose Ice Shields, KFC-225 Autopilot w Alt and Vertical Speed Preselect, Yaw Damp, a...
...more
. 1974 BEECHCRAFT BARON E55 Airframe: TTAF 3200 Engines: 27/400 SMOH Props: 747/839 SPOH ...
...more
.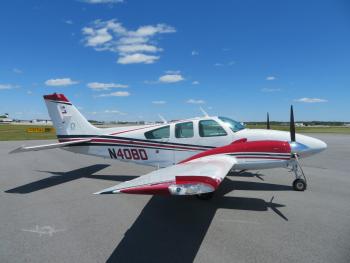 N40BD 1975 Baron E55, Serial No. TE-1014, 4125 Total Time, IO-550 300 Horsepower D'Shannon Engine Conversion 955 Since Factory Reman,, 3 Blade Hot Props 710 Since Overhaul, Century IV Autopilot w HSI and Yaw Damp, Air Conditioning, Garmin GMA-340 Audio Panel w Intercom System, Garmin GNS-530W GPS/Nav/Com, GNS-430 GPS/Nav/Com, GDL-69A XM Weather and Music, Garmin 696 Yoke Mounted GPS, WX-1000 Storm...
...more
.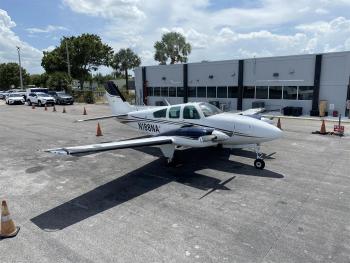 Great E55 Baron with Low time engines. 459/536 SMOH Garmin 530, king Digital IFR, ADSB, Factory Boots, Clean paint and interior Airframe: Total Time: 6595 Engines: 459/536 SMOH Props: 214 SPOH 242 SPOH...
...more
.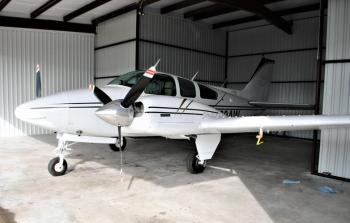 The Beechcraft BE-55 Baron is the perfect balance of horsepower combined with peace of mind, twin-engine redundancy and security. This BE-55 includes seating for six, two large baggage compartments, while offering great flexibility for both business and pleasure – with fuel efficiency, coming in right around at 11.5 GPH/engine with a consistent cruise speed of 180kts True at 69% power. This po...
...more
.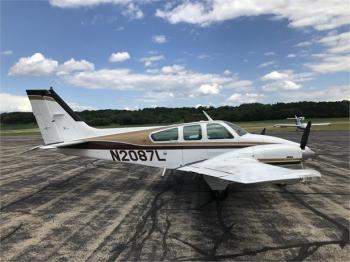 Garmin equipped, deiced 1977 B55 Baron - $179,000. Garmin 750, 345, 275 HSI, ADS-B in and out, 2505TT, 480 & 30 SMOH, 480 & 190 SPOH, GAMI injectors, original P&I, Century IV autopilot, Complete logs and records. Airframe: Total Time Airframe : 2505 Hours Complete Logs and Records Damage History - Accident/Incident Occurred on: 1978-10-14 at 147 hours total time - Narrative - Gear switch r...
...more
.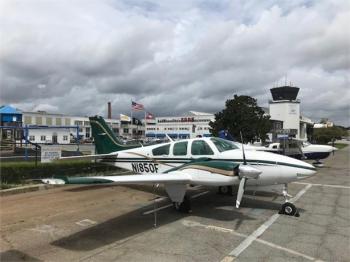 Very clean and well maintained E-55 Beech Baron with no known damage history. GTN-750 GPS/Comm/Nav and GTX-345 ADSB. Airframe: Total Time: 7,486.3 Engines: Continental IO-520-CB9B Total Time SFREM: 691.5 Props: Time: 687 SMOH 1/19/2011 Useful Load: 1,649 lb...
...more
.