1972 Beech 58 Baron w/ De-Ice Equipment
Reg # N9326Q
$174,500
A hard IFR equipped 58 Baron with Full De-Ice Package, GMA-340, GNS-430W, KX-155, HSI, Color Wx Radar, FCS-810 AP, Radar Alt, Ryan TCAD, AMS-2000, JPI 760 GEM, Shadin Dig FF, Reiff Engine Heaters, 1138 hrs on Factory New Engines, 3-Blade Props, ready to go! More pics to be posted soon!
Range: 1,013 NM
Max Takeoff Weight: 5,400 lb
Basic Empty Weight: 3,607.31 lb
Useful Load: 1,792.39 lb
Fuel Capacity Volume: 166 gal
Airftrame:
6,236 Total Hours SInce New
Engines:
1,138 hours on Factory NEW Engines w/ VAR Crankshafts & Heavy Crankcases; Continental IO-520-BB Engines (285 Horsepower / 1,700 hour TBO) Make: Continental / Model: IO-520-C7B
Props: 1,601 hours since Overhaul on Both 3-Blade Alcohol Anti-Ice Propellers Make: Hartzell / Model: PHC-J3YF-2UF Equipped with Prop Un-Feathering Accumulators
Modifications/Conversions:
Vortex Generators, Reiff Engine Pre-Heaters, Cygnet Dual Control Yokes, PM Research Radome, & Cleveland Brakes
Avionics:
Garmin GMA-340 Audio Panel w/ Light Markers & Voice-Activated 6-Place Intercom System w/ Isolation Modes
Garmin GNS-430W IFR-Certified WAAS GPS-Com w/ ILS, LPV, Color Moving Map & Terrain Avoidance (coupled to HSI)
King KCS-55A Slaved HSI
King KX-155 Digital Nav-Com w/ 2nd Glideslope (KI-209)
Bendix/King RDR-2000 Color Weather Radar
Ryan ATS-7000 Traffic Collision Avoidance Detection (TCAD)
King KRA-10 Radar Altimeter
Shadin AMS-2000 Altitude Management System
King KT-76C Digital Transponder w/ Mode-C Encoder
Uavionix Tail Beacon ADS-B Out
Bendix FCS-810 Autopilot w/ Hdg/Nav Tracking, Pitch Mode, Approach Mode, Glideslope Coupling, & Altitude Hold
Additional Equipment:
Full De-Ice Package w/ Goodrich Auto-Cycling De-Ice Boots, Alcohol Windshield & Alcohol Prop (3-Gallon Alcohol Tank)
Cygnet PMA'd Dual Control Yokes (PQ2007NM)
JPI EDM-760 Twin Digital Graphic Engine Monitor
Shadin Digital Fuel Flow Computer
Electric Pitch Trim
Reiff Engine Pre-Heaters
Vortex Generators
PM Research Radome
Cleveland Brakes
Janitrol Heater
Wing Ice Inspection Lights
Pitot Heat & Heated Fuel Vents
24-Volt Electrical System
Hobbs Meter
Outside Air Temperature Gauge
Exterior:
Matterhorn White base with Black major trim & Grey accent. Rated - 7.
Interior:
Grey Leather interior upholstery with matching sidepanels. Recent new Grey carpeting. Rated - 7.
Inspection Status:
All Logs Complete Since New.
No Damage History.
Annual Inspection next due: July 1, 2023
IFR Pitot-Static Altimeter-Transponder Certification next due: July 1, 2024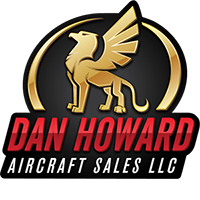 Dan Howard Aircraft Sales LLC
Tulsa,OK
Tell the dealer you saw this ad on
AircraftDealer.com