Inactive Ad
---
The ad you requested is no longer active, however you may be interested in some of the following Beech Baron 58 ads:
displayAdsHomeRecent
---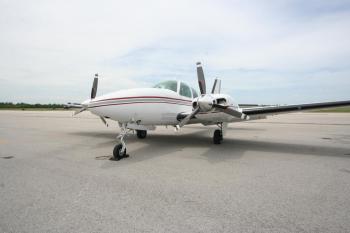 Clean Baron 58 with 5714TT 1393/1393 Since Factory Remans, Radar, GPS, RDR ALT, HSI, Cent IV, Club Seating De-Iced Very Clean Aircraft Professional Managed and Flown! Airframe: 5714 TT Engine(s): 1393 Since Factory REMAN Left Engine 2004 1393Since Factory REMAN Right Engine 2004 Props: Prop Specs660 SPOH 2011 660 SPOH 2011 Three Blade props ...
...more
.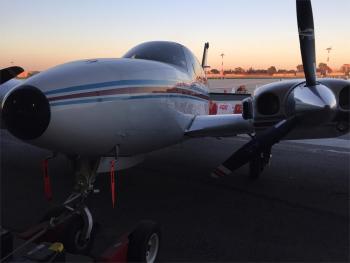 Fantastic low time and perfectly maintained Baron 58P, upgraded avionics Airframe: Empty Weight: 4489.3 Lbs Moment: .39354.45 Weighed July 2013 Engines: Continental TSIO-520-WB, sn 518645 and 518649 TSOH: 39 hrs Last overhaul: 22/03/2011 TBO: 1600 hrs/12 years (24 years in Italy) Props: Propellers McCauley 3AF32521, sn 071550 and 071551 TSOH: 9 hrs Last overhaul: 25/09/2014 TBO: 2000 ...
...more
.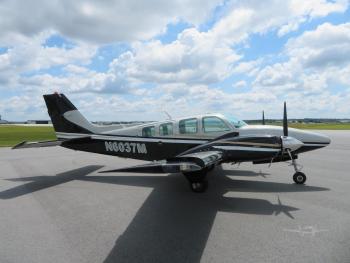 N6037M 1979 Baron 58, Serial No. TH-1022, 4030 Total Time, Engines IO-520 285 Horsepower Engines 1190 and 1495 Since Factory Reman, 3 Blade Props 1196 SOH, King KFC-200 Autopilot / Flight Director / Slaved HSI w Yaw Damp, Garmin GNS-430 GPS/Nav/Com, Bendix Color Radar w Vertical Profile, King KN-63 DME,, ADF, 6 Place Intercom System, U-Avionics Tail Beacon ADS-B Out, Cabin Door Steward, Reversible...
...more
.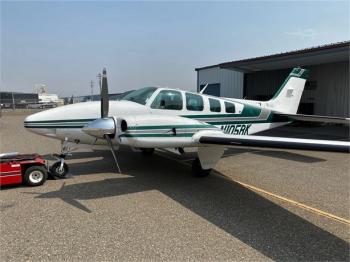 Airframe: Total Time: 5,320 Engines: Time L/R: 1597/1447 Props: Time: 1933 Don't miss the chance to own this aircraft. Click
here for more details.
.
Now on the market is a great 1979 Beechcraft Baron 58P. Travel in pressured comfort, with a high useful load and long range tanks this 58P is ready to fly. Upgraded to the GTN 750 which fully couples to the Century 41 autopilot with flight director. Also, it's certified for flight into known icing and for the hot days, it's equipped with R-134A air conditioning. Whether you have a growing fami...
...more
.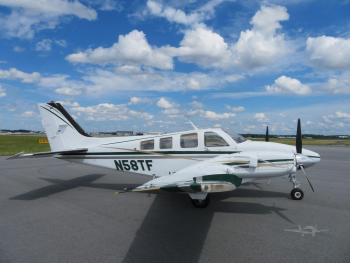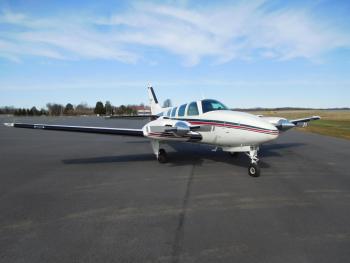 Airframe: 7538 Hours Since New Engines: 540 Since Major Overhaul Props: 540 Since Overhaul Useful Load = 1670 Lbs $265,000 with Baron School...
...more
.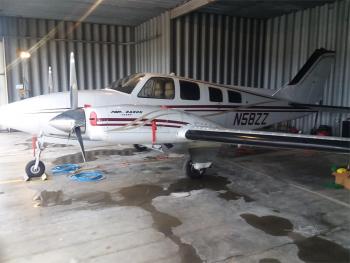 Airframe: No physical damage Engines: Engine Make: Continental Engine Model: TSIO-520WB Engine Serial #'s: 519339 (Left) 274045 (Right) Engine Horsepower: 325hp/each Engine Year: Overhaul by Ram 06-19-2012 760 hours since overhaul 1620 total engine hours Props: Propeller Make: Hartzell Propeller Model: PHC-J3YF-2UF Propeller Serial #: ED3171 (Left) ED3177 (Right) Propeller Year: ...
...more
.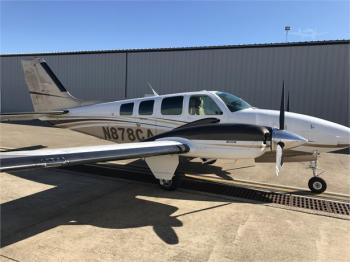 FIKI Baron with Garmin Glass Avionics, SVT, WAAS, ADS-B-IN/OUT. Air Conditioned, Tinted Windows, 2016 Paint and Interior, Impeccable Maintenance, and priced right. Airframe: Total Time: 9,710 Engines: Time: 1210 Engine was Factory New in 2012, Aircraft flies regularly, with an exceptional reliability record Props: Time: 910 Propellers were overhauled/Installed in 2012...
...more
.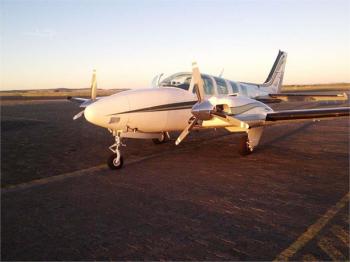 To Be Delivered to USA w/ Export CoA and N198B Reg. • Garmin GTN 750XI GPS/NAV/COM • ADSB • Jaguar Interior, Six Cream Leather Executive Club Seats, New Leather - August 2010 • Excellent Condition • 2 Owners Since New w/ Complete Logs • Always Hangered & Pampered • Pneumatic De-icing System • Electric De-icing System (Propeller Heating Boots) • Six-Place Intercom Syst...
...more
.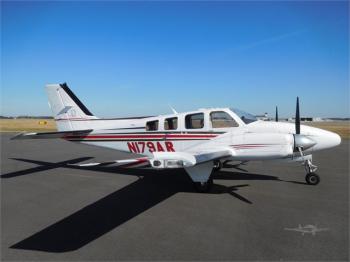 N179AR 2005 Baron 58, Serial No. TH-2120, 1720 Total Time, Engines IO-550 300 Horsepower Special Edition Engines 1720 Since New, Factory Air Conditioning, Certified Known Ice, 194 Gallons Useable Fuel, King KFC-225 Autopilot / Flight Director / Slaved HSI w Yaw Damp and Altitude & Vertical Speed Pre-Select, Garmin GNS-480 GPS/FMS/Nav/Com Map with WAAS, Garmin GNS-530 GPS/Nav/Com #2, Garmin GMX-200...
...more
.
Year: 2007 Manufacture: Beechcraft Baron Model: G58 Price: $650,000.00 Location (nearest city): Chesterfield, VA Home Airport name and ID: Richmond Executive Airport (FCI) Condition: Used Serial number: TH-2179 Registration number: N47WK Total Time: 2250.0 hrs. Flight Rules: IFR Number of seats: 6 Damage History: No known damage history. Engine 1: Continental IO 550C Engine 1 Se...
...more
.