1976 BEECHCRAFT A36 BONANZA
Reg # N9876T
$369,900
This low-time, 3-owner A36 features fresh updated avionics including GMA-345, Dual G3X, GTN750Xi, GTN650XI, GTX-345 w/ ADS-B In & Out, Garmin G5 Standby Attitude, Garmin GFC 500 with Smart Glide. Very nice paint & interior. Always hangared. Beautiful paint & interior, ready to go!

Airframe:
Total Time: 2,100

Engines:
890 hours on Factory Reman Engine
1Hrs Since Top Overhaul
510 hours since engine disassembled, inspected for very minor prop strike that occurred when engine was not running, then reassembled & installed.
Make: Continental / Model: IO-520-BA10 / Serial # 232704-R / 285 Horsepower / 1,700-hour TBO

Props:
25 Hrs Since New Hartzell Scimitar Propeller .
3-Blade Constant Speed Prop
Garmin GMA-345 Bluetooth Audio Panel w/ 3-Light Marker Beacons, USB Charging Port, & Voice-Activated Intercom System (new in 2019)
Garmin G5 EFIS Artificial Horizon (new in 2019)
Garmin G3X 10.6" Primary Flight Display w/ Synthetic Vision, Primary Flight Data, Will Display Terrain, Traffic, Engine Information, Charts, WX & More
Garmin G3X 7" Display w/ EIS(Engine Information System)Multi-Function Display w/ Synthetic Vision, Primary Flight Data, Will Display Terrain, Traffic, Engine Information, Charts, WX & More
GTN750xi Large Touch Screen Multi-Function Display w/ IFR Certified GPS/NAV/COM/LVP/RNAV& ILS Approach (new in 2020)
GTN650xi 4.6" Touch Screen Multi-Function Display w/ IFR Certified GPS/NAV/COM/LVP/RNAV & ILS Approach (new in 2020)
Garmin GTX-345 Bluetooth Digital Transponder w/ ADS-B In & Out (with TIS-B Traffic and FIS-B Weather displayed on the G3X/750/650
Garmin GFC500 Autopilot w/ Smart Glide Function, Electric Pitch & Yaw. (new in 2020)
Garmin GDL52R UAT/XM Dual-Band ADS-B "In" datalink with a SiriusXM satellite weather/music receiver (new in 2020)
Garmin Flight Stream 510 Advanced Connectivity & Avionics Integration (Bluetooth your flightplan to iPad, Foreflight; upload your flight plan from iPhone, etc.)
Light Beige base with Dark Brown & Burnt Orange accent striping.
Very clean & glossy, always hangered.
Rated 8.
Executive Club Seating.
Light Beige vinyl seats with Beige tweed fabric inserts.
Matching Light Beige side panels with factory faux woodgrain accents.
Matching Light Beige upper interior window trim with Beige tweed inserts.
Off White upper interior window trim with Beige tweed inserts.
Off White headliner.
Light Brown carpeting.
Very clean.
Rated 8.
100 Amp Alternator
Custom Metal Panel
New Circuit Breakers
Artex 406 ELT
Digital Fuel Sender units
Eagle Technologies Main Fuel Tank Quick Drain Valves (STC # SA01110CH)
BRAND NEW Co-Pilot Door Glass
Fuel Capacity = 74 Gallons
Wingtip Strobe Lights
Vernier Throttle, Mixture & Prop Controls
Overhead Reading Lights & Fresh Air Valves
Avionics Master Switch
Pilot's Foul Weather Window
Vertical Card Compass
Beech Ram's Horn Pilot Yoke w/ 'Elec Trim', 'Push-to-Talk', 'Autopilot Disconnect' & 'Compass Light' Switches
'Alternator Out' Warning Light
'Utility Door Ajar' Caution Light
Auxiliary Ground Power Start Receptacle
Brackett Air Filter (BA-7112)
Outside Air Temperature Gauge
300 hours until next 500-hour Wing Spar Carry Through Inspection is due. (AD 92-08-07)
300 hours until next 500-hour Rudder Spar inspection is due. (AD 94-24-03)
Landing Gear Motor was overhauled at 1,537.4 TTAF (521 hours ago)

Note: This is a 3-owner airplane. The second owner owned it for the past 35+ years, and it has always been hangared. This is also one of the fastest A36's we have ever owned.
All Logs Complete Since New.
Very minor damage history. In 1984, the owner/pilot had a loss of engine power just after takeoff due to a faulty magneto. He attempted to lower the gear but did not have time to get the gear down. When he knew he had the runway made, he shut the engine off. The aircraft at the time had a large, rectangular (old style) air-conditioner condenser system mounted to the belly of the airplane. The aircraft slid down the runway on only this A/C condenser and the nose gear doors. The owner was not happy with that model of A/C system, so he had them remove it then and reinstall the original style belly skins and new nose gear doors on the airplane. The engine was not running upon landing but the very outer tips of the prop blades made contact with the runway, so the engine was torn down and inspected & the prop was thus overhauled with new blades.
Annual Inspection Due: August 1, 2023.
IFR certification next due: August 2024.
Modifications / Conversions
Extended Baggage
100 Amp Alternator
D`Shannon Engine Baffling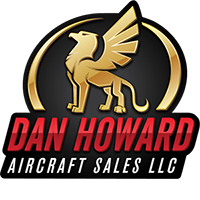 Dan Howard Aircraft Sales LLC
OK
Tell the dealer you saw this ad on
AircraftDealer.com