Inactive Ad
---
The ad you requested is no longer active, however you may be interested in some of the following Beech Bonanza 36 ads:
displayAdsHomeRecent
---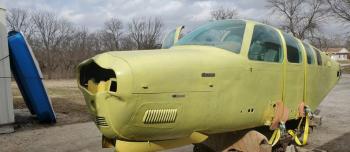 Airframe: TTAF: 2975 Have a "0" Time IO550B Engine that could go with the airplane. Beech A36 Bonanza Fuselage and tail with avionics panel, air conditioning, and complete logbooks. Nose and tail damaged in shipping....
...more
.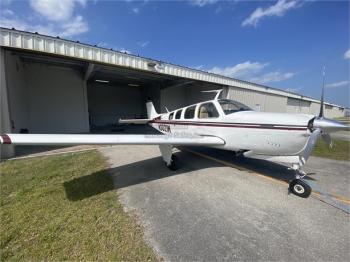 Available A-36!!! Impeccable Example of one of the most sought after Beechcraft products. This Bonanza has a GNS 430W, ADS-B in and out, JPI, Gami, 3 Scimitar Prop, D Shannon Cooling Kit, Speed Brakes, Paint and interior show like new, Always Hangared, Club Seating, Recent Top OH (60 Hours) Airframe: Total Time: 6,902 Engines: 1132 Since Factory Reman 1997 312 Since New Superior Mille...
...more
.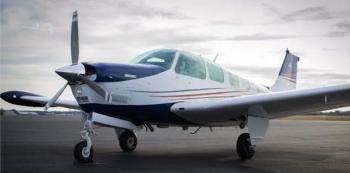 N582TM 1974 A36 Bonanza, Serial No. E-582, 4200 Total Time, Engine New Continental IO-550 300 Horsepower Factory Reman Under Full New Warranty, 1900 Hour TBO, New Three Blade Scimitar Prop Under full warranty, New Style Climate Control Air Conditioning, Osborne Tip Tanks (20 Gallons Each), Gross Weight Increase, S-Tec 55X Digital Autopilot Coupled to Aspen EFD-1000 EFIS Primary Flight Display, Gar...
...more
.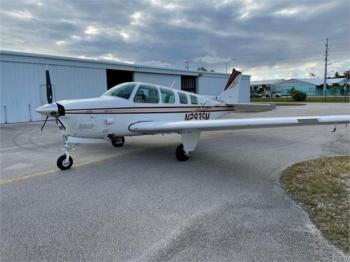 N293SM 1983 B36TC Bonanza, Serial No. EA-329, Total Time 4200 Since New, TSIO-520UB 300 Horsepower Turbo-Charged Engine 325 Since Major Overhaul, 3 Blade Hot Prop, GAMI Turbo Fuel Injectors, 102 Gallons Usable Fuel, King KFC-200 Autopilot with Flight Director and Slaved HSI, Garmin GNS-530W GPS/Nav/Com w WAAS, King KX-165 Nav/Com #2, Dual Glideslope Indicators, Garmin GTX-345 Transponder w ADS-B I...
...more
.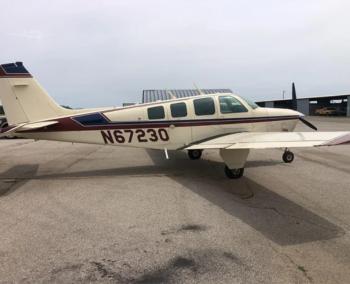 Great example of a 1983 A36. Well cared for and well updated. Garmin GTN650, Aspen 2000 EFIS PFD and MFD, Electric Air Conditioning , April 2022 Annual Inspection. This Aircraft is Ready to go. Airframe: Total Time: 4,190 Engines: CONTINENTAL IO520BB Time: 1530 SMOH Props: McCauley Time: 650 ...
...more
.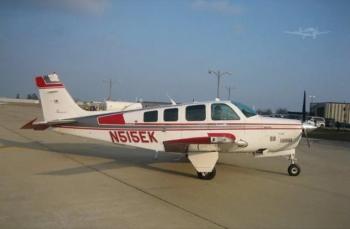 - Sale Pending - N515EK 1984 B36TC / TN Turbo-Normalized Bonanza, Serial No. EA-440, 4581 Total Time Since New, IO-550 300 Horsepower Engine 60 Since RAM Major Overhaul Sept 2021, Tornado Alley Whirlwind III Conversion w Gross Weight Increase, 1300 Lb. Useful Load, 3 Blade Scimitar Prop 60 Since Overhaul, Full TKS Anti-Ice System, Factory Air Conditioning, Garmin GFC-500 Digital Autopilot System ...
...more
.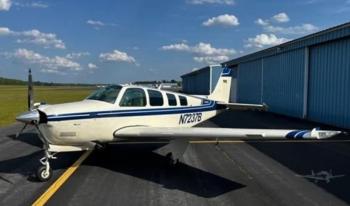 N7236B 1985 A36, Serial No. E-2255, Total Time = 1260 Since New Airframe and Engine, Engine Top Overhaul March 2020; 77 Hours Since Top Overhaul, 3 Blade Hot Prop, Ventilation Blower System, King KFC-200 Autopilot integrated to Aspen Evolution 2000 Max 2 Screen EFIS PFD & MFD with Synthetic Vision, Garmin GMA 345 Audio Panel, Garmin GTN-650Xi GPS/Nav/Com w WAAS, Garmin GNC-255A #2 Nav/Com, KRA-10 ...
...more
.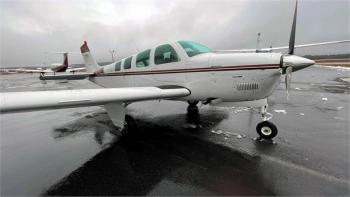 1986 BEECHCRAFT A-36 BONANZA, SMOH 890 F/REMAN 1997 ON IO-550B1F CONTINENTAL, 200 STOH/ FLOW MATCHING, GAMI INJECTORS, SPOH 3-Blade Prop, O/H 2014, NO DAMAGE HISTORY AND ALL LOGS SINCE NEW. WAS N72578 S/N E-2297, ONE OWNER FOR 15 YEARS. ALWAYS STORED IN A HEATED HANGER. R/N 8286 B D ENGINE BAFFLES SHADIN FUEL FLOW EDM 800 ENGINE MONITOR ENGINE COMPARTMENT FULLY PAINTED WHITE TANIS CABIN FL...
...more
.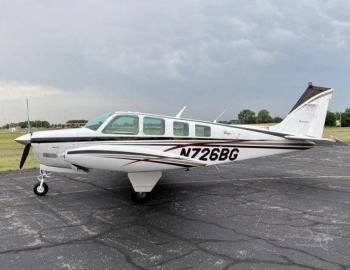 N726BG 1999 A36 Bonanza, Serial No. E-3246, 2990 Total Time Since New, IO-550 300 Horsepower Engine 1150 Since Factory New, 3 Blade Hot Prop, D'Shannon 15 Gallon Tip Tanks, 104 Gallon Fuel Capacity, Gross Weight Increase, Useful Load = 1,245 Lbs, King KFC-225 Autopilot integrated to Sandel 3308 EFIS HSI, with Flight Director, Altitude and Vertical Speed Preselect, Yaw Damp and GPSS Steering. Gar...
...more
. A clean, "No Excuses" G36 w/ G1000 NXI-upgraded panel, Factory A/C, WAAS GPS-Coms, SVT, SafeTaxi, XM Weather, Terrain Awareness, GFC-700 Digital Autopilot, GDL-69A XM Weather/Stereo Datalink, GTX-345R ADS-B In & Out, L3 SkyWatch, FliteCharts, always hangared since new, gorgeous 2012 paint, majority of the maintenance by Hawker Beechcraft. Meticulously maintained....
...more
.