Inactive Ad
---
The ad you requested is no longer active, however you may be interested in some of the following Cessna 150/152 ads:
displayAdsHomeRecent
---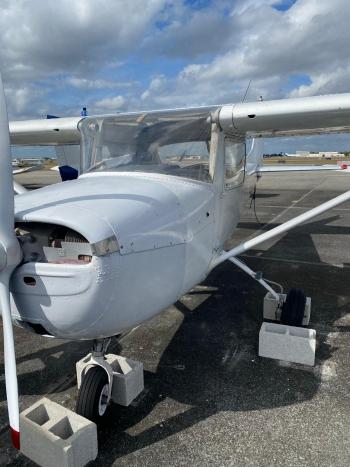 Intrepid! Cessna 150H perfect for flight training, touring, and personal single-engine piston aircraft with fixed tricycle landing gear. The 150H seats up to 1 passenger plus 1 pilot. Airframe Details:AFTT: 7468 Hrs Engine(s) Details:Manufacturer: Continental Motor Model: O-200-A65B Horsepower:100 HP ...
...more
.
1975 CESSNA 150M Fixed wing single engine (2 seats / 1 engine) Horsepower: 1 x 100 HP Best Cruise Speed: 106 KIAS Best Range (i): 303 NM Fuel Burn @ 75%: 6.5 GPH Stall Speed: 42 KIAS Rate of climb: 670 FPM Ceiling: 14,000 FT Takeoff distance: 735 FT Landing distance: 445 FT Takeoff distance over 50ft obstacle: 1,385 FT Landing distance over 50ft obstacle: 1,075 FT Airfra...
...more
.
Introducing N94584 AKC Aviation is proud to present this Midwest Based 1983 Cessna 152 II. 3117 SMOH, 1897 STOH, Stratus ESG/3i ADS-B (In/Out with AHRS), Intercom, Nav/Com, October 2020 Annual. Airframe: 7676 Total Time Engines: 3117 SMOH 1897 STOH Lycoming 0-235-N2C S/N L23911-15 Compressions at last annual October 2020 68, 78, 76, 78 over 80 Props: 2347 SNEW Sensenich / Two...
...more
.
Call for price Great basic trainer. Lycoming 108 HP engine, good for two people under 200lbs each. Total Time Airframe: 11,313.1 Engine SMOH: 692.4 (Lycoming Factory Overhaul from AirPower) Annual Due: Oct 2021 No Damage History uAvionix AV-30 Digital Attitude and Heading Indicator In/Out Transponder - KX155A Nav/Com Lynx NGT9000 ADS-B Good Condition In and Out Airframe: Total Tim...
...more
. Looking for a flyable 152 to build hours? This aircraft has been used successfully to train students at a local flight school and is ready to fly today. The paint job is above average and avionics are well above standard. The aircraft is in good condition in and out. Airframe: TTAF 14,000 Engine SMOH: 1786 Annual Due: Dec 2021 Engine(s): This Lycoming 0-235 engine aircraft is an example ...
...more
.