1966 CESSNA 172 SKYHAWK
Reg # N3768R
$129,900
A two-owner, clean, no damage, Avcon STC'd Lycoming 180-Horsepower upgraded Skyhawk with Constant-Speed Prop, Flint Tip Tanks (Super Long Range = 65 Gallons of Fuel), Power Flow Exhaust, Aileron Gap Seal, King IFR avionics, E.I. Digital Gauges, Intercom, nice paint & interior. Ready to do !

Airframe:
Total Time: 5,051
Two-owner airplane. Same owner since 1989!

Engines:
230 hours since Factory Rebuilt/Reman'd Engine by Lycoming AVCO Corp. (3-26-2020)

Make: Lycoming / Model: O-360-A1A / Serial #: RL-422337-36E
180 Horsepower Engine / 2,200-Hour Recommended TBO (as per Lycoming Service Instruction 1009BE dated April 24, 2020)

Most Recent Compressions: #1.75 #2.76 #3. 76 #4.76

Props:
2,327 hours since Overhaul on Hartzell 2-Blade Constant Speed Propeller by Aircraft Accessories of Oklahoma (Jan 2009)
411 hrs since Prop Disassembled, Inspected, & Resealed by Aircraft Accessories of Oklahoma (March 2019). Hub was inspected for corrosion, dressed and paint blades and replaced Teflon.

Make: Hartzell / Model: HC-C2YK-1BF
King KMA-24TSO Audio Panel w/ 3-Light Marker Beacons
King KX-155 TSO Digital Nav-Com Radio w/ Glide Slope,VOR & LOC.
king KX-170B Nav-Com Radio w/ LOC & VOR
Narco AT-50A TSO Transponder w/ Mode C
Uavionics TailBeacon ADS-B Out
White Base with Blue stripes
Currently at the paint shop getting minor paint touch up job
Rated as 7+
New Interior in 1997 by Don Ogle Aircraft Interiors at Hangar 2, Wiley Post Airport in Oklahoma City. (FAA Certified Repair Station #UAUR387K)
Rated as 7+
AVCON STC'd Engine Upgrade with Lycoming O-360-AIA w/ 180 Horsepower & Hartzell Constant-Speed Propeller (STC # SA807CE)
Super Long Range Fuel - Flint Tip Tanks - 11.5 Usable Extra Gallons per side. (STC # SA1614WE)
Total Fuel Capacity = 65 Gallons !
Power Flow Exhaust System (STC# SA01801AT)
B & M Aviation Aileron Gap Seals (STC# SA256NW)
Horizon International Digital Tachometer (STC #SA5820NM)
Electronics International Digital Single Probe EGT/CHT (STC# SA1626NM)
Electronics International Digital AMP/Volt Meter (STC# SA2693NM)
Door Steward Gas Spring Door Assist (STC SA#SA01120SE)
Telex PC-4 Intercom System
Wheel Fairings
Garmin 65B Panel Mounted USB Charger
Suction Gauge
Analog Clock
Avionics Master
40-Degrees of Flap Travel !
Annual Inspection next due: April 1,2023
Fresh 24-month IFR Pitot-Static, Altimeter/Transponder Certification with the sale.
No Known Damage History.
Logs: The current owner has owned this airplane since 1989 and it had all logbooks when purchased. The owner is currently searching for the original airframe log #1, and he is certain he has it, but has misplaced it. We currently do have all engine & prop logs, all maintenance records, etc. and all airframe logs from 1991 to present.
Modifications / Conversions
AVCON STC'd Engine Upgrade with Lycoming O-360-AIA w/ 180 Horsepower & Hartzell Constant-Speed Propeller (STC # SA807CE)
Flint Tip Tanks - 11.5 Usable Extra Gallons per side. (STC # SA1614WE)
Total Fuel Capacity = 65 Gallons !
Power Flow Exhaust System (STC# SA01801AT)
B & M Aviation Aileron Gap Seals (STC# SA256NW)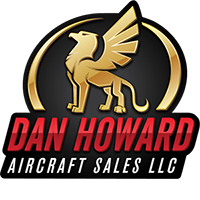 Dan Howard Aircraft Sales LLC
OK
Tell the dealer you saw this ad on
AircraftDealer.com