1980 Cessna 172N
Reg # N5423J
$159,900
1980 Cessna 172N with many upgrades that include: Garmin 430W, Aspen Evolution 1000 Pro, and Garmin GTX 327 transponder. The aircraft also has a 180 HP STC upgraded engine O-360-A4M, max gross weight increase STC and is also equipped with a S-Tec 50 auto pilot with altitude hold and aspen that is coupled together. Aircraft has great useful load for good hauling capacity, last Annual inspection completed March 2022 & IFR inspection currently being completed.

Aircraft Specifications:
Year:1980
Manufacture: Cessna
Model: 172N
Price: $159,900.00
Location (nearest city): Newport News, VA Airport ID (KPHF)
Condition: Used
Serial number: 17273787
Registration number: N5423J
Total Time: 5114.9 hours
Flight Rules: IFR
Number of seats: 4
Damage History: Prop strike, June 2014. Aircraft fully repaired with all documentation in logs as required.

Engine/Propeller specs:
Engine: Lycoming, Model O-360-A4M, Serial L-36606-36A
Power: 180 HP
Engine hours: 70 SMOH

Propeller: McCauley Propeller 2 blade hub/Model 76EM8S5-0-60/S/N 102941K
Propeller hours: 70 SNEW

Airframe:
Complete logs: Yes
Hangared: Yes
Garmin GNS 430W
Aspen Evolution 1000 Pro
Garmin GTX 327 transponder
PS engineering PMA8000B Audio panel
Bendix/King KX 155 Nav/Comm radio
System 50 S-TEC Auto Pilot with altitude hold & coupled to Aspen
7.5/10 - White base color with gray and light blue stripes running down the length of the fuselage. Paint in good condition.
7.5/10 - Pilot and Co-pilot seats are in good condition with sheepskin covers. Side walls are two tone with off white and blue fabric in good condition. Dark blue carpet throughout Aircraft. The rear seat is off white with blue trim fabric, in good condition. Plastic trim has some cracks and is discolored. Overall interior is in good condition.
RAM mount for IPad, mounted to instrument panel.
STC installation of Standby Vacuum system
STC installation of Aircraft Max Gross weight increases to 2550
STC Installation of 180 HP upgrade to 0-360-A2F
Annual: Last Annual Inspection March 2022
IFR inspection check: 91.411 and 91.413 last inspection completed, currently being inspected.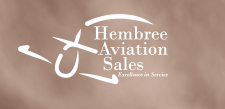 Hembree Aviation Sales
VA
Tell the dealer you saw this ad on
AircraftDealer.com