1961 Cessna 210A
Reg # N6608X
$99,900
Only 2,101 Hours Total Time Since New.
Engine: 867 hours since Major Overhaul
97 hours on Brand New Superior Millennium Cylinder Assemblies (June 2019)
Make: Continental / Model: IO-470-E / Serial#: 77633-0-E
(260-Horsepower Fuel-Injected Six-Cylinder Engine with 1,500-hour TBO)
Propeller: 51 hours since NEW Late Model McCauley Three-Blade Prop with Longer Polished Spinner
51 hours since NEW McCauley Prop Governor
STC # SA00929CH (Aug 2020)
Make; McCauley / Model: D3A36C435 / Serial #: 191248
Mods: McCauley 3-Blade Prop & Prop Governor Upgrade (STC # SA00929CH)
AVIONICS:
Narco CP-136 Audio Selecting Panel w/ 3-Light Marker Beacons
Uavionix AV-30 EFIS FAA-Approved Electronic EFIS Primary Flight Display
Garmin GNS-430W WAAS-IFR-Certified GPS-Com w/ ILS, LPV, Terrain Avoidance, & Color Moving Map Display (GI-106A CDI Indicator)
Garmin GTX-345 Bluetooth Digital Transponder w/ ADS-B IN & OUT
STEC System 30 Autopilot w/ Hdg/Nav/GPS Tracking, Approach Mode, Altitude Hold
STEC GPSS Roll Steering Option added to the Autopilot
ADDITIONAL EQUIPMENT:
97 hours on Brand New Superior Millennium Cylinders!
Only 51 hours on Brand New McCauley STC'd 3-Blade Prop & Prop Governor!
97 hours on Overhauled Landing Gear Hydraulic Powerpack!
Reiff Electric Engine Preheater System
Four-Place Voice-Activated Intercom System
Electronics International STC'd SC-5 "Super Clock" w/ Local time, GMT, Up & Down Timers, & Hobbs Meter
Late Model Polished Prop Spinner
Vernier Mixture & Prop Controls
Overhead Fresh Air Vents
Avionics Master Switch
Autopilot Master Switch
Late Model Ram's Horn Centurion Pilot & Co-Pilot Control Yokes
Wingtip-mounted Fiber-Optic Nav Light Indicators
Heavy Duty Main Landing Gear Saddles
Elevator Pitch Trim
Pilot & Co-Pilot Toe Brakes.
Auxiliary Ground Power Receptacle (for jump starts)
Brackett Air Filter (BA-2305)
Engine Oil Filter (CH48110-1)
EGT Gauge
ELT Battery next due: March 2028
Recent Maintenance:
Overhauled Landing Gear Hydraulic Powerpack & Accumulator in 2021
Bench-Tested and Re-Certified Engine Driven Hydraulic Pump in 2021
All New Flexible Fluid Hoses in the Landing Gear & Flap Systems in 2021
Ignition Switch, Wet Compass, and Digital Clock replaced in 2021
Autopilot repaired & re-certified by STEC Corporation in Aug 2020
Fuel Servo Overhauled by Mike's Fuel Metering in 2020
New Mixture, Throttle & Alternate Air Cables in 2020
New Nose Gear Wheel Bearings in 2020
Garmin GTX-35 Transponder installed in 2020
New Superior Millennium Cylinder Assemblies installed in June 2019
EXTERIOR:
Professionally painted in May 2009 by Sturgis Aviation, Inc. with Sherewin-Williams
Matterhorn White base (570-535) over Gloss Black (571900).
Tiger Orange (00752) & Medium Silver (10568) accent striping.
All flight controls professionally rigged & balanced.
Always hangared. Excellent condition.
Rated - 8+ to 9.
INTERIOR:
Medium Grey vinyl upholstery with Dark Grey accents.
Two-tone Light Grey and Medium Grey side panels.
Late Model Cessna Centurion Ram's Horn Pilot & Co-Pilot Control Yokes.
Articulating Front Seats w/ Headrests.
High-back Rear Bench Seat w/ Separate Headrests.
Very good condition.
Rated 8.
All Logs Complete Since New.
No Known Damage History.
Annual Inspection next due: September 1, 2024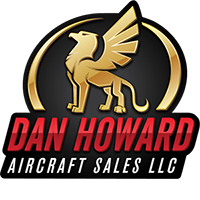 Dan Howard Aircraft Sales LLC
Tulsa,OK
Tell the dealer you saw this ad on
AircraftDealer.com