1962 Cessna 210B
Reg # N9752X
$96,499
3,354 Hours Total Time Since New.
ENGINE:
811 hours since Engine Remanufactured to Factory NEW Tolerances by Western Skyways Aircraft Engines, Inc. of Montrose, CO (FAA CRS #4110)
Make: Continental / Model: IO-470-S / Serial #: C5102217-2-S
PROPELLER:
1,453 hours on Factory New 2-Blade Constant-Speed Propeller
655 hours since Disassembled & Checked for Track, Static Balance & Angles, and Complete Re-Seal by Sullivan Propeller Specialists (FAA CRS# S5UR963J)
Make: McCauley / Model: D2A34C58
MODS:
Valley Aero "Uvalde" STC'd Main Gear & Nose Gear Door Mods (STC# SA3612SW)
Electronics International Digital Tachometer (STC# SA5924NM)
GAMI Tuned Fuel Injector Nozzles (STC# SE09217SC)
Interav Alternator Conversion Kit, Voltage Regulator & Overvoltage Relay (STC# SA334SW)
JPI EDM-701 Engine Analyzer (STC# SA2586NM)
Wilco Wing-Mounted Convex Landing Gear Position Inspection Mirror (STC# SA2749CE)
Cleveland Wheels & Brakes (STC# SA52GL)
Electronics International FP-5 Digital Fuel Flow/Fuel Pressure Instrument (STC# 00068SE)
AVIONICS:
Garmin GMA-340 Digital Audio Panel w/ 3-Light Marker Beacons & 4-Place Voice-Activated Intercom System
Garmin GPS-175 WAAS-IFR Certified 'Touchscreen' GPS w/ LPV Approaches coupled to GI-106 CDI Indicator
Dual Icom IC-A200 Digital VHF Com Radio w/ OLED Auto Dimmer Screen & Memory Ch.
King KNS-81 Digital RNAV w/ VOR/LOC/GS Integrated NAV System & 2nd Glideslope
King KN-64 Digital DME
Garmin GTX-330ES Digital Transponder w/ Mode S, ADS-B OUT Compliance & (TIS) Traffic Information Service
Garmin GDL39 Portable Antenna for ADS-B IN (displays Weather & Traffic via Bluetooth)
ADDITIONAL EQUIPMENT:
Custom Instrument Panel with Modernized 'Six-Pack' Primary Flight Instruments Layout
Electronics International Digital Tachometer
Cessna Service Kit SK 210-141-1 Pilot & Co-Pilot Shoulder Harnesses
Cessna Service Kit SK 172-96C Secondary Seat Stop on Pilot's Seat Rail
Avionics Master Switch
Dual Glideslopes
Suction Gauge
Compass
Outside Air Temperature Gauge
Remote ELT
Quartz Clock
Concorde RG-35 Sealed Battery
Strobe Lights
Tyco New Style Circuit Breakers
Four-Place Intercom w/ Music Input Jack
Dual Push-to-Talk Switches
Instrument Backlighting
Dual 12V Power Receptacles for charging GPS, iPads, etc (cigarette lighter style)
Vernier Mixture and Prop Controls
Elevator Pitch Trim
Rudder Trim
Alternator Conversion Kit
CW AD 76-14-07-R2 by NEW P/N 121423-2 & 121423-1 (New & Improved Main Landing Gear Saddles)
CW AD 76-04-01 by Installation of Cessna Service Kit SK 75-21 (Main landing Gear Actuators)
Recent Maintenance:
New Concorde Sealed Battery in 2022
Brake inspection, Brake Fluid Flush & 4 New Brake Pads in 2021
Inspect, Clean & Reseal L/H & R/H Flap Actuators
New Aluminum Hydraulic Line for Opening & Closing of Nose Landing Gear Door.
R&R Torque Tube Assembly in 2021
Installed Curtis CCA-1550 Drain Valve Assembly in Gascolator in 2021
New Nose Tire, Tube, Bearings, Races, Seals, Thru Bolt, Nut & Washers in 2021
Overhauled Airspeed Indicator in 2020
Remove & Replace Turn Coordinator, DME, XPDR, ADF Antennas in 2020
EXTERIOR:
Matterhorn White base with Light Blue & Dark Blue trim.
Rated 6+ to 7.
INTERIOR:
Light Blue velour seat upholstery with matching side panels.
Gray carpeting.
Articulating front seats with headrests & shoulder harnesses.
Forward-Folding rear seatback with headrests.
Off White interior window trim & headliner.
Very clean.
Rated - 8.
Annual Inspection next due: May 1, 2024
IFR 24-Month Pitot-Static Transponder-Altimeter Check next due: May 1, 2025
All Logbooks Complete Since New.
No Known Damage History.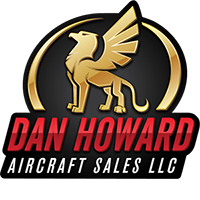 Dan Howard Aircraft Sales LLC
Tulsa,OK
Tell the dealer you saw this ad on
AircraftDealer.com