1964 CESSNA 210
Reg # N66BT
$77,500
ADS-B equipped! This bird is one of the cleanest and well-maintained '64 model Cessna 210 Centurions left out there in the fleet. Owned and meticulously maintained in Michigan by a retired American Airlines captain for the past 35 years. Mid-time "G & N" engine with all new cylinders, King IFR avionics stack, a working Cessna 300 autopilot coupled to the GPS and VOR/LOC, and a JPI EDM-700 Engine Analyzer. JPI 450 Dig Fuel Flow, Excellent maintenance history, no hail, no corrosion, all logs complete since new, and no damage history. If you are searching for an 'above par' older Cessna 210 with many years of life left, this is the bird for you!
Airframe:
4,305Hrs Total Time Since New
Engines:
905 hrs since Major Overhaul by G&N Aircraft Engines, Inc. of Griffith, IN (FAA CRS # MW2R020L)
60 hours since Complete Top Overhaul with ALL NEW SUPERIOR CYLINDERS (9/2017)
Make: Continental / Model: IO-520-A / 285 horsepower / 1,700-hour TBO
Props:
745 hrs since Overhaul on 2-Blade Constant-Speed Prop by Aircraft Propeller Service of Wheeling, IL (FAA CRS # EY2R811K)
Make: McCauley / Model: D2A34C58-NO
King KA-134 Audio Panel
Narco 3-Light Marker Beacons
King KLX-135A GPS-Com with Moving Map Display
King KX-170B Nav-Com w/ VOR/LOC & Glideslope (KI-209 Indicator)
King KN-62A Digital DME
King KR-86 ADF
Narco AT-50A Transponder with Blind Encoder
Cessna 300 Single-Axis Autopilot with HDG & NAV Tracking coupled to GPS & VOR/LOC
Uvionics tailBeacon ADS-B Out
Ferrari Red exterior paint with Burnt Orange striping.
Professionally stripped and painted by a reputable paint shop in Watertown, WI in 1987.
Always hangared. Very good condition.
Rated - 8.
Professional new upholstery by a reputable paint shop in Watertown, WI in 1987.
Dark Red velour upholstery with matching sidepanels.
Red carpeting, interior trim, and headliner.
Comfortable High-Back Pilot & Co-Pilot Seats with Headrests & 4-Point Restraint Harnesses.
4 + 2 Seating Configuration: 4 Adult Seats, and 2 Folding Child Jump Seats in the floor of baggage compartment.
Very clean, and in very good condition.
Rated – 8.
JPI EDM-700 Digital Engine Analyzer
JPI Fuel Scan 450 Digital Fuel Flow
P.S. Engineering PM-2000 Two-Place Voice-Activated Intercom
New Eagle Left Fuel Cell & Fuel Drain, & New Front Engine Lord Mounts in April 2018
Landing Gear Hydraulic Power Pack overhauled in 2017
All Cylinders replaced with New in 2017
New Concorde Main Battery in Fall of 2017
Air Wolf Air-Oil Separator
Cleveland Brakes
Tinted Sun Visors
Ground Power Receptacle
Pilot & Co-Pilot 4-Point Restraint Harnesses
Strobe Lights
Instrument Post Lights
Instrument Flood Lights
Pilot's Clock
Pilot's Push-to-Talk Switch
Avionics Master Switch
Fuel Capacity - 81 Usable Gallons
Useful Load: 1,112.5 lbs.
No hail or corrosion. This is not an 'average' 1964 Cessna 210D airframe.
Always hangered and meticulously maintained by the same retired American Airlines captain/owner for the last 35 years.
All Log Since New.
No Damage History.
Annual Inspection next due: July 1, 2021.
IFR Pitot-Static Transponder-Altimeter Certification next due: July 1, 2022.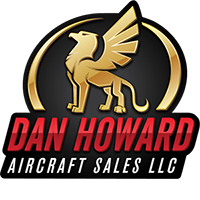 Dan Howard Aircraft Sales LLC
Tulsa,MI
Tell the dealer you saw this ad on
AircraftDealer.com