1964 Cessna
Reg # N3746Y
$94,500
AIRFRAME:
4,474 Hours Total Time Since New
ENGINE:
1,302 hours since Major Overhaul by Clydesdale Aircraft Corp. of Columbus, OH (FAA Cert Repair Station # 2723)
Make: Continental / Model: IO-520-A / Serial # 112168-(-A-R
285 Horsepower Fuel-Injected Engine
Most recent compressions taken May 1, 2021 at 4,474 Total Airframe Hours: #1 / 75, #2 / 76, #3 / 74, #4 / 78 / #5 / 78, & #6 / 78. (over 80)
PROPELLER:
243 hours since Overhaul on Two-Blade Constant-Speed Prop by H & S Propeller Service, Inc. of Waterford, MI (FAA Cert. Repair Station # MQ5R050N)
Make; McCauley / Model: D2A34D58-NO / Serial # 710076
AVIONICS:
King KMA-24 Audio Panel w/ 3-Light Marker Beacons
King KX-170B 720 Channel Nav-Com w/ VOR, LOC & Glideslope
King KX-155 TSO 720 Channel Digital Nav-Com w/ VOR & Localizer
Narco 31 ADF
Stratus Appareo ESGi Digital Transponder w/ ADS-B Out
Stratus 3i hard-wired ADS-B In Antenna that connects via Bluetooth to any Tablet like iPad, etc. giving FIS-B Weather & TIS-B Traffic Info
STEC-40 Single-Axis Autopilot with Hdg & Nav & Approach Mode
ADDITIONAL EQUIPMENT:
Precise Flight SVS III Standby Vacuum System
Stratus 3i hard-wired ADS-B In Antenna that connects via Bluetooth to any Tablet like iPad, etc. giving FIS-B Weather & TIS-B Traffic Info
Vertical Card Compass
Moni Air Single Probe EGT
Appareo USB Charging Ports
Avionics Master Switch
Whelen Tail Beacon Strobe
Engine Oil Filter (Tempest Oil Filter Adapter (STC # SE09356SC)
Pitot Heat
Analog Outside Air Temp Gauge
Wing-Mounted Convex Landing Gear Position Inspection Mirror
Saf-T-Stop Seat Rail Seat Stops on Pilot & Co-Pilot Seats
STEC Directional Gyro
STEC Electric Turn Coordinator
Brackett Air Filter
Recent Maintenance:
Brand New Concorde Sealed Battery in August 2021
New Tempest Oil Filter Adapter in 2020
New Nose Tire in 2019
Trim Tab overhauled by Peninsula Air Metals in 2016
New Tires & Tubes in 2016
AD 72-03-03R2 Wing Flap Actuators is no longer applicable by installation of snubbers
AD 76-14-07R2 Landing Gear Saddles no longer applicable by installation of heavy duty landing gear saddles p/n 1294151-1 installed in 2006
Cessna Service Letter SE69-17 complied with by improving Main Landing Gear Actuators
INTERIOR:
This aircraft still sorts the original 1964 Cessna OEM interior including 4 adult seats plus 2 rear forward folding child jumpseats. It also includes:
Original Black Leather seat upholstery
Original Off White sidepanels
Original Off White interior window plastics
Original Off White headliner.
The black carpeting was recently replaced.
Overall rating of this interior would be that it is clean and shows that the aircraft has been kept inside all its life and not abused. However, there are various small tears and blemishes in the leather, and a few minor stains on the headliner.
Rated: 5-6
EXTERIOR:
Professionally stripped, prep'd, primed & painted with Alumigrip paint products by Freeman Aircraft Painting of Cuttington, TN in November 1983 with:
Matterhorn White (6160)
Orange (5185)
Black (9100)
Rated: 7
All Logs Complete Since New.
No Damage History.
Annual Inspection is next due: June 1, 2022.
IFR Pitot-Static Altimeter-Transponder cert next due: November 1, 2022.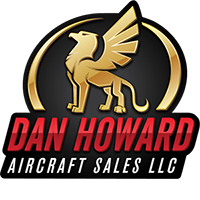 Dan Howard Aircraft Sales LLC
Tulsa,OK
Tell the dealer you saw this ad on
AircraftDealer.com