1965 CESSNA 210
Reg # N2357F
$119,500
A clean, low-time '65 Centurion with 560 hrs on Engine & Prop, very nice Paint & Interior, King digital stack with IFR GPS, HSI, ADS-B Out, and STEC-50 Autopilot. Always hangared. Fresh annual inspection underway!

Airframe:
Total Time: 2935

Engines:
560 hours since Major Overhaul with VAR Crankshaft by Ly-Con Aircraft Engines of California (1996)
Make: Continental / Model: IO520-A / Serial #: 110706-4-A
Most recent compressions: #1 / 75, #2 / 76, #3 / 75, #4 / 77, #5 / 76, & #6 / 77.

Props:
560 hours since Prop Overhaul by American Propeller Service of Redding, CA (1996)
Make: Sensenich 2-Blade Constant-Speed Prop / Model: E2A34C73-XMNP / Serial # 661219
King KMA-24 Audio Panel w/ 3-Light Marker Beacons
King KX-165 Digital Nav-Com w/ VOR, LOC & Glideslope (HSI)
King KCS-55A Slaved HSI
King KX-155 Digital Nav-Com w/ VOR, LOC, & 2nd Glideslope (KI-209)
KLN 94 IFR-Approach Certified GPS w/ Color Moving Map
Norther Airborne Technologies RS24-020 GPS/Nav Annunciator Panel
King KT-76A Transponder w/ Mode-C Encoder
uAvionix SkyBeacon Wingtip ADS-B Out
STEC 50 Autopilot w/ Hdg & Nav Tracking, Approach Mode & Altitude Hold; coupled to GPS & Nav-1
Professionally stripped, acid etched, Alodine 1201 treated, primed with epoxy ploy primer, & painted PPG Ditzler Durethane paint by Cardan Aircraft Painting in April 1996:

Matterhorn White base (DU-8000)
Medium Red Poly Metallic (DU-72622)
Silver Poly Metallic (DU-33603)
Dark Charcoal (DU-33604)
Always hangared. Gorgeous & Very Clean. Excellent condition.
Rated - 8+ to 9.
New aircraft interior upholstery professionally installed in 1996 by Sacramento Aviation Interiors with Douglas Interior Products FAA FAR 23.853 vertical-burn test compliant materials under Work Order # 133.
Light Burgundy vinyl seats with Light Burgundy fabric inserts with Headrests & Removable Armrests
Matching Light Burgundy vinyl sidepanels with Light Burgundy fabric inserts.
Light Grey carpeting.
Off White interior window trim and headliner.
Clean. Very good condition.
Rated - 8 to 8+.
Custom Metal Instrument Panel with Instrument Post Lighting
Four Adult Seats plus Two Forwarding-Folding Rear Child Jumpseats
JPI-700 Digital Engine Analyzer w/ Digital Fuel Flow (STC # SA2586NM & SE00436SE)
Custom Metal Instrument Panel
Only 560 hours on Factory New Heavy Duty Gear Saddles installed 11/1995 (no Recurring AD)
VAR Crankshaft installed 1995
Cessna Service Kit Sk182-85 "Raised, Reduced Diameter Fuel Filler Necks" installed
F&M Enterprises Oil Filter Adapter (STC # SE09356SC)
Zeftronics Alternator Control Unit (STC # SA8031SW)
PM-1000 4-Place Voice-Activated Intercom w/ Pilot Isolation Mode
L. P. Aero Plastics 1/4-inch-thick One-Piece Windshield (STC # SA973NE)
Airline-Style Overhead Fresh Air Valves
Rear Passenger Overhead Reading Lights
Pilot & Co-Pilot Shoulder Harnesses
Brackett Air Filters (STC # SA71GL)
Tail Beacon Strobe
Universal Model 4400 Belly Strobe Light
'Low Voltage' Warning Light
Stowable Co-Pilot Rudder Pedals
Remote ELT
Pitch Trim
Rudder Trim
uAvionix SkyBeacon Wingtip ADS-B Out
Wing-mounted Convex Landing Gear Position Inspection Mirror
Wing-mounted Cabin Doorway Courtesy Lights
Pilot's Clock
Stainless Steel Cowl Fasteners
Stainless Steel Screw Kit
Avionics Master Switch
Ground Communications Master Switch
Useful Load = 1,081.6 lbs.
Always Hangared.
All Logs Since New.
Annual Inspection is underway now - April 2021.
Minor Damage History: Gear up landing in 1995. Belly skins and doublers replaced. Fully & professionally repaired as per Form 337 dated 11-11-1995. (See FAA Airworthiness File in 'Service Logs' section at the bottom of this ad.)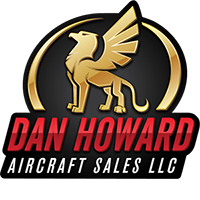 Dan Howard Aircraft Sales LLC
Tulsa,OK
Tell the dealer you saw this ad on
AircraftDealer.com