1979 CESSNA 210N
Reg # N6621A
$197,500
U.S. Customs-maintained 210N with A/C, low-time IO-550 engine, Scimitar Prop, nice paint, brand new full leather interior, GNS-530W, Slaved HSI, WX-500, L3 NGT-9000 XPDR w/ ADS-B In & Out, STEC 55X AP, Backup Alternator, Elec Backup Vacuum, and 30 years of superb maintenance as a U.S. Customs surveillance airplane. Ready to go !

Airframe:
Total Time: 9,059

Engines:
655 hours on Atlantic Aero STC'd Factory Reman IO-550 Engine with 300 Horsepower
Make: Continental // Model: IO-550-L12BR // Serial # 1032207
Atlantic Aero STC # SA3104SO

Props:
740 hours since Overhaul on Hartzell STC'd 3-Blade 'Scimitar' Prop
Make: Hartzell // Model: HC-J3YF-1RF // Serial # JN632B
2400-hour TBO
Hartzell STC # SA02821CH
Pilot & Co-Pilot NAT AA24-008 Audio Panels w/ King KR-22 Remote 3-Light Marker Beacons
Garmin GNS-530W WAAS-IFR-GPS-Com w/ ILS, LPV & Large Color Moving Map
King KCS-55A Slaved HSI
King KY-196A TSO Digital Com Radio #2
King KN-53 TSO Digital Nav #2 w/ VOR, LOC, & 2nd Glideslope
3M WX-500 Stormscope (Strikes are displayed on the GNS-530W Screen)
King KRA-10 Radar Altimeter
King KN-63 Digital DME Channeled to both Nav's
King KR-87 TSO Digital ADF w/ Flight Timer coupled to King RMI
L3 Lynx NGT-9000 Digital 'Touchscreen' Transponder w/ ADS-B In & Out (Weather & Traffic displayed on this unit)
STEC 55X Autopilot w/ HDG/Nav/GPS Tracking, Flight Director, Vertical Speed, Altitude Hold, Glideslope Coupling
Matterhorn White base with Navy Blue & Gold trim.
Very good condition.
Rated - 7+ to 8.
New!
Full new FAA-compliant custom leather interior by Sky Aircraft Interiors of West Houston, TX in November 2020.
Gorgeous Light Beige leather upholstery.
Matching Beige leather sidepanels.
Navy Blue carpeting and lower sidepanels.
Off White leather wrapped window trim.
Off White headliner.
(No rear bench seat installed at this time, but we can sell with or without the rear bench seat)
Rated - 9+.
Atlantic Aero STC'd 300-Horsepower IO-550-L Engine Conversion (STC # SA3104SO)
Hartzell STC'd 3-Blade 'Scimitar' Prop (STC # SA02821CH)
O&N STC'd Electric-Motor-Driven Air-Conditioning System (STC # SA001194NY)
B&C Specialty Products Standby Alternator (STC # SA00846WI)
Aero-Safe 'Guardian 1' Electric Standby Vacuum System (STC # SA4626SW)
Aero Modifications Dual Forward Isolator Engine Mount System (STC # SA00796AT)
Monarch Raised 'Umbrella Style' Fuel Caps (STC # SA2456CE)
Bogert Aviation Engine Oil 'Quick Drain' Valve (STC # SA4024NM)
Whelen 3-Point Strobe Lights (STC # SA800EA)
Shadin Digital Fuel Flow Computer (STC # SA639GL)
Electronics International Primary Engine Oil Pressure & Oil Temperature Gauge STC # SA5925NM)
Electronics International Primary Digital Volt & Amperage Gauge STC # SA2693NM)
B.A.S. Pilot & Co-Pilot 4-Point Inertia Reel Shoulder Harnesses (STC # SA00855SE)
Wilco Wing-mounted Convex Landing Gear Position Inspection Mirror STC # SA2749CE)
Articulating & Vertically Adjusting Pilot & Co-Pilot Seats with Headrests
Articulating and Sliding Middle Seats w/ Headrests
(No rear bench seat installed at this time, but we can sell with or without the rear bench seat)
Custom Metal Instrument Panel
Electric Pitch Trim
Astro Tech LC-6 Digital Chronometer
Brackett Air Filter (BA-2405) (STC # SA71GL)
Wingtip-mounted Fiber-Optic Nav Light Indicators
Right Hand Hinged Window
Pilot's Yoke-Mounted 'Control Wheel Steering' (CWS) & 'Autopilot Disconnect' Switches
Dual Push-to-Talk Switches
Polished Prop Spinner
Auxiliary Ground Power Receptacle
Avionics Master Switch
EGT Gauge
Hobbs Meter
No Known Damage History.
Annual Inspection next due: November 1, 2021.
This aircraft has been maintained to the strictest of standards while in the U.S. Customs Aviation Fleet since February 1990. Superb logs & maintenance history.
Modifications / Conversions
Atlantic Aero STC'd IO-550-L 300-Horsepower Engine Conversion
O & N Aircraft Modifications STC'd Electric Air-Conditioning
Aero Modifications Dual Forward Isolator Engine Mount System (STC # SA00796AT)
Del-Air STC'd Large Left Rear Observer Window
Monarch Raised 'Umbrella Style' Fuel Caps (STC # SA2456CE)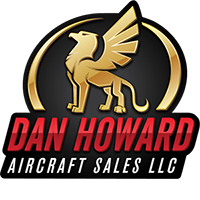 Dan Howard Aircraft Sales LLC
Tulsa,OK
Tell the dealer you saw this ad on
AircraftDealer.com