1980 Cessna P210N
Reg # N7736K
$259,900
4,035 Hours Total Time Since New
ENGINE:
951 hours on Continental Factory New 310-Horsepower Engine (08-29-2004)
118 hours since Complete Top Overhaul with Six New Superior Millennium Cylinder Assemblies (04-07-2019)
334 hours since Engine Teardown Inspection (due to beinig struck by an aircraft tug while parked and not running) and subsequent Bottom Overhaul by Western Skyways, Inc. of Montrose, CO. Crankcase, Camshaft & Lifters were replaced. Reassembled with all new bearings, bushings, bolts & nuts, etc. (04-02-2015)
Make: Continental / Model: TSIO-520-P6 / Serial #: 278930-R
1,600-hour Factory Recommended TBO
PROPELLER:
335 hours since Overhaul on 3-Blade Wide-Chord Square-Tipped Hot Prop by Prop Works, Inc. (05-22-2015)
Make: McCauley / Model: D3A34C402 / Serial # 798228
2,000-hour Factory Recommended TBO
MODS:
Flint Aero Tip Tanks (STC # SA4300WE)
Horton STOL-Craft Drooped Wing Leading Edge Cuff STOL Kit (STC # SA966CE)
Riley Turbocharger Intercooler (STC # SA2582NM & SE2529NM)
AVIONICS:
Garmin GMA-340 Audio Panel w/ 3-Light Markers & Voice-Activated 6-Place Stereo Intercom System
Garmin GNS-530W IFR-Certified WAAS GPS-Com w/ LPV, ILS, Large Color Moving Map Display w/ Terrain Awareness (coupled to HSI)
ARC 52D137 Slaved HSI
King KX-155A Digital Nav-Com #2 w/ VOR & Localizer
Garmin GTX-345 Digital Bluetooth Mode-ES Transponder w/ ADS-B IN & OUT (FIS-B Weather & TIS-B Traffic displayed on GNS-530W screen)
STEC DFCS 3100 Digital Autopilot w/ Hdg/Nav/GPS Tracking, GPSS Steering, Vertical Speed, Altitude Preselect, Altitude Hold, Approach Mode, Go-Around Mode, Glideslope Coupling, Flight Director & Yaw Damper ($45,000 installed)
ADDITIONAL EQUIPMENT:
Factory Air-Conditioning
Custom Metal Instrument Panel
Flint Aero Tip Tanks (STC # SA4300WE)
Fuel Capacity = 122 Gallons (5.5 hours range at 75% cruise power with a 30 minute reserve)
Riley Turbocharger Intercooler (STC # SA2582NM & SE2529NM)
Horton STOL-Craft Drooped Wing Leading Edge Cuff STOL Kit (STC # SA966CE)
JPI EDM-700 Digital Engine Analyzer with CHT's, EGT's, and Digital Fuel Flow Computer & Data Port
P.S. Engineering PXE-7300 Inflight Entertainment System (CD Player with Sound System)
3-Blade Hot Prop with Prop De-Ice Amperage Gauge
Davtron M800 Digital Chronometer
'High Voltage' Warning Light
'Low Vacuum' Caution Light
'High Cabin Altitude' Warning Light
Bob Fields Electric Pneumatically Inflated Cabin Door Seals
Rosen STC'd Articulating Tinted Sunvisors
Hot Prop De-Ice Amperage Gauge
Engine Oil Filter (CH48108-1)
Wingtip Strobe Lights
Wingtip-Mounted Fiber-Optic 'NAV Light On' Indicators
Electric Pitch Trim
Rudder Trim
Manual Engine Primer
Vernier Mixture & Prop Controls
Precision Aviation PAI-700-28 Vertical Card Compass
Non-Foam-Filled Elevator Trim Tab
Pilot's Yoke-Mounted 'Electric Trim', 'XPDR Ident', 'Push-to-Talk', 'Autopilot Quick Disconnect', 'Control Wheel Steering' (CWS), & 'Go Around' switches
Articulating & Vertically-Adjusting Pilot & Co-Pilot Seats w/ Headrests & Shoulder Harnesses Articulating Middle Row Seat with Headrest
Full-size Rear Bench Seat (comfortable for two adults)
Avionics Master Switch
Autopilot Master Switch
Electric Trim Master Switch
Hobbs Hour Meter
O.A.T Gauge 24-Volt Power Source for charging iPads, iPhones, Portable GPS, etc. (cigarette lighter style)
Music Input Jack for Intercom System
Cessna Service Kit SK-210-174A - Pilot`s Secondary Seat Stop installed
Updated Steel Nose-Gear Downlock Spring-Guide installed (PN # 9882024-1)
INTERIOR:
High-quality custom interior by Airwest Interiors in 2016 with contoured and bolstered Red Leather upholstery with Light Beige Leather inserts.
Light Beige sidepanels.
Off White interior window trim.
White headliner.
Dark Red carpeting.
Beige 'Cessna P210' custom embroidery.
5-Seat Configuration.
Newi n 2016.
Rated 8 to 8+ out of 10.
EXTERIOR:
Paint was freshened up professionally in September 2016 by the highly regarded Murmer Aircraft Services with the following Sherwin-Williams paints:
Base Color: Jet Glo Matterhorn White #00150
Split Base Color: Acry Glo Cranberry Craze # 08456
1st Stripe Color: Acry Glo Antique Silver # 10491
2nd Stripe Color: Acry Glo Gold
Always hangared. Very nice condition.
Rated 8+ to 9 out of 10.
All Logs Complete Since New.
Annual Inspection completed in October 2023. Next due: November 1, 2024.
IFR Pitot-Static Altimeter-Transponder 24-month certification next due: September 1, 2024.
Damage History: There were two airframe damage incident, both fully and professionally repaired. For details please review airframe logbook entries dated 05-22-2015, and 10-20-2004. Copies of all logbooks are posted at the bottom of this ad in the 'Service Logs' section.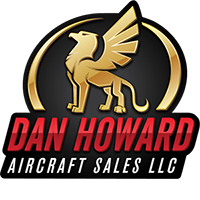 Dan Howard Aircraft Sales LLC
Tulsa,OK
Tell the dealer you saw this ad on
AircraftDealer.com