1980 Cessna Turbo 210N
Reg # N210SD
$299,900
AIRFRAME:
2,955 Hours Total Time Since New
Based in the Dry Climate of Nevada for most of its life. No CORROSION.
ENGINE:
481 hours since high quality Major Overhaul to Factory New Tolerances by Powermaster Aircraft Engines of Tulsa, OK.
Compression Check on 04/05/2023 as follows:
#1.70. #2.70. #3.76. #4.76. #5.76. #6.76.
PROPELLER:
481 hours on a 3-Blade Constant-Speed Hartzell Propeller w/ De-Ice Boots.
(2,400-hour TBO)
MODS:
Riley International Intercooler per STC# SE2599M
Brackett Air Filter per STC# SA71GL
JPI EDM-700 Color Engine Monitor per STC# SA2586NM w/ Digital Fuel Flow per STC# 00432SE
Knisley Heavy-Wall Modified Exhaust System
Rosen Sunvisors per STC# SA00871SE
Hartzell Propeller per STC# SA10615SC
Stratus Tools Technologies Oil Filter Adapter per STC# SE09356SC
AVIONICS:
Garmin GMA-345 Bluetooth Digital Audio Panel w/ 6-Place Intercom System & 3-Light Marker Beacons
Garmin G500 TXi Advanced Primary Flight Display w/ Synthetic Vision, Terrain Alerting, SafeTaxi & Charts (PFD)
Garmin GTN-750Xi Touchscreen IFR Certified WAAS GPS-Com w/ ILS, LPV, Large Multi-Function Display and Terrain Awareness (MFD)
Garmin GI-275 EFIS Backup Attitude, Airspeed, Altimeter, VSI, Turn Coordinator w/ AHRS & Synthetic Vision
Garmin GNS-430W IFR Certified WAAS GPS-Com w/ ILS, LPV, Color Moving Map & Terrain Awareness
Garmin GTX-345R Remote Digital Mode-S (ES) Transponder w/ ADS-B IN & Out w/ Bluetooth Connectivity
Garmin GFC-500 Digital Autopilot w/ Hdg, & GPS/NAV Tracking, Vertical Speed, Vertical Nav, Approach Modes, Altitude Hold, Underspeed and Overspeed Protection, Return-to-Level (LVL) (Electronic Stability and Protection), Flight Director (FD), coupled Approaches & Missed Approaches
ADDITIONAL EQUIPMENT:
Tail Reinforcement Kit
CNC, Powder Coated & Laser Marked Custom Metal Panel
Tanis Engine Pre-Heater
SK210-103A Dual Vacuum Pump Kit
Outside Air Temperature Gauge
Compass
Backup Engine Instruments
Ammeter
Hobbs Meter
GSB15 High Power USB Charger
INTERIOR:
Original Cessna fabric interior in very good condition.
EXTERIOR:
Off-White base w/ Brown and Orange accents.
Rated 7+ out of 10.
ADDITIONAL INFORMATION:
Annual Inspection next due: June 1, 2024
IFR Pitot-Static 24-Month Certification next due: September 1, 2023
Nose Gear Collapse in 2015 & a partial Left Gear collapse in 2020. Fully & professionally repaired and documented.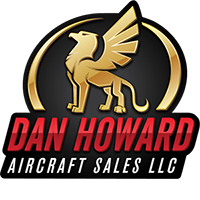 Dan Howard Aircraft Sales LLC
Tulsa,OK
Tell the dealer you saw this ad on
AircraftDealer.com