1982 Cessna Turbo 210
Reg # N1756U
$265,000
3,756 Hours Total Time Since New
Only two owners since new. Current owner since 1987. Always hangared.
ENGINE:
972 hours since Major Overhaul by Certified Unlimited Engines, Inc. (FAA Approved Repair Station # KG4R309M) (2010)
479 Hours since Top Overhaul on All Six Cylinders Overhauled by Certified Unlimited Engines, Inc.
(310 Horsepower Engine with 1,600-hour recommended TBO)
PROPELLER:
128 hours since Propeller Overhaul on Three-Blade, Wide-Chord, Square-Tipped Constant-Speed Prop by Palm Beach Aircraft Propeller (FAA CRS# LU4R349M)
Make: McCauley / Model: D3A34C402-C
AVIONICS:
Garmin GMA-340 Audio Panel w/ 3-Light Marker Beacons, & Voice-Activated 4-Place Stereo Intercom System with Crew Isolation Modes
Garmin GNS 530W WAAS-IFR-Approach Certified GPS-Com w/ ILS, LPV, Large Color Moving Map & Terrain Awareness coupled to HSI
Slaved HSI
Garmin GNS-430W WAAS-IFR Certified GPS-Com w/ LOC, VOR & 2nd Glideslope, LPV, Color Moving Map Coupled to Garmin GI-106A CDI Indicator
King KW-56 Color Weather Radar
Garmin GDL-69 XM Weather Datalink
3M WX 1000A Stormscope
Garmin Flightstream 210 Bluetooth - easily loads flight plans, provides GPS location & AHRS to your iPad
Electric Backup Attitude Indicator
Collins Digital DME
Cessna 400 ADF
Garmin GTX-345 Digital Bluetooth Mode-S Transponder w/ ADS-B IN & OUT
Cessna 400B Navomatic Autopilot w/ Hdg & Nav Tracking, Pitch Mode, Approach Mode, Glideslope Coupling & Altitude Hold
ADDITIONAL EQUIPMENT:
This is the First Year Model of the Cessna Factory Upgraded Fuel System allowing use of "Both" Fuel Tanks at the same time.
Fuel Capacity = 89 Gallons
Insight G1 Color Engine Analyzer
Standby Electric Attitude Indicator
Artex 406 ELT
Ammeter, ALT 1, ALT 2, Batt & Volt Meter Gauge
Stratus USB Port Charger
Prop-Deice
'Low Voltage' Warning Light
'ALT #1 OFF' Caution Light
'ALT #2 OFF' Caution Light
Suction Gauge w/ Dual Low Vacuum Caution Indicators
Compass
Outside Air Temperature Gauge
Intercom System Music Input Jack
Hobbs Hour Meter
Primary & Emergency Avionics Master Switches
Maintenance History:
Overhauled Heat Exchanger in Dec 2022
New Left and Right Magnetos replaced 128 hors ago in June 2022
New Flap Motor in May 2022
Autopilot bench tested, repaired & re-certified in Sept 2021
New Left Main Gear Saddle Shell in May 2022
New Right Main Gear Saddle Shell in April 2021
Cessna Service Bulletin Sl57-01 Lower Spar Cap complied with by Visual Inspection
Overhauled Alternator in March 2020
Overhauled Air Conditioning Compressor in March 2019
Overhauled R/H Air Conditioning Blower in Feb 2019
Overhauled A/C Blower Fan Wheel in Sept 2018
Overhauled Standby Attitude Indicator in Jan 2018
Overhauled Turbo Pressure Controller in 2017
KWX-56 Weather Radar tested, repaired and re-certified in July 2017
Overhauled Attitude Indicator in May 2016
AD 12-10-04 complied with by Inspection SL 57-01 Wing Lower Spar Cap Inspection
Left Hand Elevator Repaired by Williams Airmotive in Dec 2014
Preventative Corrosion Treatment 2011
C/W SB SEB07 by Installing SK210-174A Secondary Seat Stop 08-2008
INTERIOR:
Blue vinyl with Blue fabric inserts.
Matching Blue sidepanels.
Dark Blue carpeting.
Off White interior window trim & headliner.
Rated: 7
EXTERIOR:
Professionally stripped, treated, primed & painted by Okeechobee Painting Center in 2017 with these colors:
Base: Matterhorn White (G8003)
Secondary: Empress Blue (G5041)
Trim: Las Vegas Gold (10494) & Firethorn (44460)
Gorgeous. Rated: 9
INSPECTION STATUS:
Annual Inspection next due: June 1, 2023
24-month IFR Pitot-Static Transponder-Altimeter Certification next due: October 1, 2023
Oxygen Bottle Hydro-static Test next due: May 2025
All Logs Complete Since. New.
No Major Damage History. Two very minor ground 'hangar rash' type incidents - RH elevator reskinned; RH elevator trim tab replaced in 1993 by Signature Flight Support (FAA CRS# 3R826L). RH flap and rudder reskinned by Williams Airmotive due to wind damage in 2010. All professionally repaired and documented.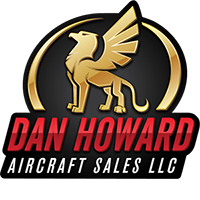 Dan Howard Aircraft Sales LLC
Tulsa,OK
Tell the dealer you saw this ad on
AircraftDealer.com