1983 CESSNA P210N
Reg # N4761A
$219,500
Airframe:
2,804 Hours Total Time Since New

Engines:
1,418 hours on Factory Reman Engine (July 1996)
1,116 hours since Top Overhaul with Six New TCM Factory Cylinders (2000)
Make: Continental / Model: TSIO-520-AF3BR / Serial #: 245234-R

Props:
704 hours since Overhaul on McCauley 3-Blade Dynamically-Balanced Hot Prop by Executive Propellers, Inc. of Van Nuys, CA / FAA CRS # EU6R595N (April 2008)

Make: McCauley / Model: D3A34C402 / Serial #: 812264
Garmin GMA-340 Audio Panel w/ 3-Light Marker Beacons & 6-Place Voice Activated Intercom
Garmin GNS-530W WAAS-IFR-Approach Certified GPS-Com w/ VOR, LOC, ILS, LPV & Large Color Moving Map (HSI)
Century NSD-360 Slaved HSI
Garmin GNS-430 IFR-Appraoch Certified GPS-Com w/ VOR, LOC, ILS & Color Moving Map
Garmin GDL-69A XM Weather Datalink
3M WX-10+ Stormsccope
PS Engineering PXE-7300 In Flight Entertainment System w/ MP3/CD Player & Radio Receiver
Garmin GTX-330ES Digital Mode-S Transponder w/ ADS-B Out
STEC System 55X Autopilot w/ Hdg & Nav tracking, GPSS Steering, Vertical Speed Mode, Altitude Hold & Glideslope Coupling
2004
Matador White base.
Black & Red accent striping.
Rated - 6+ to 7.
All new interior upholstery by Tomlinson Aviation of Gainesville, TX in November 2004 including:
Light Beige Leather seat upholstery.
Matching Light Beige sidepanels.
Brown carpeting.
Off White interior window trim and headliner.
Interior soundproofing.
Rated - 6+ to 7.
Factory Air Conditioning !
JPI EDM-830 Digital Engine Data Management System (STC # SA2586NM)
JPI Fuel Scan 450 Digital Fuel Flow Computer (STC # SA00861SE & SA00432SE)
GAMI Fuel Injectors (STC # SA09289SC)
Bob Fields Electric Inflatable Door Seals (STC # SA2226NM)
6-Place Voice-Activated Intercom System
Dual Alternators
Dual Vacuum Pumps
Bogart Aviation Engine Oil Quick Drain (STC # SA4024NM)
Wilco Right Wing-Mounted Convex Landing Gear Position Inspection Mirror (STC # SA2749CE)
'High Cabin Altitude' Warning Light
'Low Voltage' Warning Light
Dual 'Alternator Offline' Caution Lights
Electric Pitch Trim
Rudder Trim
Articulating & Vertically-Adjusting Pilot & Co-Pilot Seats w/ Headrests
Polished Prop Spinner
Wingtip Strobe Lights
LED Landing & Taxi Lights
Instrument Post Lighting & Backlighting
Rosen Articulating & Tinted Sunvisors
Astro-Tech LC-2 Digital Clock
Artex Remote ME-406 ELT
Avionics Master Switch
Vernier Mixture & Prop Controls
ELT Battery expires: June 2027
Hobbs Meter
New Gill G-242 Main Battery in May 2020
Useful Load = 1,302 lbs.
This is a very clean airframe, not an average bird.
Annual Inspection next due: June 1, 2021
All Logs Since New.
No Damage History.
IFR Pitot-Static Cert next due: June 1, 2022
Always hangared. Very clean, mountain based airframe.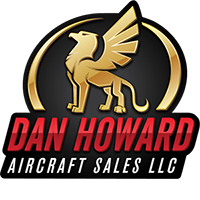 Dan Howard Aircraft Sales LLC
Tulsa,OK
Tell the dealer you saw this ad on
AircraftDealer.com