1978 Cessna Turbo 210N
Reg # N6168N
$265,000
Airframe: 2,814 Hours Total Time Since New
2-owner airplane!
1,458 hours since Complete Major Overhaul to Factory New Specs by Western Skyways Aircraft Engines of Montrose, CO (04/1997)
Make: Continental / Model: TSIO-520-R6A / Serial # 522456
310-Horsepower Turbocharged, Fuel-Injected Engine with 1,600-hour TBO
Most recent compressions taken on December 7, 2022 @ Tach 2,805.1: #1 / 72, #2 / 74, #3 / 77, #4 / 76, #5 / 76, & #6 / 72.
* - This engine has been well maintained, and carefully flown at 60-65% cruise power by a very meticulous owner.
1,331 hours on Factory NEW McCauley 3-Blade Wide-Chord Square-Tipped Constant-Speed Prop (July 1998)
439 hours since Prop Disassembled, Inspected & Resealed by Aircraft Propeller Works, Inc. of Auburndale, FL (June 2014)
Make: McCauley / Model: D3A34C402-C / Serial # 981659
3-Blade, Wide-Chord, Square-Tipped, Constant-Speed Prop
(2,000-hour TBO)
Garmin GMA-340 Audio Panel w/ 3-Light Marker Beacons & 6-Place Voice-Activated Stereo Intercom System
Pilot's Garmin G5 EFIS Artificial Horizon
Pilot's Garmin G5 EFIS HSI
Garmin GTN-650 'Touchscreen' WAAS-IFR-Certified GPS-Com w/ ILS, LPV, Color Moving Map Display & Terrain Avoidance coupled to G5 HSI
Garmin GNS-530W WAAS-IFR-Certified GPS-Com w/ ILS & LPV, Large Color Moving Map Display & Terrain Avoidance
Garmin GDL-39 Weather Datalink
Garmin GTX-345 Digital Bluetooth Mode-S Transponder w/ ADS-B In & Out
STEC System 50 Autopilot w/ Hdg, Nav & GPS Tracking, Approach Mode & Altitude Hold
JPI EDM-830 Digital Engine Analyzer w/ EGT's, CHT's, TIT, Dig Fuel Flow, and more
Sierra Industries STC'd "Uvalde" Main Gear & Nose Gear Door Mods
Wing Carry Through Spar Eddy Current Inspection (AD 2020-03-16) complied with May 2020
6-Place Factory Oxygen System
Backup Vacuum-operated Artificial Horizon for redundancy purposes
Retracting Co-Pilot Cabin Entrance Assist Step
Updated Non-Foam-Filled Elevator Trim Tab and Elevator Trailing Edges
Rosen STC'd Articulating & Tinted Sunvisors
Instrument Post Lighting
Pilot & Co-Pilot Push-to-Talk Switches
Pilot's Yoke-Mounted 'Electric Trim Interrupt' and 'Autopilot Quick Disconnect' Switches
Articulating & Vertically Adjusting Pilot & Co-Pilot Seats w/ Shoulder Harnesses
Articulating Middle Row Seat
Rear Bench Seat with Forward-Folding Seatback for optional extra rear baggage space
Aft Baggage Compartment Door
Wingtip Strobe Lights
Wingtip-Mounted Fiber-Optic Nav Light 'ON' Indicators
Wing-Mounted Convex Landing Gear Position Inspection Mirror
Auxiliary Ground Power Receptacle (for ground power cart and/or jumper cable starts)
Pilot's Push-to-Talk Switch
All New Tires, Tubes, Brakes and Main battery within the past year.
Magnetos overhauled in Nov 2021 by Eagle Magneto, Inc.
New Fuel flow Spider Diaphragm installed Feb 2021.
ELT Battery next due: January 2025.
New Exhaust Stack installed October 2019.
Engine Driven Fuel Pump Overhauled by D& G Supply, Inc. in June 2016.
* This is a rare find. A clean, 2-owner, always hangared, low-time '78 Turbo 210 that was based in dry southwest Cortez, Colorado the first 30 years its life. Very clean airframe with no corrosion issues. The owner is a meticulous pilot, with 50 years of flying experience who takes exceptional care of his aircraft. He refers to this Centurion as a 'No Excuses Airplane'. Everything is working, and squawk free to the best of his knowledge at the current time. The owner is selling to pursue other interests and is not highly motivated or seeking lowball offers on this exceptional airplane.
** This aircraft is eligible for the RT Aerospace 200-pound Max Gross Takeoff Weight Increase STC. This will raise the useful load from 1,454.4 lbs to a whopping 1,654.4 lbs and it only costs $395 for the STC/license. There is no modification of any kind required to the airframe or engine for this weight increase. It is only a licensing issue, paperwork, etc. This only eligible for the 1977 & 1978 Cessna T-210M model aircraft as they had the identical airframe and engine of a 1979 & later T-210N model, the only difference T-210M models still had hydraulic gear doors when they left the assembly line. Other than that they are the same aircraft structurally and had the same 310hp engine as the T-210N models that came with the 4,000# Max Gross Takeoff Weight (MGTOW).
Gorgeous new professional paint in 2012 and always hangared since.
Excellent condition.
Matterhorn White base.
Royal Blue Metallic major trim.
Silver 7 Black accent striping.
Rated 8+ to 9.
Cessna original Blue heavy fabric upholstery. (Pilot & co-pilot seats are covered with sheepskin seat covers for protection and pilot comfort)
Matching Blue sidepanels and carpet.
Off White interior window trim and headliner in excellent condition.
Always hangared, and well kept. Clean.
Clean. Rated 7 to 7+.
All Logbooks & Meticulous Records Complete Since New.
Only Minor Damage History: Nose gear collapse in 1997, fully & professionally repaired & documented.
All AD's compliant.
Wing Carry Through Spar Eddy Current Inspection completed, passed with flying colors.
Annual Inspection: January 1, 2024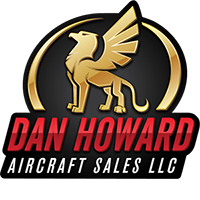 Dan Howard Aircraft Sales LLC
Tulsa,OK
Tell the dealer you saw this ad on
AircraftDealer.com