1964 CESSNA 336 SKYMASTER
Inquire
COMING IN SOON. THE ABSSOLUTE BEST 336 (FIXED GEAR) IN
THE COUNTRY. GARMIN EQUIPPED, LOW TIME MOTORS,
SMALL GAGES AND EVEN AN S-TEC AUTOPILOT (POSSIBLY
THE ONLY STEC AUTOPILOT IN A 336). IT WON'T BE CHEAP
THOUGH AS THERE ARE ONLY A FEW OF LEFT FLYING AND
THERE ARE NO 336S TO COMPARE. CALL OR EMAIL
EARLY……FULL SPEC COMING…..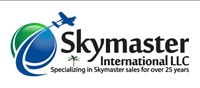 Skymaster International LLC
Spartanburg,SC
Tell the dealer you saw this ad on
AircraftDealer.com