1966 CESSNA 337
Reg # N6244F
$104,500
A '66 Skymaster with updated paint, glass, & leather, GNS-530W, STEC-65 Autopilot, ADS-B Out, Oxygen, 6 seats, and out of a recent extensive refurbishment. Ready to go!

Airframe:
Total Time: 4,195

Engines:

Engine1:
764 hours since Major Overhaul
Make: Continental / Model: IO-360-D / Serial # 60090-70-C-R
Most Recent Front Compressions: 70, 70, 60, 68, 70, 68

Engine 2:
442 hours since Major Overhaul to Factory New Part Limits by Teledyne Mattituck, FAA CRS # T10R507Y, Mattituck, NY (06/2000)
5 hours since All Cylinders removed & honed, valves inspected, and reinstalled with new Superior rings. (08/2021)
Make; Continental / Model: IO-360-D / Serial #: 57915-71D
Most recent compressions: 75, 75, 64, 70, 75, & 65.

Props:
Front Prop: 81 hours since Overhaul on 2-Blade Constant Speed Prop by HEI Propeller Sales & Service (FAA CRS # UXHR004Y)
Make: McCauley / Model: D2AF34C306B / Serial #: 001625

Rear Prop: 468 hours since Factory New 2-Blade Constant Speed Prop
Make: McCauley / Model: D2AF34C307B / Serial #: 000238
Garmin GMA-340 Stereo Audio Panel w/ 3-Light Marker Beacons & 6-Place Voice Activated Intercom System with Crew Isolation Modes
Garmin GNS 530W WAAS-IFR-Approach Certified GPS-Com w/ ILS, LPV, Large Color Moving Map & Terrain Awareness (GI-106A)
King KX-155 TSO Digital Nav-Com with VOR, Localizer, & 2nd Glideslope
Appareo ESG 'Stratus' Digital Transponder w/ ADS-B Out
STEC 65 Autopilot w/ HDG, GPS & Nav Tracking, Vertical Speed, Approach Mode, Altitude Hold, Glideslope Coupling & GPSS Steering
All new paint & glass in 2020.
Rated - 8+ to 9.
New Leather interior in 2021.
'Hawk Camel' Beige Leather upholstery from Mayfield Leather on all seats and sidepanels.
'Delta Red' Leather seat trim and front headrests.
'Honey Beige' seatbelts.
Flightline 'Adobe beige' carpet from AIP.
Off white interior window trim & headliner.
Rated - 8+ to 9.
Updated 'Carbon Fiber' faux Instrument Panel
Aft Baggage Door
6-Seat Configuration
Cabin Super Sound Proofing
Remote Engine Oil Filter
Precise Flight STC'd System III Standby Vacuum System
6 Place Oxygen (Oxygen bottle hydro-test next due: August 2026)
Wing-mounted Convex Landing Gear Position Inspection Mirror
Avionics Master Switch
Digital Voltage Monitor
Dual Vacuum Pumps
12-Volt Auxiliary Power Source (cigarette lighter style) for charing iPads, iPhones, GPS, etc.
Pilot's Clock
Pilot & Co-Pilot Sunvisors
Dual Push-to-Talk Switches
All New Hoses in 2021
New Paint
New Leather Interior
New Glass
Whelen STC'd Tail Beacon-Strobe Light
New Datcom Hobbs Hour Meter
Annual Due: November 1, 2022
All Logs Contiguous Since New.
No Major Damage History. Inboard leading edge rib replaced in October 1995.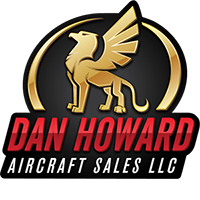 Dan Howard Aircraft Sales LLC
OK
Tell the dealer you saw this ad on
AircraftDealer.com