1978 Cessna 340A
Reg # N531M
$335,000
4,137 Hours Total Time Since New
924 hours since Major Overhaul by Douglas Aero Engine of Winnipeg, Manitoba (September 2003)
Make: Continental / Model: TSIO-520-N / Serial # 228220-R
Latest cylinder compressions: All compressions above 65.
Exhaust system overhauled by Knisley Welding in June 2022
924 hours since Major Overhaul by Douglas Aero Engine of Winnipeg, Manitoba (September 2003)
318 hours since Complete Top Overhaul of all Six Cylinders (May 2014)
Make: Continental / Model: TSIO-520-N / Serial # 228222-R
Latest cylinder compressions: All compressions above 65.
Exhaust system overhauled by Knisley Welding in June 2022
Left Prop: 229 hours since Prop Overhaul by Palo Alto Aircraft Services (June 2015)
Make: McCauley / Model: 3AF32C505 / Serial #: 813310
Right Prop: 959 hours since Prop Overhaul by Palm Beach Propeller Service of Lantana, Fl (November 2001)
Make: McCauley / Model: 3AF32C505 / Serial #: 811234
Garmin GMA-345 3D Stereo Bluetooth Audio Panel w/ 6-Place Voice-Activated Intercom System
Avidyne IFD-550 WAAS-IFR-Certified 'Touchscreen' GPS-Com w/ ILS, LPV, Large Color Moving Map Display w/ Synthetic Vision, TIS-B Traffic & FIS-B Weather (coupled to G5 HSI)
King KX-155 Digital Nav-Com w/ 2nd Glideslope (KI-209)
Pilot's Garmin G5 EFIS Artificial Horizon
Pilot's Garmin G5 EFIS Slaved HSI (No Vacuum System)
Co-Pilot's Garmin G5 EFIS Artificial Horizon
Garmin GFC-600 Digital Autopilot w/ Auto Trim, Yaw Damper, Altitude Pre-select, Indicated Airspeed (IAS) & Approach Modes, NAV, ILS & LPV Coupling, LVL Stability Protection
Garmin Aera 796 Panel-Mounted GPS w/ Large Moving Map Display including XM Weather; system is capable of ChartView subscription and more.
Factory Air-Conditioning
Alcohol Windshield and Hot Props
JPI EDM-960 PRIMARY Engine Data Management System w/ Large Color Screen featuring Manifold Pressure, RPM, Fuel Flow, EGT's, CHT's, TIT's, Voltage, Oil Temp/Pressure, Fuel Quantity on each engine
Shadin Digital Fuel Flow Computers
Alcor Single-Probe EGT Indictator
USB Charging Ports
Pilot & Co-Pilot Bose Headset Interfaces
Heated Propellers
Alcohol Windshield
Wing Locker Fuel Tank (currently inop)
LED Landing & Taxi Light
Rosen Tinted & Articulating Sunvisors
Only 21 hours on Left and Right Engine Fuel Metering Units since Overhaul by Great Planes Fuel Metering, Inc. of Tulsa, OK (2021)
Left Alternator and Alternator Drive Coupling Overhauled (2021)
New Pilot's Windshield in 2012
Useful Load = 1,634 lbs
Aircraft professionally stripped, etched, primed & painted by Associated Aero Service Inc.
Colors:
Matterhorn White
Light Blue Accent
Silver Accent
Metallic Grey Accent
Rated - 8.
Professionally reupholstered in 2021 by Interior Unlimited of Bethany, OK.
Colors:
Light Grey 363780
Spirit II Blue Ridge US427
Rated - 8+ to 9.
Annual Inspection next due: July 1, 2023
IFR Pitot-Static Certification due: October 1, 2023
All Logs Complete Since New.
No Known Damage History.
Left tip tank repaired due to bird strike in 2020 by FAA Certified Repair Station # SSWR186K.
New Battery, Overhauled Exhaust System on Both Engines & New Main Tires in 2022.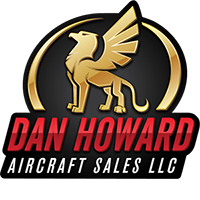 Dan Howard Aircraft Sales LLC
Tulsa,OK
Tell the dealer you saw this ad on
AircraftDealer.com