Inactive Ad
---
The ad you requested is no longer active, however you may be interested in some of the following Cessna 421 ads:
---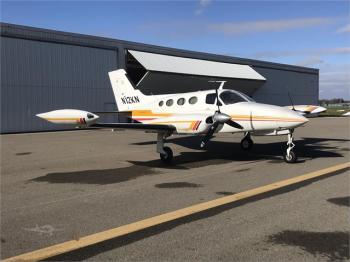 68 CESSNA 421 W ROBERTSON STOL - EXCELLENT AVIONCS INCLUDING STEC55X, 530W, 345 ADSB TRANSPONDER,MUCH MORE. DEICED. NDH. $150,000. Airframe: * TOTAL TIME AIRCRAFT SINCE NEW : 4040 HOURS * ANNUAL : JANUARY * IFR CERTIFICATIONS DONE 10/18 * NO DAMAGE HISTORY Engine(s): * RIGHT ENGINE SINCE FACTORY REMAN 1979 : 1230 HOURS * TIME SINCE TOP OVERHAUL BY POPLAR GROVE AIRMOTIVE 5/14 : 233 HOURS ...
...more
.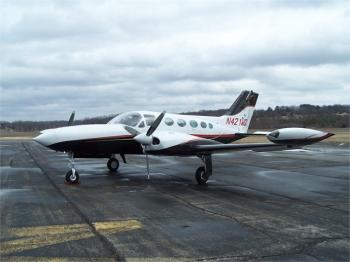 1973 Cessna 421B w 6650TT, 260 SMOH, 235 SNEW Props, Garmin 430W, Collins Proline, Collins 106 autopilot w 112 Flight Director, Deiced w 2006 boots, A/C, NDH 2007 P&I $169,000 Airframe: TOTAL TIME AIRCRAFT SINCE NEW : 6650 HRS ANNUAL : APRIL IFR CERTIFICATIONS DONE 3/17 NO DAMAGE HISTORY COMPLETE LOGS Engine(s): RIGHT ENGINE SMOH by A&P IN 2003 : 260 HOURS RIGHT ENGINE CYLINDERS TOP OVER...
...more
.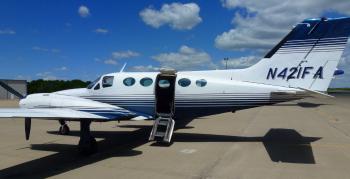 1973 421B, 5805 TTAF, 895 SMOH, 55 STOH, King Silver Crown, Radar, Stormscope, A/C, Used Avionics available as removed from TBM for panel upgrade include Dual Garmin GNS-530W's, Garmin GMX-200 Multi-Function Display, PS Engineering PMA-7000 Audio Panel and Dual King Transponders (one is ADS-B out) . Total Time: 5805 Engine 1 Time: 895 SMOH Engine 2 Time: 950 SMOH/55 STOH...
...more
.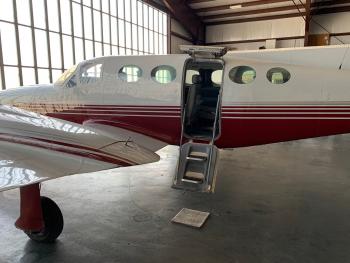 5316 Total Time since New 778 SMOH Left Engine 750 SMOH Right Engine 1490 SOH Left Prop 1490 SOH Right Prop Annual Due 6/20 All Logs since New NDH...
...more
.
Skymaster International LLC
Airframe: Aircraft Total time: 6210.4 hours Engines: Continental GTSIO-520-C Times ESMOH Left 724.32, Right 724.32. Props: McCauley Props Times: PSMOH Left 119.32, Right 119.32....
...more
.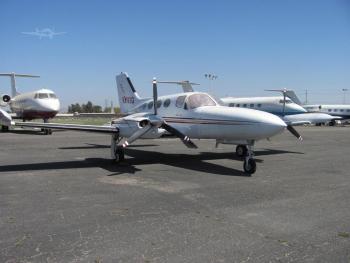 Airframe: TTAF: 6175 No major damage. All original logs. Full De-ICE. Boots/Hot Windshield Excellent. Excellent Glass Engine(s): Left/Continental GTSIO-520H-600 SFRM (Jan, 2011) Right/Continental GTSIO-520H-600 Since RAM Overhaul (Jan, 2010) Props: 395 SMOH Left and Right (Oct, 2011) 3 Blade MCCauley/Hot...
...more
.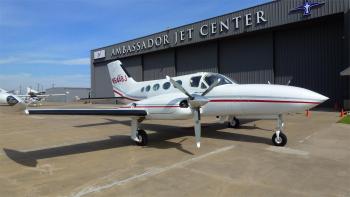 ONLY 50 hours on RAM Overhaul R/E, 709 SMOH and 325 STOH on L/E, Garmin GNS-530W, GNS-430W, GTX-330ES w/ADS-B, PS Engineering PMA6000M-S Audio Panel, HSI, VG's, Shadin Fuel Flow, Dual JPI EDM-700 Engine Analyzers Airframe: Air Conditioning VG's Alcohol Windshield L/R Fuel, Left Nacelle Aux Tank Total Fuel 222 gallons LED Taxi Light 5 year DOT Oxygen Bottle Hydrostatic Check in August 2019,...
...more
.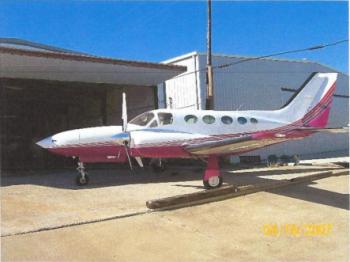 Total Time: 4815.3 Left engine: TSTOH 426.9 TSMOH733.3 TSTOH llO.8 (case repaired) Right engine: TSMOH 1202.3 Prop TSOH 1309.3 (left and right) LEFT PROP: 1330 TSPOH RIGHT PROP: 1330 TSPOH Left waste gate: TSOR 430.2 Right waste gate: TSOR 733.3 Exhaust AD Completed at Annual ANNUAL AT 4928 HOURS 2/21119...
...more
.

Engines: TSN Left/Right: 1474/1474 Props: TSN Left/Right: 1474/1558 Don't miss the chance to own this aircraft. Click
here for more details.
.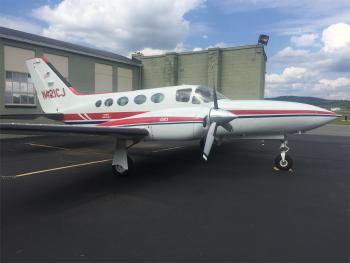 40K Price Reduction! Motivated Seller! Make offer today! Airframe: TT: 5403.9 Engines: 2 375 HP Geared RAM turbo charged piston LEFT TT: 4470.0, TSOH 341.1 RIGHT TT: 4470, TSOH 353.3 HOBBS: 3829.9...
...more
.
BonAir Brokerage/VA Aviation

QUALITY CESSNA 421 C BUSINESS AIRCRAFT FOR SALE Motivated seller- will wholesale-as the pilot is retiring Handsome-proven dependable- 1979 421C-for sale in Dallas Texas with Garmin avionics, Color Radar and Color MFD and ADS B and WAAS SUPER QUIET-SOUND PROOFED. Strong ramp appeal-Always hangered-a high quality Cessna. No corrosion history and a July 2019 annual Longer range Aux fuel to...
...more
.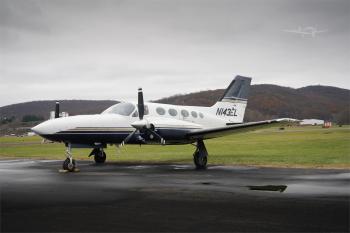 1979 Cessna 421C - 5,253 TT, RAM Engines, 157/157 SPOH, Garmin 430/530 WAAS, Sandel EHSI, MX-20 MFD, Extended Range Fuel, AC, plus more. Very well equipped 421C, call for more details. Engines: Engine 1 Overhaul Time: 663 Engine 2 Overhaul Time: 0 Props: 157/157 SOH...
...more
.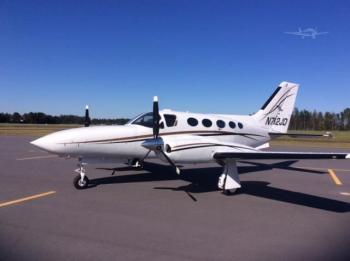 Airframe: 6401 TT Engines: 670 TT Since Ram Props: 766 SOH Don't miss the chance to own this aircraft. Click
here for more details.
.