2005 CESSNA CITATION CJ3
Reg # N162EC
$5,650,000
Always U.S. based and registered
Asking Price: $5,825,000 / Make Offer

Airframe:
Total Time: 3,790
Total Landings: 3,243

Engines:
WILLIAMS FJ44-3A
Time L/R: 3,790/3,790
Cycles L/R: 3,243/3,243
TBO L/R: 5,000/5,000
Autopilot: Collins EGC-3000
Primary Flight Displays: Collins Three Tube AFD-3010E
FMS: Collins FMS-3000 w/Dual GPS-4000A
AHRS: Dual Collins AHC-3000
Air Data: Collins ADC-3000
Radar: Collins RTA-800
Traffic Avoidance: BFG Skywatch SKY-899 TCAS I
TAWS: Collins TAWS-8000
Weather Datalink: Collins XM Datalink
Transponders: Dual Collins TDR-94D w/ADS-B Out
Comms: Dual Collins VHF-4000
Navs: Dual Collins #1 NAV-4000 #2 NAV-4500
IFIS: Collins IFIS-5000
SATCOM: AirCell Axxess ST-3100 Iridium
DME: Dual Collins DME-4000
ADF: Collins ADF-4000
Audio Panels: Dual Collins
Radar Altimeter: Collins ALT-4000
Charts: Collins ECH-5000 Electronic Charts
ELT: C406-2
Overall Snow White With Silver Platinum Metallic, Walnut Metallic and Black Metallic Accent Stripes.

New in August 2017 by Hill Aero, Hillsboro, Oregon. In Very Good Condition.
Cabin: Executive eight passenger forward club seating configuration. Forward right side side-facing seat. Four seats in forward club. Two rear forward facing seats. Forward left side slimline pyramid cabinet. Forward right side refreshment center with hot liquid dispenser and storage drawers. Dual executive tables in forward club. Dual writing desks with aft seats. Aft fully enclosed belted flushing toilet with relief tube.

Interior Materials: Pale beige stretchknit headliner and window surrounds. Blue leather seats. High gloss wood cabinets and working surfaces. Pleated interior window shades. Light tan carpet. Carpet and crew sheepskins new in 2017. Remaining interior factory original. In very good condition.
RVSM
Equipped For WAAS/LPV Approaches
Standby Gyro Power Supply
Standby Air Data Computer
Concorde Lead Acid Battery
Textron Airstair Upgrade
50 Cubic Foor Oxygen System
110 VAC Power Supply For Copilot and Seats 5, 6, 7 and 8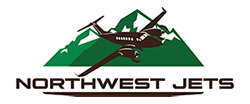 Northwest Jets LLC.
WA
Tell the dealer you saw this ad on
AircraftDealer.com