1985 CESSNA CITATION SII
Reg # N7070A
$495,000
Low total time Citation S/II with fresh Phase 1 thru 5 Inspections! JUST OUT OF PAINT SHOP W/ NEW EXTERIOR PAINT!! Recent Leather interior rated 9. HT Turbine Blade. 425/425 since Hot Sections. TCAS II. RVSM.
Airframe:
Total Time
5,501
Airframe
Total Time on Aircraft: 5,501 Hrs.
Landings: 3,769
Engines:
Pratt & Whitney JT15D-4B
Engine # 1 : S/N 102140 SOH: 2,181 Hours SHI: 425 Hrs TBO: 3,500 Hrs Total Cycles Since Overhaul: 1,225
Engine # 2: S/N 102146 SOH: 2,181 Hours SHI: 425 Hrs TBO: 3,500 Hrs Total Cycles Since Overhaul: 1,225
Dual Collins VHF-22A w/ 8.33 kHz Spacing
Dual Collins VIR-30A w/ FM Immunity
Collins ADF-60
Dual Sperry AA-300 Compass
Fairchild A100 CVR
Provisions Flight Phone
Garmin GPS-155 (JAA B-RNAV Approved)
Dual Sperry AA-300 Radar Altimeters
Collins RMI-30
Sandel ST3400 w/ Moving Map
RNAV Equipped
Sandel ST3400 TAWS
TCAS II
Dual Honeywell MST-67A Mode-S Transponders
Sperry Primus 300SL Weather Radar
Sperry SPZ-500 IFCS/Pro Line Autopilot w/ VBAR FLight Director
New Paint September 2019.
Executive Seating Configuration
Executive Writing Desk/Table
Recently upholstered Ivory leather seats
Indigo carpeting
Off-White interior window trim and headliner
Magazine Rack
Thrust Reversers
Lead Acid Battery
Heads-Up Checklist
Angle of Attack Indicator
J.E.T. Standby Horizon
Dual Avtech Audio Amplifiers
Dual Davtron Digital Clocks
Rosen Visors
Cleveland Brakes
64 Cubic Foot Oxygen Capacity
Recognition Lights
Executive Seating Configuration
Fresh Phase 1 thru 5 Inspections just completed!
CESCOM Airframe Tracking Program
B-RNAV & RVSM Certified
Recent Engine Borescope Inspections
* - Hard landing in Nov 1993, fully & professionally repaired & documented by Cessna Citation Service Center. Details upon request.
Modifications / Conversions
HT On-Condition Turbine Blades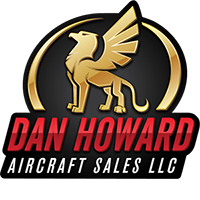 Dan Howard Aircraft Sales LLC
Tulsa,OK
Tell the dealer you saw this ad on
AircraftDealer.com