2009 CESSNA CITATION XLS+
Inquire
Loan Calculator here...
Close
Airframe:
950 Hours
888 Landings
Enrolled on: Cessna ProParts
Engines:
Description: Pratt & Whitney 545C
PowerAdvantage+

Total Hours: 950 / 950
Engine Cycles: 888 / 888

APU
Description: Honeywell RE-100 (XL)
Program: AuxAdvantage
Hours: 2,077
· Collins Pro Line 21 Integrated Avionics Suite
· Four 8"x10" Color LCDs (two PFDs, two MFDs)
· Autopilot/EFIS
· Single Collins IFIS-5000
· FSU-5010 File Server Enhanced Map Overlays
· Dual Collins VHF-4000 COMMS
· Single Collins NAV-4000 with ADF
· Single Collins NAV-4500
· Dual Collins DME-4000
· Collins FMS-3000 Flight Management System
· Dual Control Display Units (CDU) for FMS & Radio Tuning
· Performance Database with Automatic V Speed Posting
· Single Collins GPS-4000S 12 Channel WAAS GPS
· Dual Collins AHC-3000 Attitude/ Heading Reference Systems
· Dual Collins ADC-3000 Digital Air Data Computers
· Dual Display Control Panels
· Dual Collins CCP-3310 Cursor Control Panels
· Single Collins ALT-4000 Radio Altimeter
· Angle of Attack (AoA) Indexeral Collins FMW-300
· Collins DBU-5000 Database Loading Unit
· Collins CTL-23D Standby Radio Tuning Control
· Dual Collins Digital Audio Panels
· Honeywell Mark V EGPWS (TAWS Class A)
· Collins TCAS-TTR-4000
· Dual Collins TDR-94D Mode S Diversity Transponders
· Traffic Surveillance System TCAS II Software 7.1 Upgrade
· XMWR-1000 XM Weather Receiver
· L-3 Communications GH-3000 Electronic Standby Instrument
· L-3 Communications EHSI-4000E
· L-3 Communications FA2100 Cockpit Voice Recorder
· Artex C406-N ELT
· FA2100 Solid State Flight Data Recorder
· Collins HF-9000 W/ SELCAL
Original 2009. Overall Snow White with Blue and Light Gray Accent Striping.
Original 2009. Fire blocked interior featuring a LH Refreshment Center equipped with pull out work surfaces, divided ice drawer, dual cup dispenser. Forward RH Two place side facing divan followed by a four place club arrangement and two aft forward facing seats. Seats have full reclining capability. All seating is covered in Light Brown Leather complimented by a light natural colored headliner, Brown colored sidewalls and neutral light brown colored carpeting. The lavatory is externally serviceable non-belted.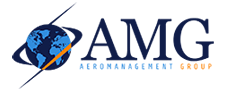 Aeromanagement Inc.
127 Lubrano Drive
Suite 200
Annapolis, MD 21401
Tell the dealer you saw this ad on
AircraftDealer.com