1965 Cessna 210
Reg # N2315F
$102,500
4,277 Hours Total Time Since New
ENGINE:
1,271 hours on Factory Reman Engine (1993)
91 hours since Complete Bottom End Overhaul w/ New Bearings & Overhauled Mags by Firewall Forward, Inc. of Greeley, CO (2010)
Most Recent Compressions Completed August 2021:
#1. 72 #2. 65 #3. 70 #4. 62 #5. 65 #6. 66
Make: Continental / Model: IO-520-A5B / Serial #: 112687-R
PROPELLER:
91 hours since Overhaul on STC'd 3-Blade Prop w/ New Blades by Precision Propeller Service, Inc. of Boise, ID (2010)
Make: McCauley / Model: D3A34C402-C / Serial #: 030163
MODS:
Uvalde Nose & Main Gear Door Mods!
AVIONICS:
Collins AUD-250 TSO Audio Panel w/ Remote 3-Light Marker Beacons
King KLN-89B IFR-Approach Certified GPS coupled to CDI w/ GPS Annunciator
King KN-64 Digital DME
Narco NAV 124 TSO Nav #1 coupled to HSI
Collins VHF-251 TSO Digital Com Radio #1
Collins VHF-251 TSO Digital Com Radio #2
King KT-76A Transponder w/ Mode Encoding Altimeter
uAvionics tailBeacon ADS-B Out
STEC-50 Autopilot w/ Hdg & Nav Tracking, Approach Mode, Reverse Sensing, & Altitude Hold, coupled to GPS & Nav #1
ADDITIONAL EQUIPMENT:
Four Adult Seats Plus Two Rear Child Jumpseats
Valley Aero 'Uvalde' Nose Gear Door & Main Gear Door Mods
Tania Engine Pre-Heater Pre-wired for Battery Tender
Sigtronics SPA-400 TSO Voice-Activated 4-Place Intercom System
Stowable Co-Pilot Rudder Pedals
Soros Overhead Fresh Air Valves
Convex Wing-Mounted Landing Gear Position Inspection Mirror
Pilot & Co-Pilot Shoulder Harnesses
Wingtip-Mounted Fiber-Optic Nav Light 'On' Indicators
Horizontal Stabilizer Abrasion Boots
Pitch Trim & Rudder Trim
Radio & Instrument Lighting
Pilot's Map Light
Dual Push-to-Talk Switches
Pilot's Clock
Backup Directional Gyro
Avionics Master Switch
Remote ELT
EGT Gauge
Suction Gauge
Tinted Sunvisors
Outside Air Temperature Gauge
Rear Passenger Overhead Reading Lights
Fire Extinguisher
INTERIOR:
White vinyl seats with Royal Blue fabric inserts & matching headrests.
Factory Original Off White sidepanels.
Off White interior window trim & headliner.
Black seatbelts & carpeting.
Good glass.
Rated: 6 to 6+
EXTERIOR:
Matterhorn White w/ Dark Blue trim & Light Blue accent striping.
Rated: 6+
All Logs Complete Since New.
Minor Damage History. Gear-up landing in 2010. Forward belly skins replaced.
Annual Inspection next due: September 1, 2022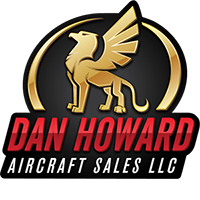 Dan Howard Aircraft Sales LLC
Tulsa,OK
Tell the dealer you saw this ad on
AircraftDealer.com