1981 Cessna P210N
Reg # N5493W
$239,500
3,724 hours Total Time Since New
ENGINE:
405 hours on Factory NEW Heavy-Case Engine (01/10/2014)
254 hours since Teardown Inspection by Arizona Air-Craftsman due to minor prop strike: Crankcase & Crankshaft Recertified, Prop Governor, Wastegate & Controller, & Both Mags Overhauled (01-09-2015)
310-Horsepower Turbocharged Intercooled Engine
1,800-hour TBO
Make: Continental / Model: TSIO-520-P6B / Serial # 1009560
PROPELLER:
254 hours on Factory NEW 'Scimitar' 3-Blade Hartzell Prop
Hartzell STC # SA02821CH
2,400-hour TBO
Make: Hartzell / Model: HC-J3YF-1RF / Serial # JN537B
AVIONICS:
King KMA-24 TSO Audio Panel w/ 3-Light Marker Beacons
Garmin GTN-750 'Touchscreen' WAAS-IFR-Certified GPS-Com w/ ILS, LPV, Large Color Moving Map & Terrain Avoidance
King KCS-55A Slaved HSI
King KX-165 TSO Digital Nav-Com w/ VOR & Localizer
Garmin GPSmap 396 VFR GPS w/ Color Map Display, hard-wired & coupled to GTN-750 flight plan
WX-10 Stormscope
King KR-87 TSO Digital ADF w/ Flight Timer
Garmin GTX-345 Bluetooth Digital Transponder w/ Asd-B In & Out (FIS-B Weather & TIS-B Traffic Info)
King KFC-200 Autopilot coupled to Both Navs, w/ HDG & Nav Tracking, Pitch Mode, Approach Mode, Altitude Hold, Go-Around Mode, Glideslope Coupling, & Auto Electric Trim
ADDITIONAL EQUIPMENT:
Riley Intercooler w/ Digital Differential Turbine Temperature Indicator (STC # SA2528NM)
Alcoa Digital Fuel Flow Computer (STC # SE5583SW)
Electronics International Digital T.I.T. & EGT Gauge (STC # SA1626NM)
Electronics International Digital Oil Temp Gauge (STC # SA1626NM)
Electronics International Digital CHT Gauge (STC # SA1626NM)
JPI RPM Slick 600 Digital Quartz Tachometer
Backup Artificial Horizon
Backup Altimeter
Bob Fields Electric Pneumatic Cabin Door Seals (STC # SA2226NM)
Sigtronics SPA-400 TSO 4-Place Voice-Activated Intercom System
Factory Tail Reinforcement Kit (Cessna Service Kit # SK210-125 / Horizontal Stabilizer Attach Bracket Mod)
Horizontal Stabilizer Overhauled by Beegles Aircraft in 2016
Fuel Capacity = 89 Gallons
Electric Pitch Trim
Rudder Trim
Updated Non-Foam-Filled Elevator Trim Tab (P/N 1234665-10)
Engine-Driven Vacuum Pump Cooling Shroud Kit (STC # SA785GL)
Engine Oil Filler Tube Extension (STC # SE941GL)
Updated Aux Fuel Pump Resistors (Cessna Service Kit # SK210-154A)
Saf-T-Stop Pilot & Co-Pilot Seat Stops
Brackett Air Filter (BA8705)
Reduced Diameter Fuel Filler Neck Modification (Cessna Service Kit # SK210-114)
Cessna Updated Fuel Caps (Cessna Service Kit # SK210-136-2)
'Low Voltage' Warning Light (Cessna Service Kit # SK210-112)
'Low Vacuum' Warning Light
'High Cabin Altitude' Caution Light
Fiber-Optic Wingtip-Mounted Nav Light 'ON' Indicators
Wing-Mounted Convex Landing Gear Position Inspection Mirror
Horizontal Stabilizer Abrasion Boots
Wingtip Strobe Lights
Astro-Tech LC-2 Digital Chronometer
Overhead Fresh Air Vents
Instrument Post Lighting & Flood Lighting
Cabin Dome Light
Pilot & Co-Pilot Push-to-Talk Switches
Pilot's Yoke-Mounted 'Control Wheel Steering (CWS), & 'Autopilot Quick Disconnect' Switches
Rosen Tinted & Articulating Sunvisors (STC # SA00871SE)
Engine Oil Filter
Hamilton Vertical Card Compass
Articulating & Vertically-Adjusting Pilot & Co-Pilot Seats w/ Headrests & Shoulder Harnesses
Articulating and Aft Sliding 3rd & 4th Seats w/ Headrests
3rd & 4th Seat Shoulder Harnesses (Cessna Service Kit # SK210-141)
24-Volt Aux Power Source (cigarette lighter) for charging iPads, iPhone, GPS's, etc.
Artex 406 Hz ELT / ME-406 Lithium ELT Battery next due: August 2027
Cleveland Brakes
New Steel Nose Downlock Spring Guide (P/N 9882024-1)
Outside Air Temperature Gauge (OAT)
Hobbs Meter
Useful Load: 1,508.84 lbs
Max Gross Takeoff Weight: 4,000 lbs / Empty Weight: 2,495.16 lbs. / Empty CG: 39.63 / Moment: 98,884.28
INTERIOR:
Original Dark Brown vinyl seats with Light Brown tweed factory inserts in good condition.
Matching Dark Brown side panels w/ Light Brown tweed side map pockets.
Off White interior window plastics.
Recent Off White headliner in excellent condition.
Dark Brown burbur carpeting in excellent very good condition.
Dark Brown seatbelts and shoulder harnesses.
(Pilot & Co-Pilot seats recently recovered to match the factory original upholstery.
Rated: 6 to 6+
EXTERIOR:
Factory original paint that shows how well this aircraft has been cared for:
Nason White base (CG311B)
Orange accent stripe (CG321B)
Yellow accent stripe (CG341B)
Brown accent stripe (CG331B)
Rated: 7 to 7+
All Logs Since New.
Repair History: Nose gear collapse in 1999, lower LH & RH forward belly skins & nose gear doors replaced. Also, in 2015, minor prop strike with no damage to airframe, engine professionally disassembled & inspected, prop replaced. Main gear collapse in 2016, horizontal stabilizer overhauled, rear belly & side skins, & tailcone replaced. Very professionally repaired by Beegles Aircraft in Greeley, CO. See airframe log entry dated September 2016 in log copies posted at the bottom of this ad.
Annual Inspection next due: October 1, 2022.
IFR Pitot-Static / Transponder-Altimeter Certification next due: Now.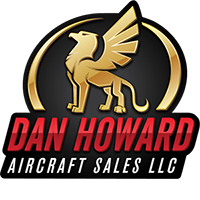 Dan Howard Aircraft Sales LLC
Tulsa,OK
Tell the dealer you saw this ad on
AircraftDealer.com