Inactive Ad
---
The ad you requested is no longer active, however you may be interested in some of the following Cessna Citation II /SII/ Bravo ads:
displayAdsHomeRecent
---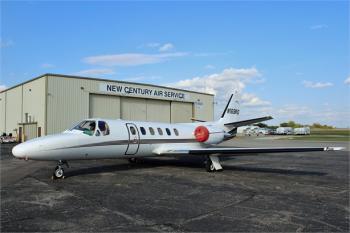 Beautiful Citation 550. 25% ownership available. Based in Kansas City (KIXD) If you desire to whisk 8 passengers in comfort above most weather and reach most of the country in 2-3 hours, this is your jet. The Citation series sets the standard for safety and economy, and with a 25% ownership you shed 75% of the cost while retaining 100% of the benefit when you fly! Naples or Phoenix in less t...
...more
.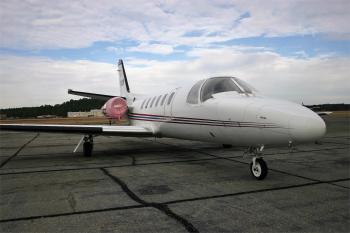 Will accept king air trades. Please give us a call Airframe: Total Time:11750 Engine 1 Time:3221 SMOH Engine 1 Hot Section Time:1054 Engine 2 Time:2510 SMOH Engine 2 Hot Section Time:50...
...more
.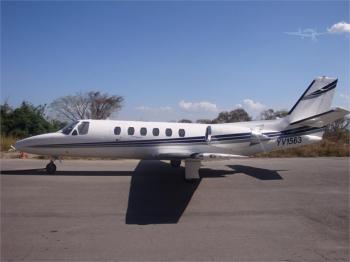 Airframe: Total Time on Aircraft: 7,978.6 Hrs. (As of March 1 2018) Landings: 7,961 Fresh 1-5 inspection completed February 2018.ON Cescom Maintenance Program Engines: Pratt & Whitney JT15D-4 On Standard Aero ESP Gold program 100% coverage Engine # 1 : TSN: 7,952 Hours TSO: 887.6 Hours Engine # 2: TSN: 3511 Hours TSO: 1,159.5 Hours ...
...more
.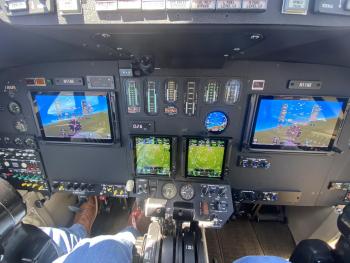 Impeccable Citation with Full Garmin Panel G700Txi SVT, WAAS, Dual 750TXi, ASD-B, Garmin WX Radar, Outstanding Paint and Interior. If you are in the market for the Finest Citation Airframe: 9333 Total Time 8625 Landings Engines: Left: 8824 TT 2363 SOH 1639 SHOT Right: 8423 TT 2202 SOH 564 SHOT ...
...more
.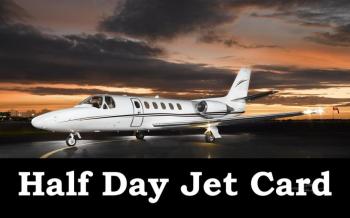 Light jet half day charter rates from $5000 USD Light jet occupied hourly charter rates $1500 USD plus Landing / Handling Exclusive Use - Own Fleet: Buy, 20 Half days / 10 Full days for $110,000 USD 40 half days $212k or 20 full days 60 half days $300k or 30 full days Current average cost per occupied hour $1500 plus landing / handling at cost + FET Is your aircraft in for major...
...more
.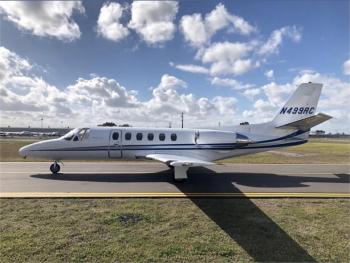 Very Clean Citation SII with recent inspections. WAAS LPV equipped, Freon Air and AFT Baggage Airframe: Total Time: 10,461 Total Landings: 8,311 Engines: PRATT & WHITNEY JT15-4B Time: 3260/3137 SMOH TBO: 3500/3500 SHOT: 1434/1462...
...more
.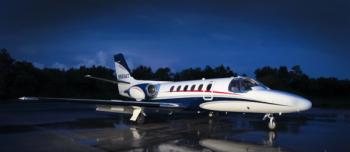 8,912 TT 0/0 SHOT Garmin upgrades Gross Weight Increase HID Landing Lights Freon Aft baggage NEW TO MARKET...
...more
.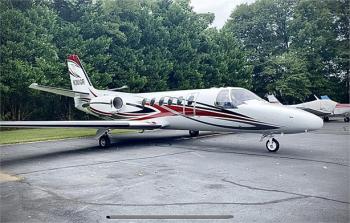 Greenville Aviation is proud to bring to the marketplace this beautiful Citation 2. This very low time aircraft features excellent paint, interior, and updated GARMIN avionics. Airframe: Total Time: 5,155 Total Landings: 5,455 Factory GW Increase Mod (14,100 Lbs GW / 8,408 EW) / Anti-Skid Braking System Quick Release Radome Mod / Extended Aft Baggage Mod / Willco Lead-Acid 40 Amp-Hr Ba...
...more
.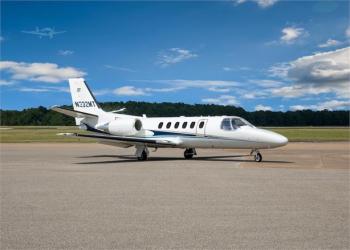 Well Maintained 2005 Bravo now available. Enrolled on Cessna ProParts, Managed FAR Part 135, Fresh Phase 1-4 Inspections Completed 27-May-2022, No Damage History, Complete Logs/Records Airframe: Total Time: 5,036 Engines: Pratt & Whitney Time: 1201/1201...
...more
.