2008 FALCON 900DX
Reg # N620DX
Inquire
AIRFRAME:
2,532 Hours Total Time
1,239 Landings

ENGINES: On MSP Gold
Honeywell TFE761-60-1C
2,532/2,532/2,532 Hours Total Time
1,239/1,239/1,239 Cycles Since New

APU: On MSP Gold
Honeywell GTCP 36-150(f)
1,063 Hours Total Time

FEATURES:
WAAS/LPV
ADS-B Compliant
FANS 1/A
Synthetic Vision (EFIS)
API Blended Winglets
Aft Berthable Divan
Honeywell/Baker Cabin Management System
Honeywell MHS/MHL Entertainment Controls
3 Honeywell 20" LCD Monitors
4 Rosen 8.4" Plug-In LCD Monitors
Dual Honeywell DVD Player
Honeywell Oneview AIS-200 Satellite TV
External Camera System (Model VCU-05)
Dual Electronic Flight Bags (Model CMA-1100)
AVIONICS:
Honeywell Primus Epic System (EASy II, Cert.3)
Communication: Triple Honeywell TR-866B
High Frequency: Dual Collins HF-9000
Selcal: Honeywell
Flight Deck Audio: Triple Honeywell AV-900
Emergency Locator Transmitter: ELTA ADT-406
Flight Deck Printer: Miltope TP-4840
SATCOM: Iridium AXXESS II
Marker Navigation System/VOR/ILS: Honeywell NV-875A
Automatic Direction Finder: Dual Honeywell DF-855
Global Positioning System: Dual Honeywell
Flight Management System: Triple Honeywell EASy II
Electronic Jeppesen Charts: Honeywell EASy II
Color Weather Radar System: Honeywell Primus 880
Lightning Detection System: Honeywell LSS 860
Distance Measuring System: Dual Honeywell DM-855
Transponder: Dual Honeywell XS-857A
Radio Altimeter System: Dual Honeywell RT-300
Traffic Collision Avoidance System: ACSS TCAS-3000 II w/7.1
Heads-Up Guidance System: Rockwell Collins HGS-4860
Electronic Flight Bag (EFB): CMC CMA-1100
Modular Avionics Unit: Dual Honewell EASy
Micro Inertial Reference System: Triple Honeywell Laseref V
Standby Magnetic Compass: Smiths
Secondary Flight Display: Meggitt MK2
Cockpit Voice Recorder: Honeywell SSCVR
Flight Data Recorder: Honeywell SSFDR
Enhanced Ground Proximity Warning System: Honeywell EASy

MAINTENANCE:
• Camp system
• 12/24/36 Month Inspection due July 2020
• 800/1600/2400 Hour Inspection due July 2020
• 1B Inspection due @ 2600.7 Hours
• 2C Inspection due October 2020
• Main/Nose Gear Overhaul due August 2020
• Dry Bay S/B complied with January 2010

INTERIOR:
Unique, dynamic ten passenger (plus jump seat) interior configuration. Forward cabin features galley, four forward facing seats with tables, perfect for privacy and rest. After take-off, seats one and two can articulate facing backward for a club arrangement and/or join to make a single bed. The mid-cabin features two forward facing chairs with dining table; add another seat by fully articulating the third chair to face table. Opposite dining grouping is a multi-purpose storage credenza and cabinet. Private aft cabin features left-hand three place divan that lays out to a bed, opposite is a single chair with table. The lavatory is located in the aft of the aircraft.

Onboard entertainment includes Honeywell Oneview AIS-200 Satellite TV, Airshow 410, Dual Honeywell DVD Player and Honeywell Entertainment Controls . There are three Honeywell 20" LCD Monitors and four 8.4" plug-in LCD monitors throughout the cabin.

Seats are completed in Beige leather with a fabric sofa; Beige carpet. Red Gum Veneer with hardwood trim. Hardware is plated in Satin Champagne Gold.
​
EXTERIOR:
Overall Off-White with Blue and Gold Stripes on fuselage and tail.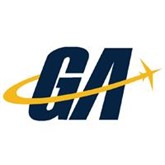 General Aviation Services
Palatine,IL
Tell the dealer you saw this ad on
AircraftDealer.com