Inactive Ad
---
The ad you requested is no longer active, however you may be interested in some of the following Globe Swift ads:
---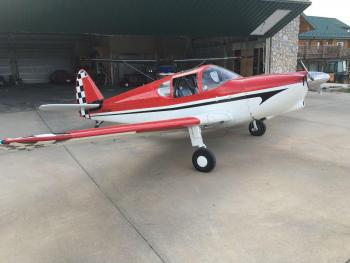 The Swift was designed in 1940. The 85 hp GC-1A Swift advertised as the "All Metal Swift" received its type certificate on 7 May 1946. Two prototypes were built but essentially, the design remained the same as the type entered production. Globe built about 408 GC-1As. Later that year, the Swift received a more powerful engine of 125 hp (93 kW), making it the GC-1B. Globe, together with TEMCO,...
...more
.
Skymaster International LLC
Beautiful P-40 Warhark paint scheme on a Swift GC-1B. It flys regularly and hangared. TTAF 2992, Continental O-300-A with Senenich climb prop. Excellent condition. Airframe: TTAF: 2992 Painted P-40 Warhawk Scheme Good condition Engines: SMOH: 1399 Continental O-300-A...
...more
.