2017 GULFSTREAM G280
Reg # N280FR
Inquire
Loan Calculator here...
Close
Asking Price: Make Offer
472.1 Hours since New
Engines Enrolled on MSP
Planeview280 Cockpit
FANS / CPDLC / ADSB Out
Aircraft will be delivered with Fresh Gulfstream ARCS Pre-Buy
Aircraft will be delivered with Paint Stripes from Steven Aviation
Airframe:
472.1 Hours since New / 238 Cycles since New
Engines:
Two (2) Honeywell HTF7250G
Engine #1: S/N: P-130330 / 492.1 Hours since New / 258 Cycles Since New
Engine #2: S/N: P-130331 / 492.1 Hours since New / 265 Cycles Since NewEngine Program: Enrolled on MSP
APU:
Honeywell GTCP36-150/ P-215 / 564 Hours since New / Enrolled on Honeywell MSP
PlaneView280 CockpitFMS (Flight Management System)
Triple Rockwell Collins Enhanced
CDU (Central Display Unit) Triple Collins CDU-6200
AHRS (Altitude Heading Reference System) Dual Honeywell AHRS AH- 3200
IRS (Inertial Reference System) Triple Collins
GPS (Global Positioning System) Dual Collins GPS-4000S 12 Channel
ADC (Air Data Computer) Dual Collins
NAV (Navigation Radio) Dual Collins NAV-4500/4000
DME (Distance Measuring Equipment) Dual Collins DME
ADF (Automatic Direction Finder) Single Collins NAV-4000
VHF COM (Very High Freq. Communications) Triple Collins NAV-4000
HF COM (High Freq. Communications) Single Collins HF-9000
SATCOM (Satellite Communications) Single Aircell Axxess
WRADAR (Weather Radar) Single Collins RTA-4118
RADAR ALT (Radar Altimeter) Dual Collins ALT-4000
XPNDR (Transponder) Single Collins TDR-94
GPWS (Ground Proximity Warning System) Single Collins
TCAS (Traffic Collision Avoidance System) Single Collins TCAS-II 7.1 w/ ATC
CVR (Cockpit Voice Recorder) Single Collins CVR
FDR (Flight Data Recorder) Single Collins FDR
ELT (Emergency Locator Transmitter) Single Artex ELT
2019
Aircraft is overall Matterhorn white. Will be delivered with Fresh Paint Stripes from Stevens Aviation
Nine (9) Passenger with a Forward 4 Club Seat configuration, and a Divan opposite Two Club Seats in AFT. Features a Forward Galley
Modifications / Conversions
Maximum Takeoff: 39,000 Lbs
Maximum Landing: 32,700 Lbs
Maximum Zero Fuel: 28,200 Lbs
Basic Operating Including Crew: 24,150 Lbs
Maximum Payload: 4,050 Lbs
Maximum Fuel 14,600 Lbs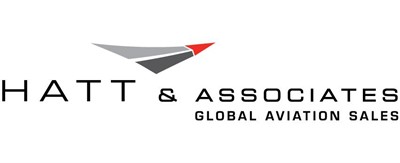 Hatt & Associates
1756 Platte St.
Suite 100
Denver, AZ 80202
Tell the dealer you saw this ad on
AircraftDealer.com