2009 HAWKER 4000
Reg # N9930
Inquire
Loan Calculator here...
Close
4,181 Hours since New
Airshow 4000
EMS Aspire 200 High Speed Worldwide Internet
Current on SBs Including TR SB
Block Point Upgrade Completed in April 2018
Airframe:
4,181 Hours since New / 2,784 Landings (as of Sept. 20th, 2019)

Engine 1
Engine 1 Make/ModelPRATT & WHITNEY PW308A
Engine 1 Serial NumberCE0047
Engine 1 Time4013
Engine 1 Cycles2668
Engine 2
Engine 2 Make/ModelPRATT & WHITNEY PW308
Engine 2 Serial NumberCE0048
Engine 2 Time4008
Engine 2 Cycles2660
This Hawker 4000 is equipped with the Honeywell Primus EPIC Avionic Suite w/ 5 8"x 10" LCD Screens and includes:
Dual NAV/Comm w/ 8.33 MHZ Spacing
Dual Collins HF 9000 w/ Selcal
Dual Mode S Diversity Transponders
Dual Audio/Interphone/PA
Dual FMS
Iridium Airborne Telephone
Dual AFCS w/ Full Auth. Auto Throttles
Dual Digital Air Data Systems
Dual IRS's
Dual GPS's
Dual DME's
Single ADF
Single Radio Altimeter
Solid State Cockpit Voice Recorder
Primus 880 Weather Radar
Dual AOA Systems•Dual Clocks (on PDF's)
Honeywell EPGWS
TCAS II
Internal/External CMC Access w/ EICAS
Laptop & Hookup•Airshow 4000
Artex ELT 406MHZ
Dual Cursor Controls
Dual Multi-Function Control Displays
ADS-B Installed in 2019
2018
Fresh Paint in April 2018 by Capital Aviation
The interior includes a 8 Passenger configuration with Belted Lavatory Seat for 9th Passenger, Interior finished with Walnut High Gloss Veneer and Tan Carpet w/ Interwoven Design. Forward Pocket Doors.
Partial Interior Refurbishment, crew seats, cabin seats, partial plating, wood surface repairs. Completed April 2018
600-hour inspection completed in April 2018
Modifications / Conversions
Load 20 / Block Point Modification (S.B. 24-4069, S.B. 31-4070, S.B. 34-4030) completed in April 2018
Collins Fusion Cabin Management System
Thrust Reversers
Enrolled on Flight Docs
External Refuel Panel
EMS Aspire 200 High Speed Worldwide Internet
Rockwell Collins Venue System
Long Range 02
Internal & External Baggage Compartment Access
LED Lighting
2 Ea 17″ LC Cabin Entertainment Monitors
Cockpit and Cabin Computer Outlets
IPads at each Seat
RVSM Compliant
LED Navigation Lights
LCD Touch Screen Cabin Controllers
2 Coat Closets
Full Galley w/ Hot & Cold Running Water
Aft Lav w/ Hot & Cold Running Water
Cockpit Floor Storage Compartment
Jumpseat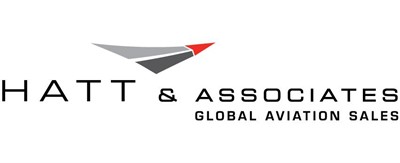 Hatt & Associates
1756 Platte St.
Suite 100
Denver, AZ 80202
Tell the dealer you saw this ad on
AircraftDealer.com