2001 Learjet 60
Reg # N275HZ
Inquire
BRAND NEW PAINT AND INTERIOR - This exceptional aircraft is ready to go. Contact Steve King for pricing info and further details.

Airframe:
Total Time: 5,571 hours

Engines:
P&W 305A (ON ESP GOLD) 7,200 Hrs. TBO
Left Engine: PCE-CA0271 Right Engine: PCE-CA0272
5,571 Hrs SNEW 5,571 Hrs SNEW
2,045 Hrs Since HSI 2,045 Hrs Since HSI
Cycles: 3,035 landings
Collins 4-tube / Pro Line 4 Avionics Package
Collins 4- tube EFIS
Collins FCC-850A Autopilot
Dual Collins VHF-422 Comm Radios
Dual Collins ADC-850D Air Data Computers
Dual Collins VIR-432 Navs w/FM Immunity
Dual Bendix/King KHF-950 HF Radio w/SELCAL
Collins ADF-462 ADF
Dual Collins DME-442 DME
Dual Collins TDR-94D Mode S Transponder
Collins ALT-55B Radar Altimeter
Artex C406-2 ELT w/ Nav interface
Dual Universal UNS-1Ew FMS w/ Dual GPS
ADS-B, WAAS, LPV
Collins TCAS-II w/ ch 7 TCAS
Honeywell Mark V EGPWS
BFGoodrich WX-1000 Stormscope
Universal CVR-30B CVR
Iridium SATCOM C-2000 Flight Phone
Collins TWR-850 Weather Radar
Dual Collins RTU-870 radio tuning units Collins AHS-85E AHRS
Collins 3" GH-3000 ESIS
Collins DAU-650 Data Acquisition Data Entry
2022 FRESHLY COMPLETED – Overall White with Black and Silver Stripes, Black Winglets and Tail.
2022 FRESHLY COMPLETED – Executive 8 Passengers – Gray Leather with Diamond-Stitched Centers and Dark Gray Carpet, Forward 2-Place Club Opposite 2-Place Side-Facing Divan With Aft 4-Place Club; Slimline Executive Tables; Dual Aft Pyramid Wrap Around Style Cabinets; Five Cabin Seat Storage Drawers; Belted Lav Certified For T & L's; Airshow 400 In-Flight Information System W/15.1-Inch Monitor W/ CD Player; Microwave Oven; Freon Air Conditioning; Emergency Exit Lights; 110-Volt AC Power Outlets. Interior Soft Goods (Leather / Carpet).
GoGo ATG-2000 Wi-Fi
ADS-B Out Compliant
Rohr Thrust Reversers
Dual Concorde Lead Acid Batteries
Triple Pilot Heat Annunciation
Extended Baggage Mod
Hobbs Airframe & A/C Hour Meters
MGTOW Increase Mod
New Style Learjet Cabin Windows
Locking Fuel Caps
Tail Logo Lights
Pulse Recognition Lights
No known damage history. Maintenance and all AD's/SB's current and up to date. Complete Logs. 12yr c/w 2013 by Reliable Jets, Due 1/2025. Maintained Part 91. RVSM Compliant. RNP-5 & RNP-10. MGTOW 23,500 lbs. Fuel 7,910 lbs. On CAMP Tracking.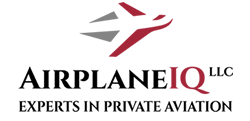 AirplaneIQ LLC
FL
Tell the dealer you saw this ad on
AircraftDealer.com