2006 Learjet 60
Reg # ES-III
Inquire
Airframe:
TTAF: 4,269
Landings: 2,335

Engines:
Pratt & Whitney
TSN L/R: 4,129/4,129
CSN L/R: 2,260/2,254

APU:
Hamilton Sundstrand, T-20G-10C3A. Total Hours 2,240, Total Cycles 3,494, Condition Shop Visit Required.
EFIS (Electronic Flight Instrument System) - Rockwell Collins Pro Line 4
FMS (Flight Management System) 2 Universal UNS-1E
GPS (Global Positioning System) 2 Universal UNS-1E
NAV (Navigation Radio) 2 Rockwell Collins VIR-432 with FM Immunity
DME (Distance Measuring Equipment) 2 Rockwell Collins DME-442
ADF (Automatic Direction Finder) 2 Rockwell Collins ADF-462
AFCS (Auto Flight Control System) 2 APG FCC-850A
A/P (Autopilot) 2 APG FCC-850A
VHF COM (Very High Freq. Communication) 2 Rockwell Collins VHF-422C
HF COM (High Freq. Communications) 2 Honeywell KTR-953
SATCOM (Satellite Communications) 1 Iridium ICS-200
SELCAL 1 JETCALL-5
RADAR 1 RTA-854
RADAR ALT (Radar Altimeter) 1 Rockwell Collins ALT-4000
XPNDR (Transponder) 2 Rockwell Collins TDR-94D Mode S
EGWPS (Ground Warning Proximity System) 1 Honeywell Mark V
TCAS II (Traffic Collision Avoidance System) 1 Rockwell Collins TTR- 4000 with Change 7.1
CVR (Cockpit Voice Recorder) 1 Universal CVR-120
FDR (Flight Data Recorder) 1 L3 Communications FA-2100
Lightning Sensor 1 L3 Communications WX-1000E
ELT (Emergency Locator Transmitter) 1 Artex C406-2 with NAV interface

RVSM
FM Immunity
RNP5
8.33 COM
MNPS
RNP10
Base Paint Color: Matterhorn White
Strip Color: Rochelle Red
Original Paint
Seating Configuration: Cabin certified for 8 passengers
Date of last refurbishment: 2006
Airshow 400 1 Cabin entertainment system
Display/TV Monitor(s) 2 15.1-inch (38 cm) Fwd Video
Monitor, 10.4-inch (26 cm) Aft Video Monitor
DVD Player 1 DVD, CD Player with 10 Disk CD Changer
CD player 1 CD Player with 10 Disk CD Changer
Power Outlets 2 Additional 110 VAC/60 Hz
Microwave Oven 1 -
Iridium Phone System 1 Phone system with 4 handsets
Gross Weight (Ramp): –
Max Zero Fuel Weight: 17,000 lbs
Max Takeoff Weight: 23,500 lbs
Empty Weight: 14,857 lbs
Max Landing Weight: 19,500 lbs
Current Basic Operating Weight: 14,930 lbs
Date last weighed: 23-may-2014

Specifications are intended to facilitate the preliminary review of the aircraft, and as such should not be relied upon for any other purpose. All information found herein is subject to evaluation and verification during a visual inspection of the aircraft. Interested parties should rely solely upon their own inspection of the aircraft. New Jet International assumes no responsibility or liability for discrepancies of information provided herein. Aircraft subject to prior sale or withdrawal from the market.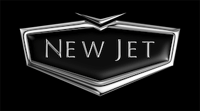 New Jet International
MONACO
Tell the dealer you saw this ad on
AircraftDealer.com