2018 PIAGGIO AVANTI EVO
Reg # C-GAPT
Inquire
Manufacturer's Warranties, ADS-B Out, Electronic Charts, Maps Overlay, TCAS II 7.1, XM Satellite Weather, SBAS / LPV Capability, Anti-skid braking system, GoGo Avance L5 WIFI w/ Text & Talk, Fold-down LCD Cabin Monitor, EFB IPAD provisions for Pilot & Copilot, Lead Acid Battery (Concorde), Anti Skid Braking System, Provisions for CPDLC & HF, First Aid Oxygen, L3 120 min CVR, USB Charging Stations

Airframe:
Total Time: 267
Total Landings: 251

Engines:
PRATT & WHITNEY PT6A-66B
Time: 267
Cycles: 251

Props:
Time: 182
Flight Guidance System Dual Collins FGC-3003
EFIS Three Collins LCD Displays
Radio Management System Collins RTU-4200, CDU-3000
Communications Dual Collins VHF-4000 with 8.33 kHz spacing
Navigation 1 Collins NAV-4000 VOR/ILS/MKR/ADF
Navigation 2 Collins NAV-4500 VOR/ILS/MKR
Distance Measuring Equip Collins DME-4000 (3 channel)
Transponder Dual Collins TDR-94D Mode S Flight ID Diversity
Radio Altimeter Collins ALT-4000
Weather Radar Collins RTA-852 Color Radar with 12" Antenna & Turbulence Detection
Audio Panel Dual Baker 1045
Global Positioning System Collins GPS-4000S (WAAS/LPV)
Flight Management System Collins FMC 3000 (NAV to NAV and VNAV), CDU-3000 for radio tuning), DBU-5000 GPS Sensor Unit
Collision Avoidance System Collins TCAS-4000 –ACAS II Version 7.1
Air Data Computers Dual Collins ADC-300
Attitude Heading Reference Dual Collins AHC-3000
Maintenance Diagnostic Sys. Collins MDC-3110
Emergency Locator Artex C406 (3 frequency)
Digital Clock Dual Digital Clock (Chrono meter included)
Standby Cluster Instrument L3 GH-3100
Cockpit Voice Recorder L3 (120 min)
Configuration/PAX:
7+ 1 Corporate "Atmosfera" Cabin Layout in Poltrona Frau Leather

Seating:
Seven VIP Seats with a four-seat club arrangement (Full recline, lowerable inboard armrest, One forward facing seat and one side facing two place divan with relevant floor drawers.
Two drawer pyramid cabinet installed behind Left Hand forward facing seat.
Two drawers RH rear bulkhead cabinet.

Lavatory:
Lavatory toilet seat belted and certified for takeoff and landing.
Integrated Flight Information—Collins IFIS 5000
Electronic Charts—Collins ECH 5000
Maps Overlay—Collins OVL 5000
ACAS II 7.1—Collins TCAS 4000
WAAS / LPV capability
ADS-B Out
Provisions for CPDLC, HF
L3 Communications 120 Minute CVR
Anti-skid braking system
LED Taxi and Landing lights
Toilet with Vanity Module
10.2 Inch fold-down LCD Cabin Monitor
USB Cabin Charging Stations
Polished Main Wing Leading Edges
Lead Acid Battery
Sheep Skin for Pilot and Co-pilot Seats
First Aid Oxygen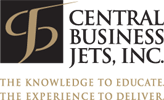 Central Business Jets, Inc.
Burnsville,MN
Tell the dealer you saw this ad on
AircraftDealer.com