1977 PIPER TURBO ARROW III
Reg # N38440
$89,000
1977 Piper Turbo Arrow III w/ 4,244 Hrs Total Time, 789 Since Major Overhaul, and 736 Hours on New Hartzell Propeller. King KMA-24 Audio Panel, Dual King KX-170B, King KN-64, KT-76 Transponder. No Known or Documented Accident History. Fresh Annual Inspection.

Airframe:
Total Time: 4,244

Engines:
CONTINENTAL TSIO360FB
798 Hours Since Major Overhaul
Engine Overhauled to NEW Tolerances by Poplar Grove Airmotive, Inc. FAA Repair Station #YYBR664L
289 hrs before next 500-hour Magneto Inspection is due.

Most recent compressions:
#1. 76 #2. 74 #3. 72 #4. 70 #5. 70 #6. 75

Props:
736 Hours on Factory New Three-Blade Propeller

Make: Hartzell / Model: PHC-C3YF-1RF
King KMA-24 Audio Panel w/ 3-Light Marker Beacons
King KX-170B Nav/Com w/ LOC & VOR
King KX-170B Nav/Com w/ LOC & VOR
King KR-86 ADF w/ Remote Indicator
King KN-64 Digital DME
King KT-76 Transponder w/ Mode-C Encoder
Piper AutoControl IIIB Autopilot (Currently Inop)
Matterhorn White Base with Blue & Gray Accents
Good Glass all Around

Rated: 5
Tan Leather Seats
Black Carpeting

Rated: 6+
Merlin Waste Controller (STC# SE4731NM)
Bogert Aviation Copper Electrical Battery Cables (STC#SA3531NM)
Piper Backup Landing Gear Extension System (Kit # 765-303)
P.S. Engineering Intercom System
Pilot's Analog Clock
12-Volt Aux Power Source for charging iPhones, iPads, GPS, etc. (cigarette lighter style)
Brackett Air Filter (STC# SA693LE)
Electronics International Single Probe EGT & CHT (STC# SA1626NM)
Polished Prop Spinner (STC# SA01024CH)
Electric Fresh Air Blower Fan
Vertical Card Compass
Hobbs Meter
Suction Gauge
Custom Canvas Canopy Cover
372 Gallons Usable Fuel
Annual Inspection next due: April 1, 2023.
Pitot-Static / Altimeter-Transponder Cert. Due: April 2024
Logs complete from 2001 to present. Logbooks previous to 2001 are missing/stolen from an FBO by a mechanic many years ago. Previous owner has certified in 2001 that the airframe, engine & prop times are correct and that the aircraft is free from damage.
No Known or Documented Accident History:
The Engine Mount was repaired and firewall web repaired in 2005.
Rudder was reskinned/repaired in 2006 by Williams Airmotive.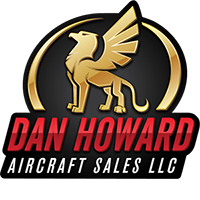 Dan Howard Aircraft Sales LLC
Tulsa,OK
Tell the dealer you saw this ad on
AircraftDealer.com