1977 PIPER P-NAVAJO
Reg # N710JJ
$124,900
'77 'P-Navajo' with 425 HP intercooled engines. The strongest Piper piston twin ever built! 220 knots at FL230. GMA-350, GTN-750, SL-30, FCS-810 Autopilot w/ FD & YD, Shadin FF, Winglets, Intercoolers, low-time engines, & co-pilot instruments. All logs. No damage history.

Airframe:
Total Time: 4,753

Engines:
Engine 1:
968 hours since Major Overhaul on 425-Horsepower Engine by Midwest Aircraft Services, Inc. of Newton, KS (Oct 1998)
391 hours since Engine Bottom Overhaul w/ New Camshaft; Cylinders reconditioned (this due to worn camshaft & metal in oil filter) by Aircraft Engine Specialists, LLC of Chandler, AZ (FAA CRS # ZF7R567Y) (April 2007)
Make: Lycoming / Model: TIGO-541-E1A / Serial # RL-199-62
(425 Horsepower with a 1,200 TBO)

Engine 2:
955 hours since Major Overhaul on 425-Horsepower Engine by Midwest Aircraft Services, Inc. of Newton, KS (Oct 1998)
391 hours since Engine Bottom Overhaul w/ New Camshaft; Cylinders reconditioned (this due to worn camshaft & metal in oil filter) by Aircraft Engine Specialists, LLC of Chandler, AZ (FAA CRS # ZF7R567Y) (April 2007)
Make: Lycoming / Model: TIGO-541-E1A / Serial # L768-62
(425 Horsepower with a 1,200 TBO)

Props:
Left Prop: 353 hours ince Overhaul on 3-Blade Prop by Air Prop Specialists, Inc. of Marianna, FL (FAA CRS # 1X4R274M) (Feb 2012)
Make: Hartzell / Model: HC-C3YN-2LUF / Serial #: DG037

Right Prop: 390 hours since Overhaul on 3-Blade Prop by Warner Propeller & Governor of Tucson, AZ (FAA CRS # W59R659R) (March 2007)
Make: Hartzell / Model: HC-C3YN-2LUF / Serial #: DG528
Garmin GMA-350 Audio Panel with 3-Light Marker Beacons and Voice-Activated Intercom
Garmin GTN-750 'Touchscreen' WAAS-IFR-Approach-Certified GPS-Com w/ Large Color Moving Map & Terrain Awareness
Slaved HSI
Garmin SL-30 Digital Nav-Com w/ 2nd Glideslope
Garmin Aera 795 Touchscreen GPS with Color Moving Map in Panel-Mount/Hardwired
Garmin GTX-327 Digital Transponder w/ ADS-B Out
Bendix King FCS-810 Autopilot with Flight Director & Yaw Damper, Hdg & Nav Tracking, Pitch Mode, Glideslope Coupling, Altitude Hold, and Go Around modes
Matterhorn White over Burgundy paint.
Red & Gold accent striping.
Rated - 6+ to 7.
New interior by Southern Air Custom Interiors, Inc. of Haleyville, AL in September 2013 (FAA CRS # UUSR697L)
Beige Leather upholstery with Burgundy piping.
Highback luxury seats with headrests.
Matching Beige Leather sidepanels.
Burgundy carpeting and window curtains.
Off White interior window trim and headliner.
Rated - 8.
Factory Air-Conditioning w/ Steinbach & Associates STC'd R-134A Freon Refrigerant Conversion Kit (STC # SA0524SC)
Known Ice Certified (FIKI) Heated Pilot's Windshield, Boots, Hot Props
Engine Nacelle Fuel Tanks / Total Fuel Capacity = 242 Gallons
Intercoolers
Propeller Unfeathering Accumulators
Co-Pilot's Full Instrumentation
Shadin Digital Fuel Flow
Reiff Engine Preheat Systems
Engine Oil Filters
Polished Prop Spinners
Cleve Brake Conversion Kit (STC # SA284GL)
Electric Pitch Trim
Rudder Trim
Aileron Trim
Brackett Air Filters
Factory Six-Seat Club Seating
7th Aft Belted Potty Seat
Dual Executive Writing Tables
Airspeed of 220 knots at FL230 on 58GPH.
Typical block speeds for two and three hour trips runs about 205 to 210 knots.
Best Rate-of-Climb "Vy" Speed is 110 Knots = 1,740 FPM Climb Rate
Most pilots choose to climb flatter at 150 knots and still have a 1,400 FPM Climb Rate
Service Ceiling = 28,000'
Single-Engine Service Ceiling = 12,100'
Max Cabin Pressure Differential: 5.5 PSI
Stall Speed = 73 knots
Useful Load = 2,227.32 lbs.
All Logs Complete Since New.
No Known Damage History.
Annual Inspection next due: January 1, 2022.
Modifications / Conversions
Colemill Enterprises STC'd Winglet Kit (STC # SA00336AT)
Rear Bulkhead Reinforcement Kit (kit # 764-984)
Elevator Enhancement Kit (kit # 766-219)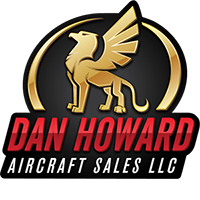 Dan Howard Aircraft Sales LLC
Tulsa,OK
Tell the dealer you saw this ad on
AircraftDealer.com